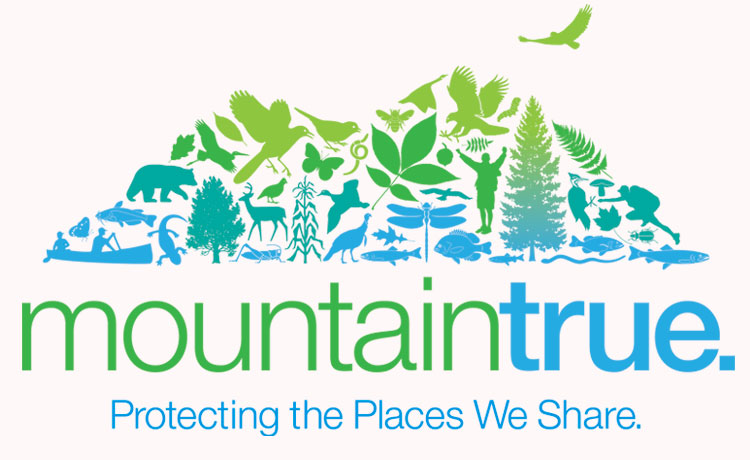 About MountainTrue—Founded 2015
MountainTrue is the result of a merger of Environmental and Conservation Organization (based in Henderson County, founded in 1987), Jackson-Macon Conservation Alliance (based in Macon County, founded in 2000) and Western North Carolina Alliance (based in Buncombe County, founded in 1982). MountainTrue became an official non-profit in January 2015, and was formed with three specific goals:
– To have a stronger influence on policy at all levels of government, through increased local presence;

– To build a stronger organization and increase our geographic reach;

– And to strengthen our grassroots engagement and involve a broader spectrum of the population.
To achieve our goals, MountainTrue's board, volunteers and professional staff focus on a core set of issues across 23 counties of Western North Carolina: sensible land use, restoring public forests, protecting water quality, and promoting clean energy – all of which have a high impact on the environmental health and long-term prosperity of our region. MountainTrue is the home of the French Broad Riverkeeper, the primary protector and defender of the French Broad River watershed.
###
About Environmental and Conservation Organization—Founded 1987
ECO's mission has been to preserve the natural heritage of Henderson County and the mountain region as an effective voice for the environment by focusing on four key areas: green infrastructure, water quality, energy conservation/renewable energy and recycling. ECO was founded in 1987 and became a preeminent and influential leader in promoting environmental issues affecting our region, working with the community, business leaders, like-minded environmental groups and government officials to create a balance between growth and environmental preservation. ECO undertook water quality monitoring of six watersheds, adopt-a-stream cleanup of dozens of waterways, public policy development towards natural heritage protections, energy expos, workshops and forums to encourage greater stewardship of our environment and recycling programs and activities that encourage sustainable practices.
About the Jackson-Macon Conservation Alliance—Founded 2000
The Jackson-Macon Conservation Alliance J-MCA has always encouraged those who care about the beautiful Southern Appalachian Mountains of Western North Carolina to join the efforts to conserve and protect them. The Highlands-Cashiers plateau is a unique ecosystem; one of the most biologically diverse on earth. Many people come here to visit or live because of the incredible splendor, yet their very presence puts this rich natural environment at risk. Pressures from growth issues to invasive species all create environmental challenges that must be addressed. J-MCA was established in 2000, to serve as an alliance of organizations dedicated to protecting and preserving the natural environment and cultural character of the headwater regions of western North Carolina.
About Western North Carolina Alliance—Founded 1982
WNCA is the only grassroots environmental advocacy group focused solely on conserving Western North Carolina's natural heritage. We were founded in 1982 by citizens in Macon County who organized to protect their local national forests from oil and gas leasing. After that successful effort, WNCA went on to help defeat proposed nuclear waste dump in Buncombe County (1984), launch a campaign to stop clear-cutting in the natural forests, and lead a four-year campaign to stop the City of Asheville from clear cutting in the Asheville Watershed (1990, the City later placed a conservation easement over 17,356 acres of the watershed). In 1994, WNCA claimed victory in its nine-year campaign to stop clear-cutting in the national forests when the Forest Service released a new Management Plan for the Pisgah and Nantahala National Forests that eliminated clear-cutting as a management tool and reduces overall logging levels. In 2010, WNCA became home of the French Broad Riverkeeper, serves as the primary protector and defender of the French Broad River watershed in Western North Carolina.