Holly Demuth, Development Director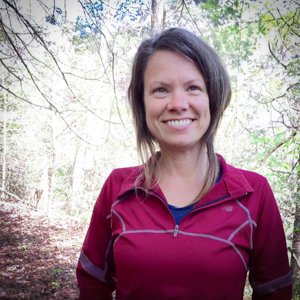 "Giving back to who or what we care deeply about is one of the most gratifying experiences we can have," claims Holly Demuth. "Helping people do that and helping our forests, water, and communities is a true privilege." Holly has been helping people give back to the places they love for more than 15 years in Western North Carolina. She has shared her passion with Friends of Great Smoky Mountains National Park, WaysSouth, Carolina Mountain Land Conservancy, and Community Foundation of Western North Carolina. Prior to that she was a Park Ranger with the National Park Service at Muir Woods and Carl Sandburg Home, helping people connect with and understand the places they love and visit through interpretive programs. Holly's degree in Chemistry and minor in Religion from Agnes Scott College, and her Master of Education from Georgia State University, have not only helped her understand the finer points of water quality and how people think, but also how to write grants and make a spreadsheet do back flips.
Holly has long been acquainted with the work of MountainTrue through its predecessors. She rolled up her sleeves, and pants, collecting water quality data back in the day with ECO, as well as chairing the Buncombe County Chapter of WNCA. Holly enjoys exploring the nooks and crannies, and ridges and streams of her native Southern Appalachia. When she's not brushing up on wildflower names (again) or rock hopping, she is often searching out special treasures at a farmers market or yard sale.