Nov. Vistas E-Newsletter
Creation Care Alliance Retreat 2020 Announced for Feb. 7-8
The Creation Care Alliance of Western North Carolina will hold its 2020 retreat on Friday, February 7-8 at the Montreat Conference Center. This year's retreat welcomes both clergy and creation care volunteers, and will allow you to spend a day with a theologian, a climate scientist, a forest biologist, and local colleagues and pastoral innovators. Whether you're new to creation care or a long-time advocate, you'll gain new language and tools to inspire your congregation to care for the environment, interwoven with space for rest, relationship, prayer and good food. Read more.
Giving Tuesday Save the Date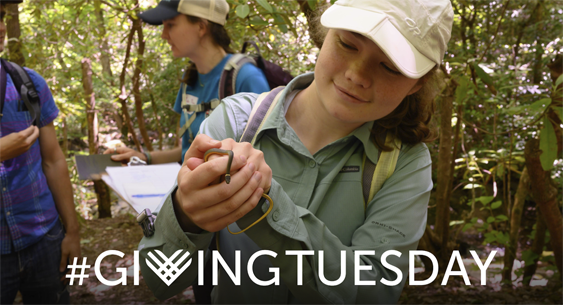 December 3 is #GivingTuesday – the international day of giving back to our communities and our planet. While Black Friday and Cyber Monday are about getting deals, #GivingTuesday is about coming together to support and champion the causes we believe in, and the communities in which we live.
MountainTrue and our members protect our forests, clean up our rivers, plan vibrant and livable communities, and advocate for clean energy and a sound and sustainable future for all residents of our mountain region.
Consider making a donation this #GivingTuesday in support of MountainTrue to protect the places we share.
Central Regional News
For Buncombe, Madison, McDowell, Mitchell and Yancey counties
Buncombe County Takes Crucial First Step In Meeting Renewable Goals
On November 5, Buncombe County's Board of Commissioners voted 6-1 to request proposals for solar energy on county-owned buildings and land. With their vote, the County has taken a crucial first step in walking their talk on their renewable energy resolution, which sets a goal of transitioning Buncombe County's government operations to 100% renewable energy by 2030.
But this is just a first step. When they discussed renewable energy, some Commissioners weren't convinced that it's an urgent priority. They need to hear that Buncombe County residents want them to go beyond exploring renewable energy to funding and building it – and that they need to get started as soon as possible.
Take action here to tell Buncombe County Commissioners: Thank you for voting to approve the solar request for proposals (RFP). Now, fund solar energy when proposals come back in the spring.
Mountaintrue And City Of Asheville Help Build New Falconhurst Trail System
The City of Asheville has partnered with MountainTrue's Asheville Design Center to assist the Falconhurst neighborhood in building a new system of natural surface trails within the Falconhurst Nature Preserve. The Falconhurst Nature Preserve is a 7.9 acre parcel and the trail system will be a couple of loop trails that meander throughout the property.
"We are excited to give people the opportunity to explore this hidden gem in West Asheville," said ADC's Chris Joyell. "Our neighborhood volunteers will prepare the trails this winter, and we encourage folks to hike the trails next spring. Read more.
Tickets For The 2020 French Broad Riverkeeper Float Go On Sale Monday, Nov. 25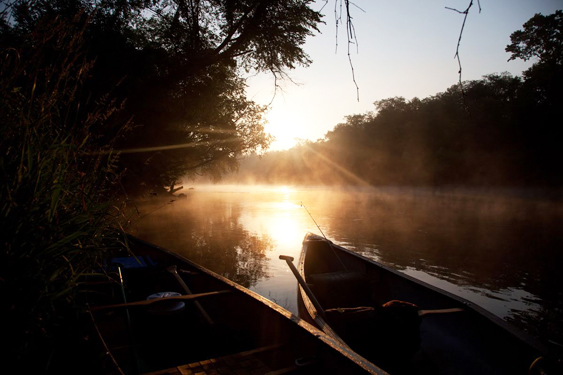 Next year's annual French Broad Riverkeeper Float will take place on June 24-26, and tickets go on sale next Monday. This incredible trip down a stretch of the French Broad River is a great opportunity to create powerful memories of camping under the stars on the French Broad River Paddle Trail. Leave the hustle behind and experience the joys of river travel while having your meals provided, your campfire built and your gear transported for you to your next campsite. Read more.
High Country Regional News
For Alleghany, Ashe, Avery, Burke, Caldwell, Watauga and Wilkes counties
Watauga Riverkeeper Welcomes Newest Member To Our Clean Water Team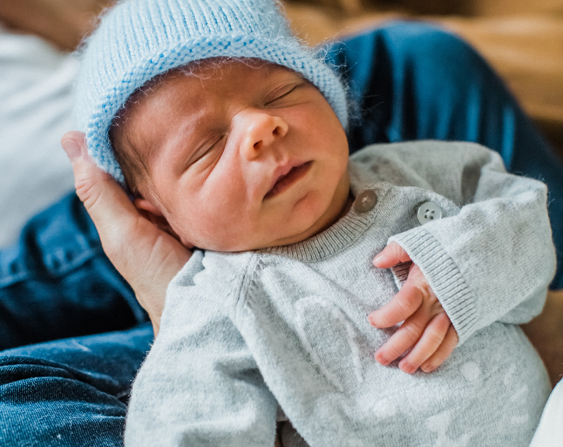 Meet Cullen Birdsong Hill, born on October 18 to Betty Hill and her husband Andy, our Watauga Riverkeeper. It's been a bit cold out, so you'll have to wait until late spring before we can share a photo of Andy dipping him into the river.
Watauga Livestaking Program Combats Sediment Pollution
This year's High Country live staking program kicked off with the Shade Your Stream Workshop, held by the Watauga Riverkeeper, New River Conservancy, and Blue Ridge Resource and Conservation Development, where participants planted 400 trees along the Watauga in just one morning. That's a great start. Livestakes are essentially baby trees (like Cullen) that grow root systems that help prevent stream banks from eroding and depositing sediment — our biggest source of water pollution — into the river. The more livestakes that we can plant this winter, the cleaner our river will be in future years. Come out and lend a helping hand: additional "Paddle and Plant" workdays will be held by MountainTrue at Valle Crucis Community Park on December 6, December 13, February 9, February 16, March 13, March 20.
Andy Hill Nominated For Best Environmentalist
Watauga Riverkeeper Andy Hill is honored to have been nominated by the community for Blue Ridge Outdoors Magazine's Best of the Blue Ridge Award — the largest and most prestigious outdoor awards in the Southeast. Voting concluded on November 7, and the winners will be announced in the January 2020 issue and online at blueridgeoutdoors.com. Winners will be recognized by newspapers, magazines, shops, and businesses across the region.
Southern Regional News
For Cleveland, Henderson, Polk, Rutherford and Transylvania counties
PHHAT Crew Rescues 'Buddy' In Green River Gorge, Protects 1000th Hemlock Tree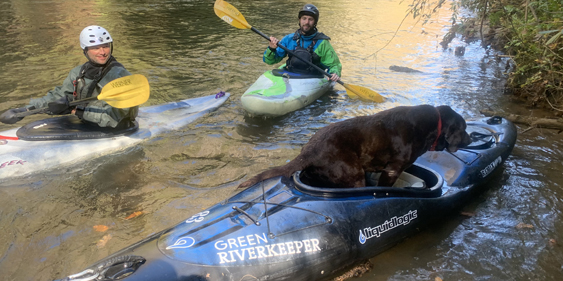 On Sunday, November 3, the Paddlers Hemlock Health Action Taskforce (PHHAT), a partnership between our MountainTrue's Green Riverkeeper, Hemlock Restoration Initiative, American Whitewater, and NC Wildlife Resources Commission, set out into the upper section of the Green River Gorge to protect hemlocks from the deadly woolly adelgid. As they paddled down Class III-IV whitewater getting deeper into the wilderness, they heard a bark, and a dog came down to greet our team by the water. The poor thing was lost and had been out for at least a night or two. We went into action, safely evacuating the dog back upstream to a trail where we were able to hike him out and turn him over to county animal services. The next day, "Buddy" was reunited with his family in Saluda who had been missing him since Friday. After this great demonstration of teamwork, the team continued downriver to treat several stands of hemlocks. This project has now protected more than 1,000 trees since we started two years ago!
'From Climate Talk To Citizen Action' Forum Draws Over 250 Attendees
On Sunday, October 27, MountainTrue cosponsored the "From Climate Talk to Citizen Action." forum at Grace Lutheran Church in Hendersonville. The event was organized by local residents under the banner of Citizens Concerned with the Climate Crisis with the support of MountainTrue and others. Over 250 people turned out to hear speakers including David Eastering, Director of National Climate Assessment for NOAA — who offered an overview of climate science and projections. There was a panel discussion covering topics such as farming, plant-based diet, engaging faith communities, policy change, and technology. Celia Donaldson, President of the Student Body at Hendersonville High School, concluded the event by delivering an impassioned speech that implored adults to take action for the sake of future generations. The energy and momentum was palpable, and we look forward to capitalizing on this energy for positive change as we work to mitigate and adapt to the impacts of climate change in WNC.
Western Regional News
For Cherokee, Clay, Graham, Haywood, Jackson, Macon and Swain counties in NC, and Towns and Union counties in GA
Save The Date: Our 12th Annual Watershed Gala Will Be On February 27th
Make plans now to join us on Thursday, February 27, 2020 for the 12th Annual Watershed Gala in the Charles Suber Banquet Hall at Young Harris College, Young Harris, Georgia. Reservations will be $50 each or $360 for a reserved table of eight and will include complimentary drink tickets.
The Watershed Gala is our annual event to celebrate the water quality of the many rivers, lakes and streams across the upper Hiwassee River watershed and to recognize those who work to sustain it. The Hiwassee River Watershed Coalition is now part of MountainTrue, but this is still our largest fundraiser. We hope you will join us for a delightful evening of food, laughter, and fun and to help honor the 2020 Holman Water Quality Stewardship Award winner! More details coming soon!
Thank You for Helping Us Remove One Ton of Trash From Lake Chatuge
Despite temperatures below freezing and a cold wind, 41 volunteers turned out on Saturday morning, November 9 to clean up the shoreline of Lake Chatuge! Volunteers picked up 1.08 tons of trash – bringing our 9-year total to just over 12 tons! Thanks to TVA, Towns County Government, Boundary Waters Resort & Marina, the US Forest Service, Mary's Southern Grill, Papa's Pizza To-Go, and Sundance Grill for the sponsorships, in-kind donations and prizes.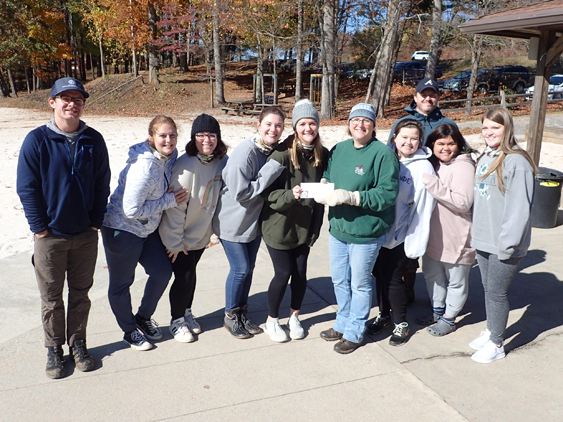 MountainTrue Western Regional Director, Callie Moore (4th from right) presents members of the Delta Phi Epsilon sorority at Young Harris College along with Devin Filicicchia (left) and Dr. Charlie Swor (back) a gift certificate for a pizza party at Papa's Pizza To-Go – the prize for the team that picked up the most trash.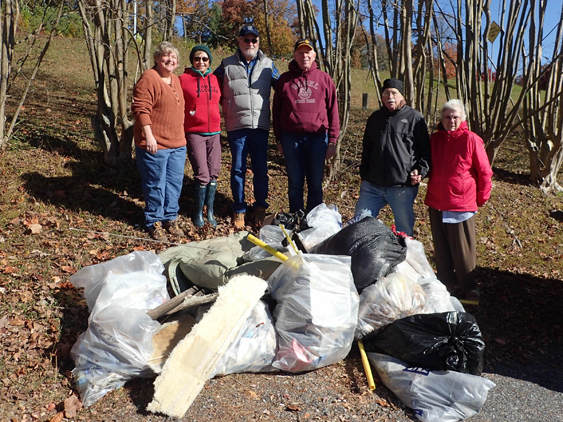 Members of the Rotary Club of Lake Chatuge-Hiawassee stand with the trash collected at one Towns County location on the Lake Chatuge shoreline.
We Need Volunteers to Provide Lunches for Alternative Break Program
MountainTrue is continuing the Alternative Breaks program in the Hiwassee River watershed during the December winter break! During alternative breaks, college students choose to take part in service projects instead of relaxing during their seasonal break from classes. This year, we are hosting groups from Saginaw Valley State University in Michigan and Georgia Southern University during the week of December 15-20. Volunteers are needed to provide lunch for 16-24 students on four different weekdays. Help us fuel all their hard work; they really appreciate both the meals and the community engagement!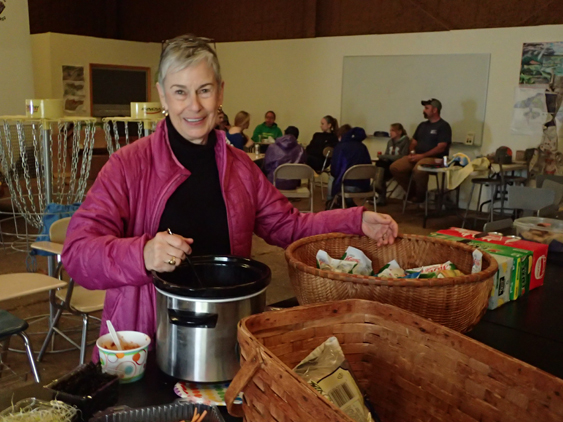 Volunteer, Barbara Lanwermeyer serves lunch to a group of alternative break participants in 2017.
To volunteer, email Callie (callie@mountaintrue.org). If mid-December is not a good time for you to help, you'll have another opportunity in 2020, as we already have three schools confirmed for alternative spring breaks starting the week of February 23.
Buck Project Update: Forest Service Holds Objection Resolution Meeting
Mountain True Public Lands Field Biologist Josh Kelly and Western Regional Director Callie Moore joined other partners represented by Southern Environmental Law Center in an objection resolution meeting on November 8 with the US Forest Service. The partners are opposed to the forest service's latest proposal to build 8.9 miles of road and harvest timber in sensitive areas. (You can read more about the Buck Project and our objections here.)
Two other objectors who wanted to see more logging in the Buck Project area were also present. Forest Supervisor, Allen Nicholas actively listened to better understand the concerns of all parties during the professionally-facilitated session. The Forest Service intends to provide a response to our objection by December 16th.
Nov. 20: Plugged in Buncombe: Sustainability Advisory Committee on Energy and Environment
In an effort to encourage Buncombe County residents to get plugged into our local democracy, we want you to join us at advisory board or committee meetings. These meetings are designed to encourage residents' input on specific community issues at the city and county level. Read more.
Dec. 4: Bearwallow Contemplative Hike w/ CCA in Hendersonville
Join us for a contemplative fall hike up Bearwallow mountain. This easy-to-moderate trail climbs one mile through lovely mountain forest, and opens up onto a large grassy field at the top. Read more.
Watauga Riverkeeper Paddle-n-Plant Workdays
Reduce the amount of sediment that flows into our rivers by planting live-stakes along eroding river banks with the Watauga Riverkeeper and MountainTrue. Sign up for:
Dec. 6 workday
Dec. 13 workday
Feb. 9 workday
Feb. 16 workday 
Mar. 13 workday
Dec. 7: Alexander River Park Public Workday in Alexander
Join Asheville GreenWorks, MountainTrue and RiverLink for a restoration extravaganza! Take part in River Cane Propagation, Invasive Removal, Tree Planting and Stream Cleanup. Read more.
Dec. 12: Hendersonville Green Drinks: The Plastic Reduction Task Force & Trash Trout
Eric Bradford, Director of Operations with Asheville GreenWorks, will join us to discuss the issue of plastics and waste reduction efforts in WNC. Read more. 
Feb. 7-8 Creation Care Retreat in Montreat
Designed with creation care volunteers and clergy in mind, this retreat allows you to spend a day with a theologian, a climate scientist, a forest biologist, and local colleagues and pastoral innovators. Read more.