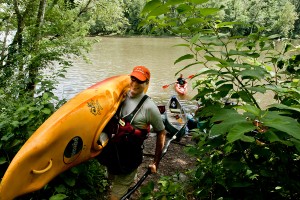 Every year, MountainTrue and our French Broad Riverkeeper take participants on a guided trip down the French Broad River from the source of the river into Tennessee, camping out along the French Broad River Paddle Trail℠ (proudly sponsored by Oskar Blues Brewery).
Leave the shuttle and logistics to us and enjoy the river's beauty from the water!
Dates for 2015 have just been set: Join us on a five-day float from the headwaters to Asheville from May 30-June 3 or, for the first time, on a new three-day float from Hot Springs to Douglas Lake from July 12-14 (THREE-DAY TRIP IS FULL) . We also have a two-day option, May 30-31.

Leave the shuttle and logistics to us and enjoy the river's beauty from the water!
The five-day paddle starts at the confluence of the North and West Forks of the French Broad River, and winds through farmland, under a canopy of trees, before widening to reveal the stunning views of the Appalachian Mountains. The river cuts through the Biltmore Estate, and paddlers will catch a unique view of the majestic house. We'll have an afternoon to explore the Biltmore Estate grounds and tour the winery. Just past the Biltmore Estate, the river flows through the city of Asheville, where the five-day trip ends.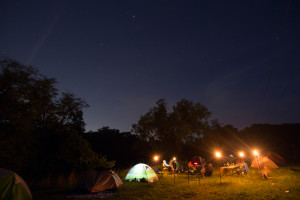 The three-day trip is a brand-new trip that takes paddlers on a stunning voyage that starts in the scenic river town of Hot Springs and winds through spectacular scenery, around dramatic cliff bands, and down a handful of class II rapids and one class III rapid. We'll camp along the river as we make our way to Douglas Lake, the final destination of the trip.
This trip features some of the most stunning scenery in the region, and we'll highlight and take samples of several water quality threats to the watershed, in an effort to understand the threats to the French Broad River. Camping has been arranged for each night of the trip, providing an exciting opportunity to paddle camp along the banks of the river every night of your journey. Great hearty food will be provided for each meal. Breakfast will range from pancakes, bacon and eggs, yogurt, fruit, and bagels. Lunch will be made in the morning and eaten on the river. Dinner will range from pasta, to dinner out at local eateries, to pizza.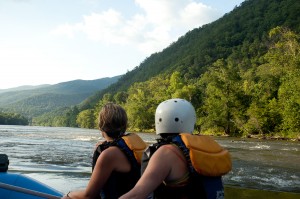 The five-day trip is the perfect trip for families and beginners and the three-day trip offers some easy paddling, but also includes navigating around rounds and down some moderate rapids. Having some experience and being comfortable in a boat is a big plus for enjoying this trip.
A van will be provided each day for shuttling and transporting gear. The trip will be limited to about 20-25 people a day so everyone can enjoy the quiet beauty of the river.
The French Broad River Paddle Trail℠