Will Johnson Wins Top 2023 Carson Conservation Scholarship Award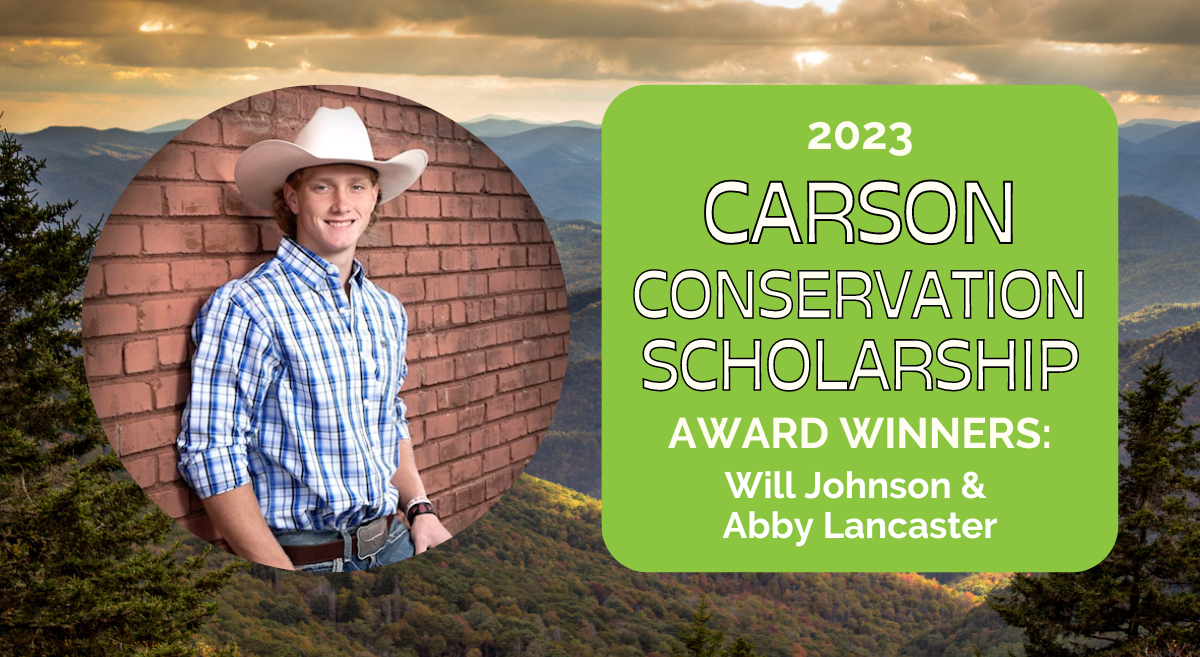 The top Glenn F. Carson, II Memorial Conservation Scholarship award winner for 2023 is Cherokee County resident and 2023 Murphy High graduate Will Johnson (pictured above). Will has been All-Conference in both football and track in addition to being an active member of the Fellowship of Christian Athletes. In his scholarship essay, Will wrote, "Caring for resources so that all living things can benefit from them now and in the future is something that we all must strive to achieve… Environmental and animal conservation go together and they benefit each other."
Will is headed to NC State University this fall to study Agriculture Education with a concentration in Animal Science. He is looking forward to coming back to his family farm after college in order to protect the natural resources on the land for generations to come and implement techniques to prevent water run-off and reduce the negative impacts of flooding. His scholarship is $2,000 and is renewable at $1,000 per year for up to three additional years, based on continued eligibility.
An additional $500 scholarship was awarded to Abby Lancaster, a resident of Graham County and 2023 Robbinsville High graduate. Abby plans on attending Appalachian State University to study Agriculture and has spent much of her time volunteering at a local horse rescue.
Originally established in 2014 by the Hiwassee River Watershed Coalition (now MountainTrue's Western Regional Office), the Carson Conservation Scholarship is a memorial to the late Glenn F. Carson, II. At the time of his death, Glenn was the District Conservationist for Cherokee, Clay, and Graham counties with the USDA Natural Resources Conservation Service and was an important leader in the WNC conservation community. He was a graduate of Western Carolina University. 
The Carson Conservation Scholarship assists young people from Cherokee, Clay*, and Graham counties who want to pursue higher education in natural resource conservation fields such as agriculture, forestry, environmental science, health or engineering, and wildlife management. To date, $22,000 in scholarship funds have been awarded to 13 students.
*We received no Clay County applicants this year. 
To support more students through the Carson Conservation Scholarship fund, make a donation at mountaintrue.org/join and mark your donation as "In Memory of Glenn F. Carson, II."