2023 Craggy Mountain Bioblitz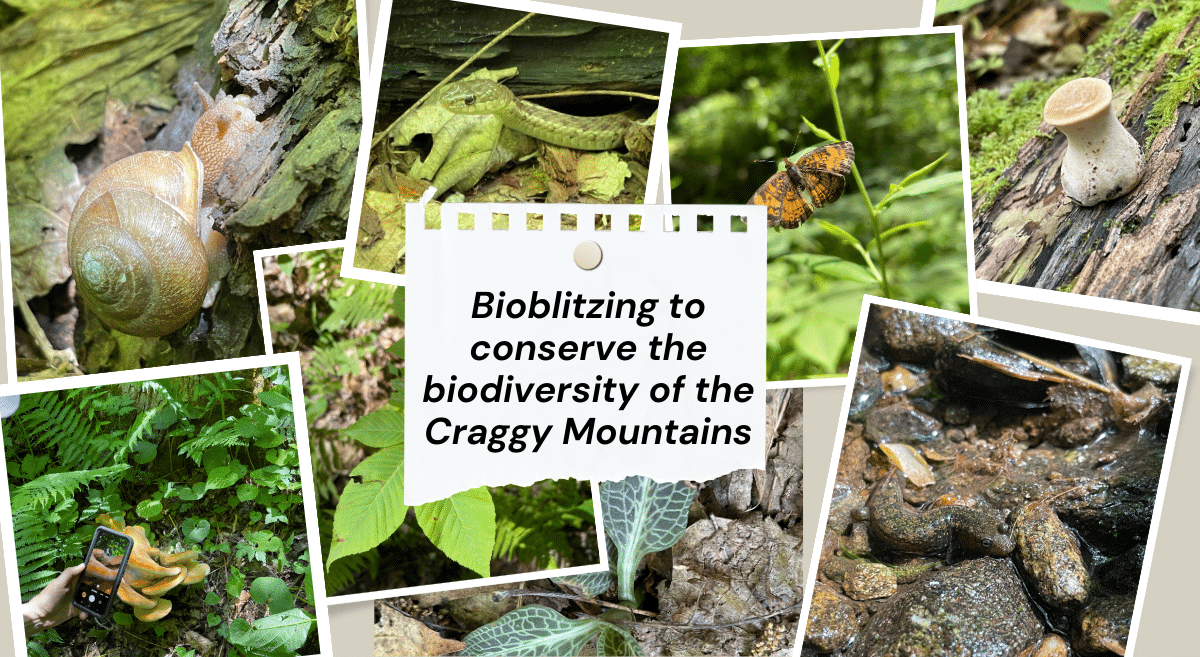 Barnardsville, NC — In order to shine a light on the outstanding qualities of the Craggy Mountains, MountainTrue organized an in-person Bioblitz on June 10, during which 20 expert naturalists and 52 citizen scientists teamed up to explore the Craggies and identify as many plant and animal species as possible. The event was hosted by the Big Ivy Community Center, and participants submitted photos of their findings on the online iNaturalist platform. MountainTrue's extended virtual Bioblitz — which concluded on June 25 — saw an additional 35 people sign up to further document the abundant biodiversity of the Craggy Mountains. 
Amanda Lytle, a biologist and herpetologist with Western Carolina University, said, "MountainTrue's 2023 Bioblitz was my favorite activity of this summer so far! Being immersed in the beauty of the Pisgah National Forest is always a treat, but being there while surrounded by naturalists who are experts in their field is something special. I loved learning from the other group leaders who pointed out unique flora and fauna that can otherwise be easily overlooked. The Craggy Mountains are a biodiversity hotspot that should be protected for all to enjoy – from endemic salamanders to slime molds, this area has something for everyone."
1,603 organisms were photographed during the MountainTrue Bioblitz, and 647 species have been identified. Notable finds include the northern pygmy salamander, Canada honeysuckle, deer-hair bullrush, Goldie's fern, round-leaved orchid and a remarkable abundance of diverse moth species. The information collected by Bioblitz participants certainly documented the special character of the area and will be crucial in helping the Forest Service to better protect it by demonstrating to Congress that the Craggies should be designated as a permanently protected National Scenic Area. 
The Craggy Mountains are one of the mightiest sub-ranges of the Southern Blue Ridge, with at least nine peaks over 5,000′ and Craggy Dome topping out above 6,000′. The Craggies also have one of the greatest concentrations of old-growth forest and rare species in North Carolina; 32 species on the NC rare species list have occupied habitat in the Craggies. Due to their natural beauty and biological diversity, the Craggy Mountains have been proposed for permanent protection as a National Scenic Area. Doing so will require an act of Congress and the signature of the President. 
MountainTrue and its organizational partners have had several meetings with Congressman Chuck Edwards, Senator Thom Tillis, and Senator Ted Budd and their staff to discuss the creation of the Craggy Mountain National Scenic Area. The idea has been favorably received. MountainTrue encourages folks to stay tuned for more news about the proposed Craggy Mountain National Scenic Area. "We are hopeful that the future is bright for permanently protecting this special area," says MountainTrue's Public Lands Field Biologist, Josh Kelly.