2023 Holman Water Quality Award Winner: Mayor Andrea Gibby and the City of Young Harris, GA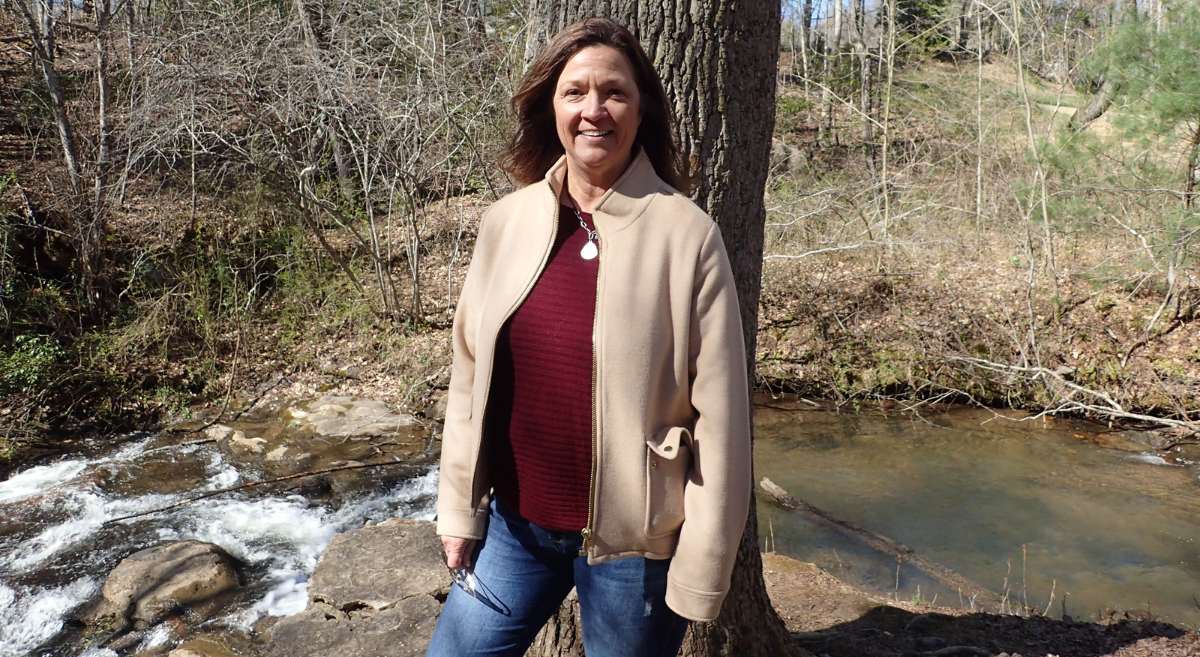 Mayor Andrea Gibby, the recipient of the 2023 Holman Water Quality Stewardship Award.
Mayor Andrea Gibby and the City of Young Harris, Georgia, received the 2023 Holman Water Quality Stewardship Award at MountainTrue's 15th Annual Hiwassee Watershed Gala in the Charles Suber Banquet Hall at Young Harris College on March 30.
Over the years, the City of Young Harris has been forward-thinking in adopting policies that plan for growth in ways that will protect the natural resources of the mountain community. With the election of Mayor Andrea Gibby in 2008, protecting natural resources became an official priority for the City of Young Harris. One of the first examples of her leadership was an update of the City's zoning/development ordinance to include requiring retention ponds to manage stormwater runoff from development, lighting and noise ordinances, buffer requirements, etc., and to promote conservation-based subdivisions. The City also adopted a tree ordinance to protect its existing trees and require the planting of additional trees.
Working closely with the City Council and the community, Mayor Gibby was able to leverage loans and funding of $6.5 million to improve and expand water and wastewater infrastructure — with another $3.5 million in improvements and expansion allocated for future expansion and upgrades. Utilizing grants and the Special Purpose Local Option Sales Tax (SPLOST), as well as in-kind labor, Andrea has been instrumental in creating or expanding two parks. She and the City Council are working on a third park located on Brasstown Creek, which is scheduled to open in 2024. The City has also installed solar panels at several locations, including City Hall.
In 2015, the City of Young Harris replaced a culvert crossing of Corn Creek on a small city street on the YHC campus with an arch bridge that provides aquatic organism passage (AOP). This was more expensive upfront for the City, but it's what's best for the stream, as it allows for unimpeded flood passage in high water while minimizing downstream erosion and providing easy passage for fish and aquatic life year-round. And in 2022, thanks to Mayor Gibby's leadership, the City followed one of MountainTrue's recommendations to install a rain garden to manage runoff from the main parking lot at Cupid Falls Park.
Born and raised in Young Harris, Andrea has lived, studied, and worked in Louisville, KY; San Jose, CA; and Seattle, WA. Her professional work has been in mental health, primarily with family and children. She is currently the executive director of the Appalachian Children's Center, a child advocacy center located in Ellijay, GA. Her professional background includes two advanced degrees in Psychology and Counseling. Her bachelor's degree is in Political Science.
Relationships are the key to any successful community. A certified mediator and facilitator, Mayor Gibby utilizes these skills to engage the community in sustainable growth and development. Mayor Gibby currently serves on the Georgia Municipal Association (GMA) board of directors and executive board. She is also co-chair of GMA's Equity and Inclusion Advisory Board. Mayor Gibby believes that the Appalachian Mountains and waters are our heritage. She has worked hard to protect our natural resources for those who come after us.
Each year, the Holman Water Quality Stewardship Award is presented to the person or group who has done the most to sustain good water quality in rivers, lakes, and streams in the upper Hiwassee River watershed of Towns and Union counties in North Georgia and Cherokee and Clay counties in North Carolina. The award is named for Bill Holman, a life-long conservation advocate and currently the North Carolina State Director of The Conservation Fund. The Holman Award is sculpted by David Goldhagen of Goldhagen Blown Art Glass, whose studio is located on the shores of Lake Chatuge near Hayesville, NC.