2023 Western North Carolina Conservation Legislative Priorities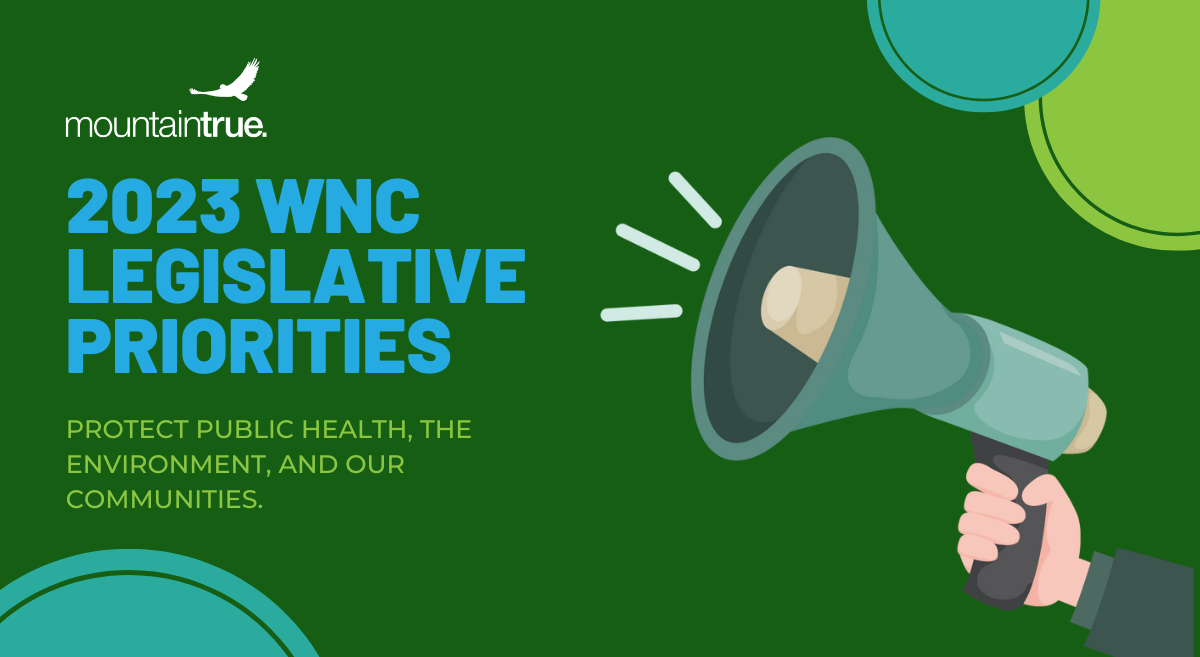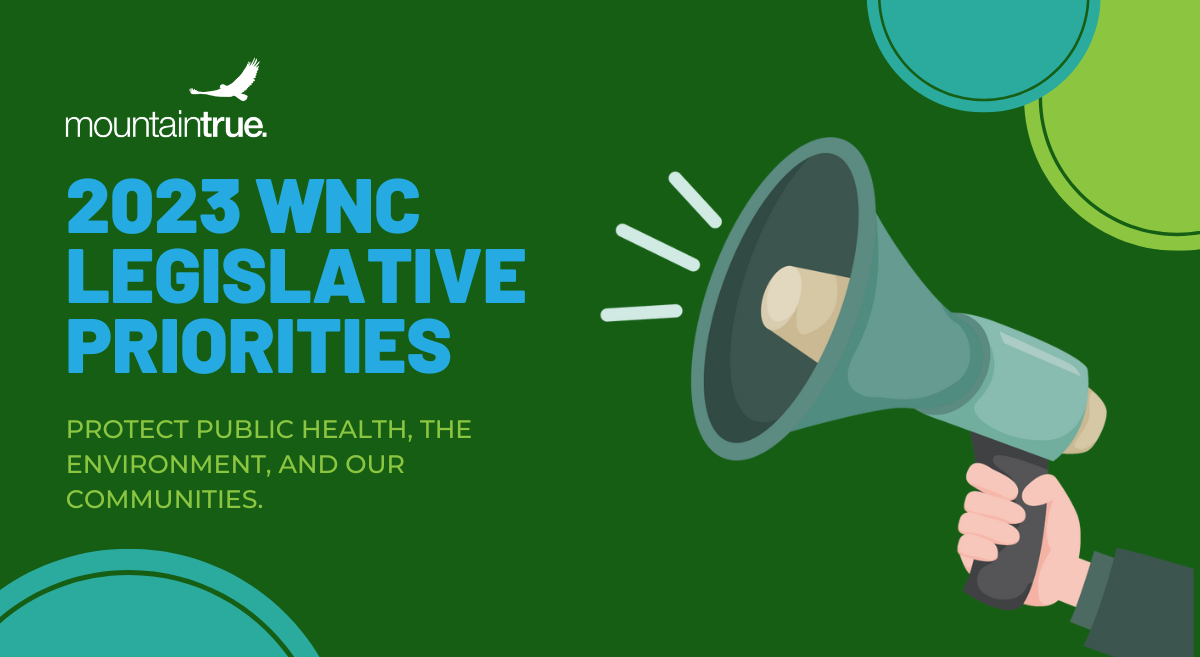 Protect Public Health – and the Jobs and Businesses that Rely on Clean Water
A recent report conducted by economists at Western Carolina University commissioned by the French Broad River Partnership found the total economic impact of the French Broad River and its tributaries is $3.8 billion annually, and river-reliant businesses create or maintain 38,554 jobs each year. In 2015, more than 55,000 people used a commercial outfitter to enjoy the French Broad, and thousands more used the river without an outfitter. 
Unfortunately, bacteria pollution threatens this economic engine by making the watershed unsafe for the thousands of people who play in it every year. Contaminated water poses health problems, including gastrointestinal, skin, ear, respiratory, eye, neurologic, and infections. 
Water quality testing in the heavily-used French Broad River watershed indicates the presence of E. coli and fecal coliform at levels that are unsafe for human exposure much of the time. One of the most popular areas for recreation, a 19-mile section of the French Broad River – from the Asheville Regional Airport,  through the Biltmore Estate and the River Arts District in downtown Asheville – was added to NC's list of impaired waterways in 2022.

To protect public health and the jobs and businesses that rely on safe recreational waters, MountainTrue supports the following initiatives to reduce bacterial pollution:
Increase local WNC funding to help farmers improve water quality. Agricultural waste is a significant source of E. coli and other bacterial pollution in WNC rivers and streams, especially the French Broad River which, as mentioned above, was recently listed as impaired for fecal coliform. Unfortunately, demand for state funding to help WNC farmers afford improvements that would reduce this pollution far outstrips the current budget. Expanding state funding for local Soil and Water Conservation Districts (SWCDs) to meet this demand is critical to improving recreational water quality in WNC. We would like to request a $2 million nonrecurring allocation to SWCDs in the French Broad Watershed, allocated through the existing Agricultural Cost-Share Program, specifically for livestock operation improvement projects.  
Help property owners reduce stormwater pollution. The Community Conservation Assistance Program (CCAP) allows WNC's SWCDs to help property owners reduce stormwater pollution in impaired waters.  Like the cost share program for farmers, funding for CCAP assistance is insufficient to meet demand. Providing WNC SWCD's with an additional $500,000 for the CCAP program will significantly reduce stormwater pollution in rivers and streams already impacted by bacterial pollution. 

Other policy and funding initiatives that MountainTrue supports:
Abundant Housing Legislation – Opportunities for dense, energy-efficient housing located close to jobs reduce energy demand and transportation emissions. We support legislation to address housing availability and affordability.
Dam Removal Fund Implementation – The NCGA previously allocated $7.5 million to remove antiquated dams on waterways across WNC. MountainTrue is committed to advancing policies that give state agencies the support they need to advance dam removal projects efficiently.
Expand Transportation Funding – NC's transportation funding relies on the gas tax, which is diminishing as people drive less and vehicles become more efficient. We support legislation that creates new sources of funding and expands the use to include stand-alone bike-ped projects.
Stormwater management reform for redevelopment projects – Recent amendments to G.S. 143‑214.7 deny local governments the option of requiring stormwater mitigation on redevelopment projects. We support legislation to repeal those changes.
Safe Passage Fund – As roadway construction creates new barriers to long-established wildlife corridors, inevitably, animals are increasingly encountering humans and their vehicles. We are joining a coalition of organizations seeking $10 million to support wildlife crossing projects.
Agency staffing needs and pay equity – State agencies across the board are struggling to hire and retain staff due to budget constraints and competition with the private sector. MountainTrue supports maximizing investments in state agency staff positions and salaries.
WNC Public Access and Recreation Investments:
Expand the Blue Ridge Snorkel Trail to include one publicly-accessible site in each WNC county, along with educational materials ($150,000 nonrecurring to Mainspring Conservation Trust).
Improve River Walk in downtown Murphy by building a boardwalk for Fisherman's Loop, and extending the path to a housing development ($250,000 nonrecurring to the Town of Murphy).
Improve public access to the Watauga River Paddle Trail by purchasing an additional access point in Watauga County ($500,000 nonrecurring to Watauga County).
Expand access to the Green River and adjacent lands by developing a new access point at South Wilson Hill Road ($150,000 nonrecurring to Polk County Community Foundation).
Enhance Chestnut Mountain Nature Park by expanding paths and trails and improving the playground and creekside park ($450,000 nonrecurring to the Town of Canton).