Support MountainTrue With Your Feet
What better way to celebrate 40 years than by getting outside to enjoy the places we have worked so hard to protect?
Join MountainTrue's Hike-a-Thon in honor of our 40th anniversary! Participants of any experience level can sign up to hike OR sponsor a hiker. Funds raised will help us continue to protect the places we love and share.
Hikers collect pledges from friends and family for miles hiked throughout the months of June, July, August, and September 2022. For more information head over to our Rally-Up page by clicking the link above.
Already signed up and looking for inspiration? The MountainTrue staff has put together a list of hikes containing places of special interest to MountainTrue and our history.
We hope you will join us in hitting the trails this Summer!
Suggested Hikes
Hikes Significant to MountainTrue
Bluff Mountain Loop – Built as a result of our successful resolution of the Bluff Mountain Timber Sale battle in 1997. This 3.1-mile loop near Hot Springs, North Carolina is generally considered a moderately challenging route. It takes an average of 1 h 41 min to complete and was built as a result of MountainTrue's successful resolution of the Bluff Mountain Timber Sale battle in 1997. We recommend taking time to enjoy the beautiful forest and display of Spring Wildflowers. See it on AllTrails.
Fires Creek Rim Trail – This 25-mile loop trail near Hayesville, North Carolina is generally considered a challenging route and takes an average of 13 h 31 min to complete. Fires Creek is classified by North Carolina as an Outstanding Resource Water (ORW) and this loop will allow you to experience the beauty of MountainTrue's hard-fought (and successful) battle for the Laurel Creek inholding. More information on this win can be found here See it on AllTrails.
Miller Trek – Enjoy this 6.0-mile loop trail near Young Harris, Georgia. Generally considered a moderately challenging route, it takes an average of 2 h 59 min to complete. Before merging with MountainTrue, Hiwassee River Watershed Coalition removed this stream from the 303(d) list (named after a relevant section of the Clean Water Act). This list is a tally of impaired and threatened waterways, based on their designated uses, such as a shellfish growing area, drinking water supply, or boating, fishing, and swimming spot. See it on AllTrails.
Oklawaha Greenway – The Greenway Trail is good for walking, running, and birding. Environmental and Conservation Organization (ECO, now MountainTrue) was instrumental in establishing and expanding the greenway. Visit Friends of the Oklawaha Greenway.
Other Wonderful Hikes
Appalachian Trail from Brown Gap to Max Patch Road – MountainTrue has saved over 200 ash trees from emerald ash borer beetle in this area. This is best done either with a two-vehicle shuttle starting at Brown Gap or an out-and-back hike from Max Patch Road. The stretch of Appalachian Trail between Brown Gap and Max Patch has exemplary hardwood forest, great displays of wildflowers in spring, and excellent diversity of songbirds. This can be combined with a hike to the summit of Max Patch for 360-degree views of the surrounding mountains. See it on Outside.
Grandfather Trail to Calloway Peak – A wonderful hike in the High Country.
Enjoy this 4.1-mile out-and-back trail near Linville, North Carolina. Generally considered a challenging route, it takes an average of 2 h 16 min to complete. This is a very popular area for hiking, so you'll likely encounter other people while exploring.  See it on AllTrails.
Elk Knob Summit Trail – This out-and-back 3.8-mile hike is graded as moderate and the summit offers spectacular views of The Peak, Three Top and Bluff Mountains, Mount Jefferson, Grandfather Mountain, and Mount Mitchell. Elk Knob is one in a series of amphibolite mountains in the southern Appalachian range. The area contains a high diversity of natural communities, many of them uncommon or rare. Along the hike you may spy endangered plants such as Gray's lily, trailing wolfsbane, large purple fringed orchid, and flame azaleas. See it on AllTrails.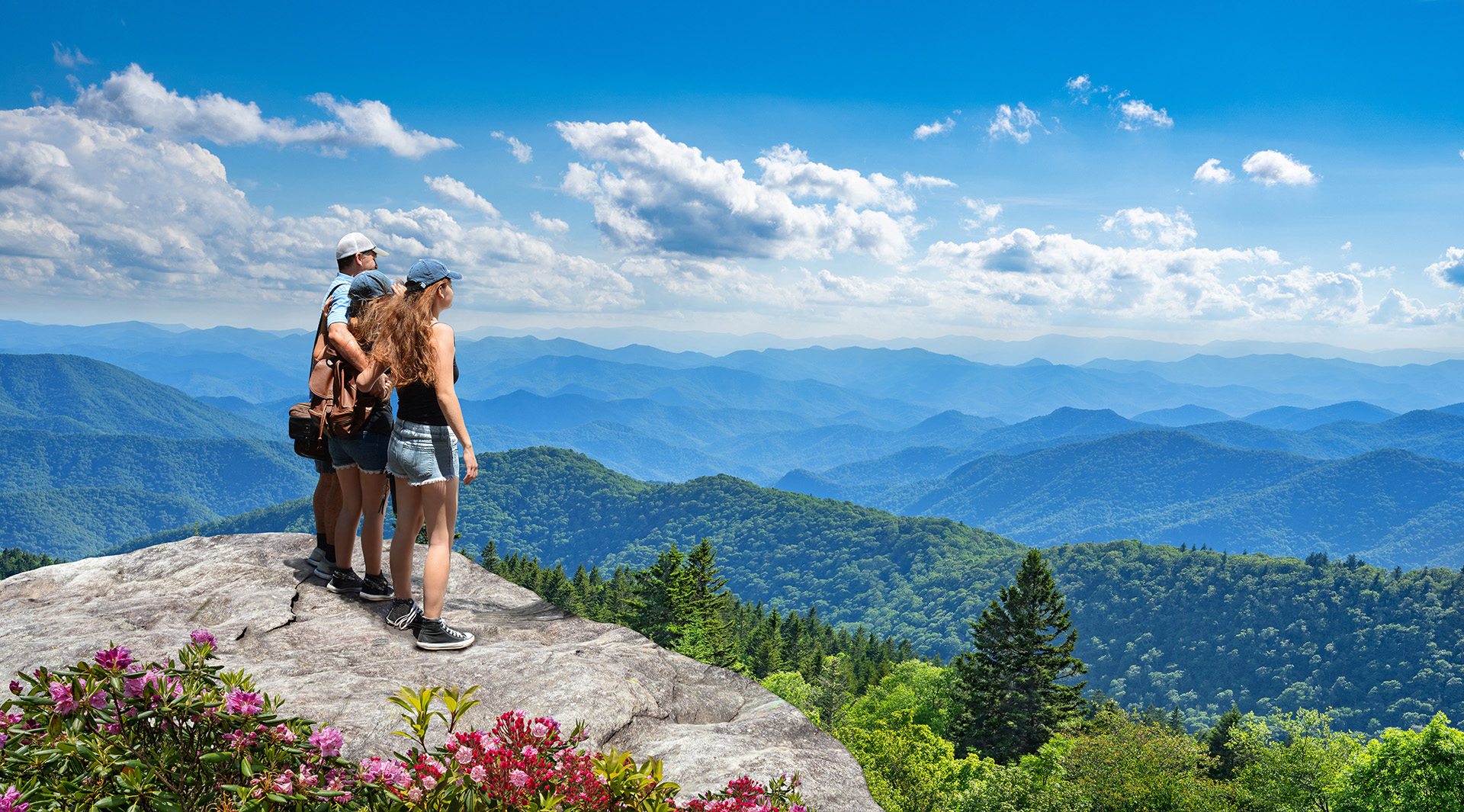 Day Hiking Essential Checklist


Not sure what you should bring on your day hiking adventures? Check out this handy checklist from REI and make sure you have all the essentials you need for a safe, stress-free day out in the forest.
Having trouble signing up?