A Message From Climate Scientist Deke Arndt
Dear Supporter,
On the tails of Hurricane Florence and one of the warmest, wettest years on record, I wanted to address my fellow members and supporters of MountainTrue and talk about the great challenges ahead. My name is Deke Arndt. I'm an Asheville-based climate scientist and a MountainTrue board director.

This fall, as study after study shows the consequences of a warming planet are accelerating, the United Nations released an alarming new report that confirms that time is running out to hold warming to manageable levels, and that the damage will be irreversible if we don't act quickly and decisively. As Debra Roberts, one of the report's editors, put it, "The next few years are probably the most important in our history."
Meeting that challenge will require global cooperation and national leadership, but we also need to take action at the local level and as individuals. That's why I'm upping my involvement in and support of MountainTrue, and I hope you will too. Volunteer, get involved, take action in our advocacy campaigns and help us grow our impact by making a contribution to MountainTrue.
MountainTrue's members and supporters have built a legacy of climate action to be proud of. Together, we stopped timber companies from clearcutting in Pisgah and Nantahala national forests, protecting these important natural carbon sinks. You secured the closure of Asheville's coal-fired power plant and pressured Duke Energy to invest more in energy efficiency, solar, and other renewable technologies. You won better public transit and transportation infrastructure that includes bike lanes, sidewalks, and greenways to reduce the number of fossil-fuel burning cars on our roads.
Help grow these programs to increase our impact. Join me by making a contribution to MountainTrue.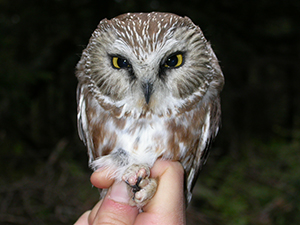 Make no mistake. Climate change is transforming our entire planet and will touch every one of us. At current emission levels, Western North Carolina is expected to be 4°F to 5°F warmer in 2050 than it was in 2000. When it's wet, we can expect it to get wetter. This means more flooding and landslides, and more sediment in our waterways – reducing our water quality. On the other hand, dry spells, and droughts will be longer and hotter, increasing the threat of wildfires.
Climate change will also cause irreversible harm to our region's diverse ecosystems. Higher temperatures push species uphill, from lower elevations toward cooler climates. The ones who make their homes in the spruce and fir forests at the tops of our highest mountains – like the northern saw-whet owl, northern flying squirrel, and the spruce fir moss spider – will either have to move to northern climates or will go extinct. Invasive plant species like Japanese stiltgrass, multiflora rose, and sweet autumn clematis are thriving in warming climates and outcompeting native plants. Animals evolved to adapt to local food sources, and the berries of non-native invasive plants do not provide the nutrition they need to survive. Warming waters also threaten our aquatic species – including trout.
Please join me by supporting MountainTrue. Make a donation today and help us ramp up our efforts to combat and mitigate climate change. With your help we can:
Protect our region's carbon sinks by fighting for a forest management plan that protects our old-growth forests and our most special places from logging and overuse by extractive industries.
Protect fauna, flora and native habitats by eradicating the invasive species that are benefiting from climate change.
Reduce our region's carbon footprint by pushing local governments, Duke Energy, residents and businesses to invest in more energy efficiency, solar power, and renewable energy. Help us replicate the groundbreaking Blue Horizons Project throughout our region.
Build climate resilient communities by championing greenways, bike lanes, better public transit, and policies for growth that are climate smart.
Mobilize religious organizations to combat climate change by spreading the gospel of caring for God's creation, and helping area faith communities upgrade their facilities to reduce their energy bills and carbon footprints.
MountainTrue's ambitious and innovative campaigns are a great way for Western North Carolinians to do our part to combat climate change. Please help us rise to this historic challenge by making a donation today.
Sincerely,

Deke Arndt
Climate Scientist
MountainTrue Board Director
MountainTrue Member
P.S. To learn about how you can get involved, volunteer opportunities and our latest campaigns, visit mountaintrue.org. Or make a donation online at mountaintrue.org
Owl Photo Credit: Kent McFarland. https://flic.kr/p/6yk2fG