AmeriCorps Water Quality Administrator (Hendersonville)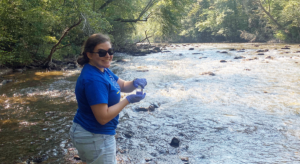 MountainTrue, through AmeriCorps Project Conserve, is seeking dedicated individuals to fill 4 full-time positions serving critical conservation needs in western North Carolina. Each full-time member will serve 1700 hours from September 1, 2022 through July 31, 2023. Members serve with host site organizations working to protect the unique natural resources of the southern Blue Ridge Mountain region.
Members connect people with nature and enhance quality of life through conservation education, volunteer recruitment/coordination, and trail creation/improvement. Members also improve environmental conditions in WNC through activities including habitat restoration, water quality monitoring, and public land and river improvements projects.
Project Conserve strives to foster a culture that celebrates and supports equity, diversity, and inclusion, learning and continuous improvement, and high-quality community service. AmeriCorps positions provide unique opportunities for members to develop leadership and professional skills to support their future career goals. Members participate in training and service days up to three days per month with the full Project Conserve team and on an ongoing basis as part of their host site service. Training may cover a broad range of topics including conflict resolution, wilderness first aid and CPR/AED, project planning, non-native invasive species identification, trail construction, volunteer management, and education program development.
Water Quality Administrator Position Summary:
This position encompasses many facets: working with volunteers on many levels (recruiting, training, mentoring, organizing); learning and understanding meaningful ways to connect applied science to community needs at the local level; evaluating, designing, and implementing impactful programming for the betterment of the community and environment; and collaborating with all types of groups, from government agencies to civic organizations, school groups, other nonprofits, and community groups. The member is in charge of communications with the Water Quality Team, administers resources for all WQ-focused programs, and connects with the broader community to solve water quality challenges.
Qualifications – Knowledge, Skills, and Abilities:
Related educational background preferred: environmental sciences/studies, natural resource
management, sustainability/technology, etc.
Experience working with or managing volunteers of various demographics preferred
Public Speaking experience a plus
Member must possess excellent verbal and written communication skills
Experience with Microsoft Office, Google suite, Facebook, and GIS preferred
Eligible applicants must be at least 18 years of age, be a citizen, national, or lawful permanent resident alien of the United States, and consent to a criminal history check.
Preferred Service Hours / Weekly Schedule:
9:00 am to 5:00 pm Monday through Friday, some evenings and weekends
Position Responsibilities and Duties:

Conservation Education: 20%
Collaborate with other organizations to organize and execute Kids in the Creek and other water quality youth education events;
Focus educational efforts around climate change adaptation and mitigation, litter and plastic pollution, and other emerging areas of interest;
Collaborate with other organizations to conduct public education events across Transylvania, Henderson, Polk, and Rutherford Counties;
Pursue other opportunities to engage with children through local schools, etc.
At-Risk Ecosystems and Trails: 30%

Plan and assist with live-staking events in the region;
Utilize water quality data to prioritize and address water quality issues;
Conduct stream clean-ups and other work days
Volunteer Infrastructure Program: 50%
Lead MountainTrue's Southern Regional Office Clean Water Team;
Manage the SMIE biomonitoring, VWIN chemical monitoring, Swim Guide bacteria monitoring, and microplastic monitoring programs through effective volunteer recruitment, training, and management;
Expand the reach of the Adopt-A-Stream program; Coordinate Big Sweep and other volunteer focused stream clean-up events;
Host a volunteer appreciation event;
Help guide the organization's efforts around equity, diversity, and inclusion by targeting volunteer recruitment and service activities to reach underserved people and communities;
Pursue other opportunities to engage volunteers as they arise
PLEASE NOTE: In addition to fulfilling host site service responsibilities, all Project Conserve members are required to fully participate in team trainings, service projects and statewide AmeriCorps events. Project Conserve team events will occur approximately twice per month in locations throughout the service area and may require up to three overnight stays.
Eligibility Requirements
Applicants must:
Be a U.S. citizen, national, or lawful permanent resident
Be at least 18 years of age at the commencement of service
Be available and commit to full-time service for the entire service term: members will serve a minimum of 1700 hours over the 11-month term, which is roughly full-time (40 hours per week).
Consent to a criminal history check and be cleared for service
Meet minimum education requirements (see individual service descriptions)
Meet additional qualifications as listed in the service descriptions
Meet essential functions for each position as listed in the individual service descriptions
Compensation & Benefits
For full-time (1700 hour) positions in the 2022-2023 program year, members will receive:
$19,880.00 living stipend (paid in equal installments via direct deposit, twice per month, minus taxes)
Health insurance reimbursement if eligible. Members are eligible for reimbursement for the full cost of a Health Insurance Marketplace bronze or catastrophic plan, OR up to $100 for a higher-level Marketplace plan. Members who maintain health insurance through a parent or spouse's employer are not eligible for reimbursement.
Childcare assistance if eligible. See eligibility requirements for full-time members enrolled in AmeriCorps State & National programs on the AmeriCorps Childcare Fact Sheet
Education award of $6,495.00 upon successful completion of the program. This award can be used to repay qualified student loans and to pay current educational expenses at eligible institutions of higher education and training programs. Learn more about the Segal AmeriCorps Education Award on AmeriCorps.gov/americorps-education-award
Mentorship, training, and professional development opportunities. Training may include Wilderness First Aid, CPR/AED, Conflict Resolution, Diversity, Equity & Inclusion, and more
HOW TO APPLY
To Apply
Please go to conservingcarolina.org/americorps/projectconserve/ for more information and to apply. Contact Susan Bean with any questions at (828) 258-8737 x218 or susan@mountaintrue.org. MountainTrue is an Equal Opportunity Employer. Individuals with disabilities are encouraged to apply. Reasonable accommodations will be provided to individuals with known physical/mental disabilities.