Ash Re-Treatments Underway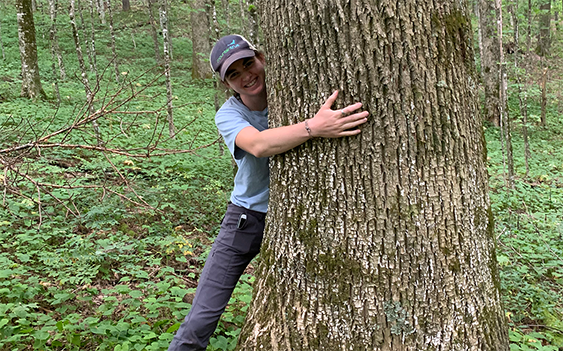 Over the past few years, MountainTrue has taken on the task of identifying and treating priority ash groves around WNC in response to the threat of the Emerald Ash Borer. This non-native invasive insect is wreaking havoc throughout the state, and many of the trees we have treated are surrounded by bare branches from neighboring dead ashes. We have treated over 1,100 trees throughout the region, and committed to re-treating these trees after their initial 3-year treatment wears off.
So far, we have retreated over 100 trees in a beautiful grove on Bluff Mountain in Madison County, along the Appalachian Trail. The trees we have treated have a bright painted dot on the farside of the tree that isn't visible from the trail. No need to look for the paint, though. These trees are surrounded by diverse wildflowers that shouldn't be trampled. If you see a living ash tree on Bluff, it's probably been treated.  
We will also be establishing a new site above 4,000 feet in the Big Ivy area of Pisgah National Forest. This area does not yet have any treated groves of ash, and the new site will add to the representation of preserved groves across the landscape.
If you are interested in helping us continue to save these populations, learning about the treatment, or just want to get involved, contact us at josh@mountaintrue.org.