Asheville Design Center Helps Businesses Face Pandemic With Design Solutions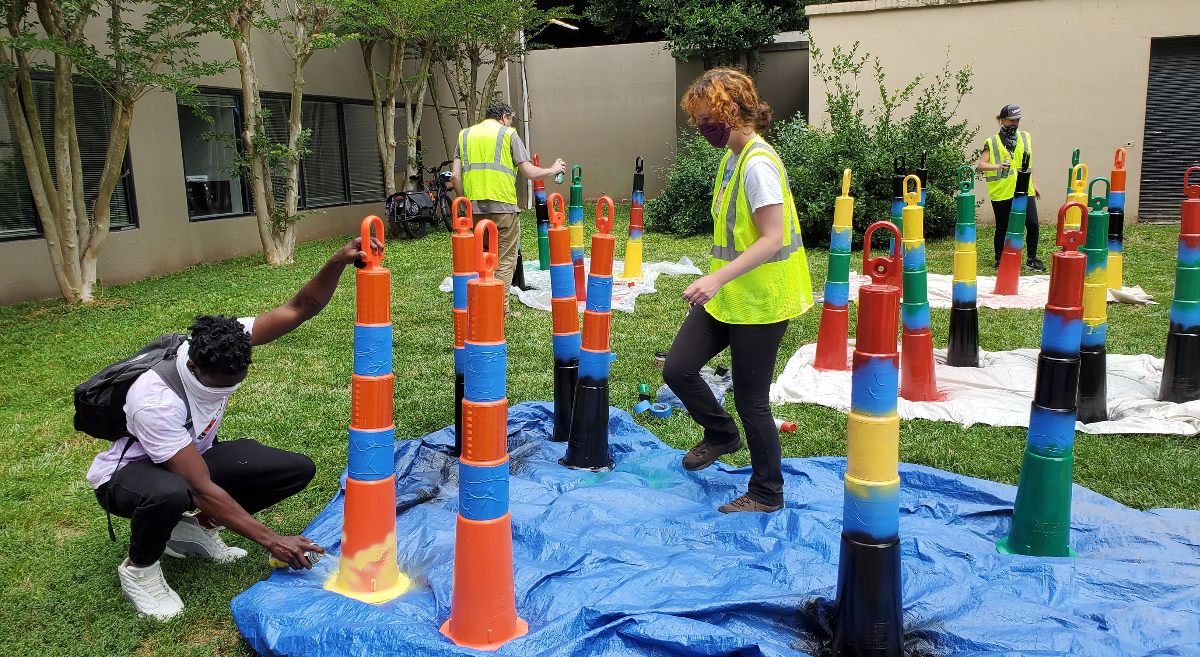 Asheville Design Center volunteers paint traffic barriers for Asheville's first Shared Streets installation on Eagle and Market Streets, also known as "The Block," on June 18.
June 29, 2020
As more and more Asheville businesses reopen, the COVID-19 pandemic has required them to need more breathing room – literally. To help businesses adapt to indoor capacity limits and social distancing guidelines, the City of Asheville has contracted with MountainTrue's Asheville Design Center (ADC) to create design solutions that allow businesses to use more public outdoor space.
The first of these solutions, temporary parklets, provides overflow space for businesses by sectioning off adjacent parking spots. The City's new temporary parklets program allows businesses to use up to three on-street public parking spaces on roads with speed limits of less than 25mph. ADC has designed these to be used for outdoor dining, selling merchandise, and additional space to allow for social distancing. 
ADC is also taking leadership on the City's new Shared Streets program, which extends the parklet design concept by prioritizing entire streets for pedestrians. "Wall Street provides a good model for what we're trying to accomplish," says Chris Joyell, Director of the Asheville Design Center. "The moment you step onto it, there are several design cues that make pedestrians feel comfortable walking in the street and cause cars to slow down and know they have second priority to pedestrians. We want more streets in Asheville to feel that way." 
True to ADC's mission, staff and volunteers are designing signs and elements of the temporary parklets and Shared Streets by working hand in hand with community members. In the case of the first Shared Street area – launched on June 18 on Eagle and Market Streets, or "The Block", downtown – this meant working with individual business owners, the Block Community Collaborative Business Group, and community elders to use culturally relevant signage and colors. "We went to the YMI Cultural Center with community elder Roy Harris to look at historical documents and art that represented Asheville's historically Black community," Chris says. "The community led the vision, and with their guidance, our graphic design intern used fonts, colors and patterns that would all say 'The Block' to the people who grew up there."
Describing this effort, ADC intern Helen Kemper says, "I especially felt connected when walking through the streets with the business owners, gaining their perspective and connectedness to these public spaces. We hope these efforts will help them transform their spaces so that they may feel supported by the community and find success during such trying times."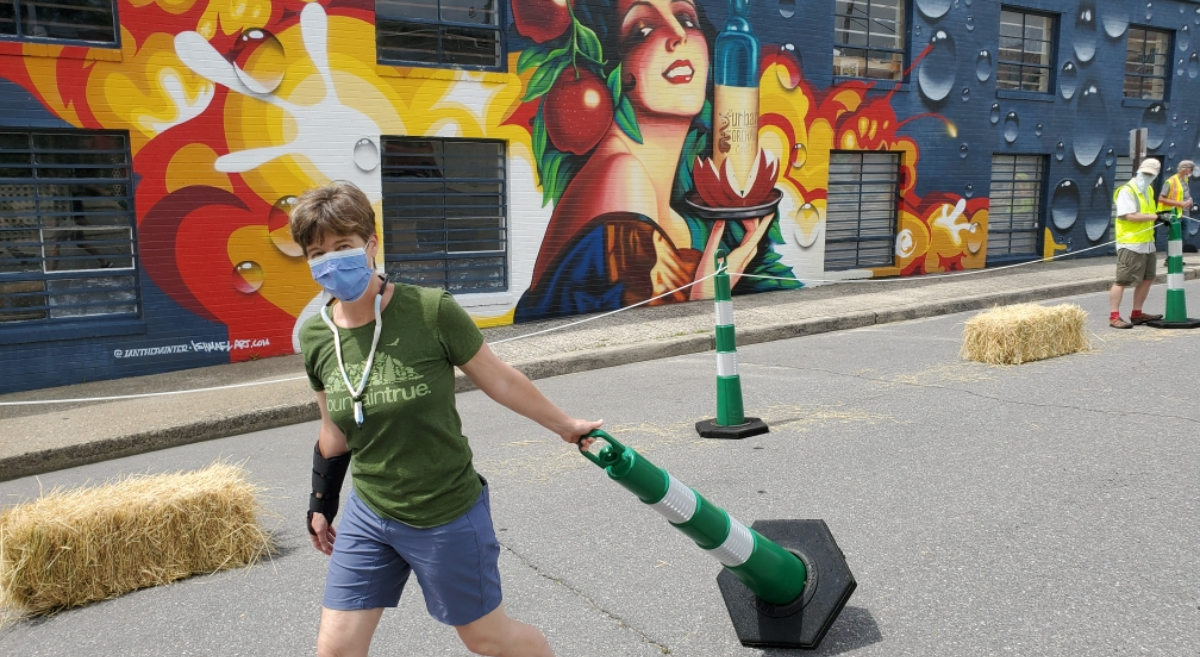 MountainTrue Co-Director Julie Mayfield carries a traffic barrier at the Shared Streets installation on Buxton and Banks Streets on the South Slope of Asheville. 

The latest Shared Street installation happened at Banks and Buxton Streets last week, where ADC worked with City staff to redirect vehicles to narrow, slower lanes, and added signs to identify the space as a Pedestrian Priority Zone. Over the coming weeks, ADC staff and volunteers will help implement more Shared Street design elements on Wall Street, Church Street and portions of College Street downtown.
The temporary parklets and Shared Streets will be active until at least October 31. Chris anticipates that the effort will expand outside of downtown, and that it can help more businesses see the value of using shared space design concepts for the long term. "Since we're providing the temporary design and engineering expertise, businesses can experiment with these parklets and other design concepts now with more support than they'd have if they were going it alone," Chris says.  "And if they work well, business owners are one step closer to making these innovations permanent. He cites Sovereign Remedies as one Asheville business using the parklet concept year-round for outdoor seating, with great success. 
ADC volunteers are also working on a guide book to make implementation of the parklets as easy as possible for business owners, creating clear blueprints and lists of materials needed for construction. To get started on the process, register for your parklets here.
"The heart of the design process," Chris says, "is to identify a problem, come up with a solution, design it, prototype it and get feedback. And by creating these concepts in conversation with the broader community, we can make sure they meet the needs of our local businesses and are a sustainable design concept for Asheville's future."