E-Vistas Newsletter – September 2021
Creation Care Alliance: Sustainable and Just Food Systems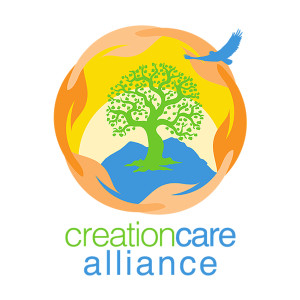 Join the Creation Care Alliance from 6-7 p.m. on Thursday, September 16, for a time of centering, community and learning about sustainable and just food systems. We will hear from Jarred White and Michelle Osborne of Rural Advancement Foundation International-USA regarding how faith communities can care for people and places through food ministry. We'll have break-out room conversations following their discussion to brainstorm the ways we can deepen our current creation care and ecological justice initiatives by investing more in healthy land and food. We can't wait to spend time with you! Learn more and register.
Central Regional News
For Buncombe, Madison, McDowell, Mitchell and Yancey counties
Share Your feedback on 'AVL Shares Space' Outdoor Expansion Initiatives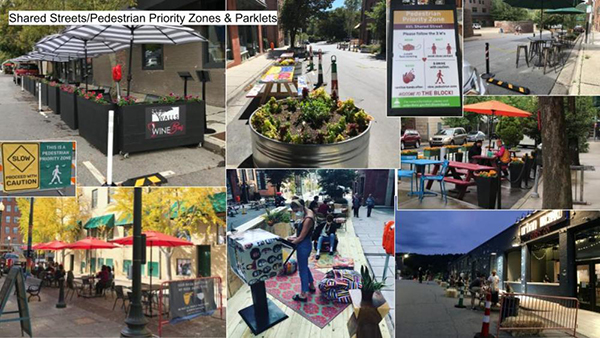 The City of Asheville is seeking public feedback on temporary initiatives launched in the spring of 2020 to support safe business operations and customer access during COVID-19. With assistance from MountainTrue's Asheville Design Center, these initiatives have enabled over 100 businesses and organizations in Asheville to expand into adjacent outdoor public spaces and parking lots.
Take the survey here. The survey will remain open through September 20. (Participating businesses are being surveyed separately.)
The AVL Shares Space initiatives include the following:
"Shared Streets" (pedestrian priority environment and use of on-street parking spaces along a corridor)
Temporary Parklets (use of on-street parking spaces)
Expansion on private lots (i.e. parking lots)
Expansion on public sidewalks
10-minute curbside pick-up zones
Take the Close the GAP Survey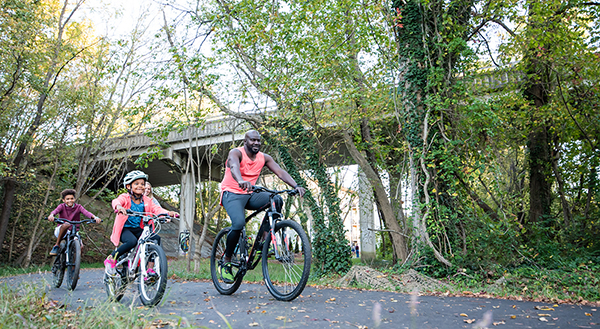 The City of Asheville is updating the City's Greenway (G), Accessibility (A), and Pedestrian (P) Plans. The combined plan, which is referred to as "Close the GAP," will look to update and expand the network of accessible sidewalks and greenways for our community.
The City has issued a Close the Gap Survey that asks a series of questions about you and your walking and wheeling needs on Asheville's streets and greenways. In addition, they have produced a video that provides an overview of the Close the GAP Planning Process.
High Country Regional News
For Alleghany, Ashe, Avery, Burke, Caldwell, Watauga and Wilkes counties
Meet Our New AmeriCorps, Kylie Barnes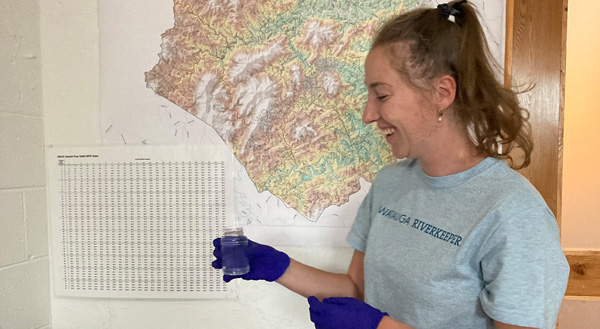 Please welcome our new AmeriCorps member, Kylie Barnes! She will serve a one-year term as our High Country Water Quality Administrator, managing our water quality programs and providing educational outreach. Kylie is a recent graduate from Appalachian State University, where she earned degrees in Economics and Sustainable Development. We are thrilled to have her on our team and look forward to the skills and perspective she brings to the High Country.
Winkler's Creek Trash Trout Repaired, Back in Service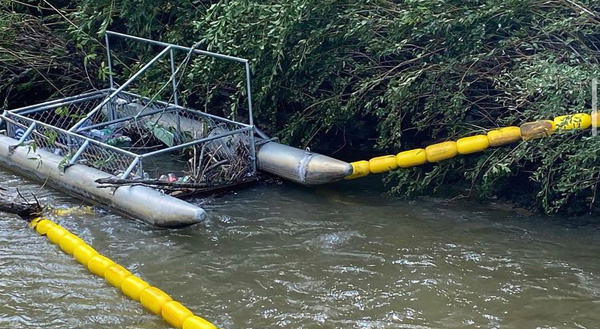 The Winkler's Creek Trash Trout sustained some damage from Hurricane Fred. Our team was able to make the needed repairs and get the Trash Trout up and running again. In the most recent haul, we recovered 800 individual pieces of trash, mainly consisting of styrofoam, plastic bottles, plastic bags and cigarette butts.
Help Clean Up Watauga Lake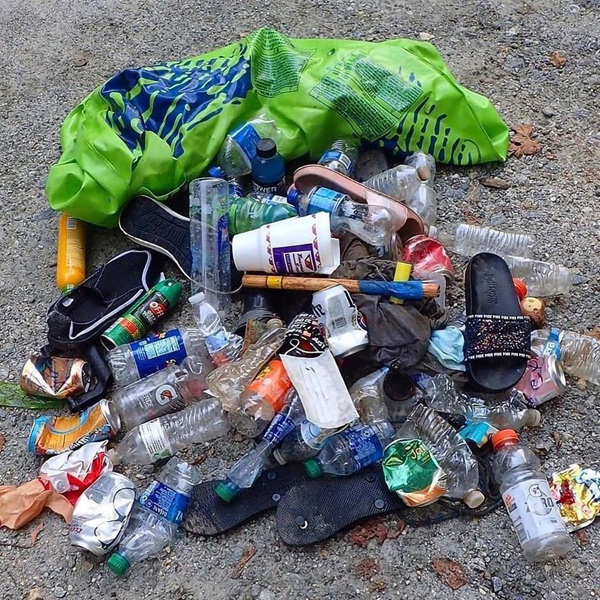 Join the Watauga Riverkeeper and the Watauga Watershed Alliance for a trash and litter cleanup on September 18. On-site registration and equipment pickup is from 9 a.m.-2 p.m. at the following locations: Fishsprings Marina, Pioneer Landing Marina, Roan Creek Bridge on Highway 167. If you have any questions, please contact wataugawatershedalliance@gmail.com or Andy Hill at andy@mountaintrue.org.
Learn about Creation Care at St. Luke's Episcopal Church
Join the Creation Care Alliance (CCA) on Saturday, October 2, for a picnic and community-building event at St. Luke's Episcopal Church. Meet CCA's new director Sarah Ogletree, spend time with others in your region dedicated to the work of creation care, and think about the callings to ecological justice pressing on the hearts of the High Country. Our lunch gathering will happen from 11:00 a.m.-12:30 p.m. Learn more.
Southern Regional News
For Cleveland, Henderson, Polk, Rutherford and Transylvania counties
Weigh in on the Henderson County 2045 Comprehensive Plan!
Henderson Country has kicked off its Comprehensive Planning effort with a Community Survey. This is an important opportunity for you to have a voice in how our county meets the challenges of climate change, a growing population and increased pressures on our built and natural environments. We've prepared a guide for members of MountainTrue who want to see our community grow sustainably and responsibly. Click here for a list of suggested responses and more information about the survey and other opportunities for public input.
Second Annual Broad River Fishing Tournament is a Great Success!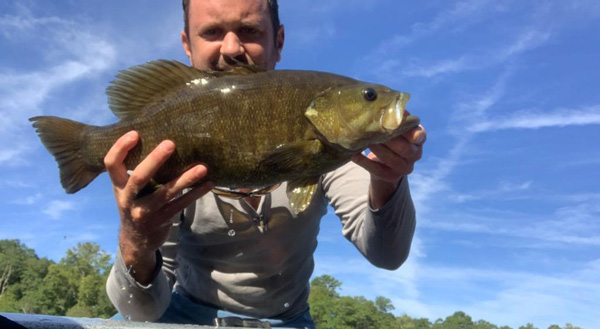 On Saturday, August 28, MountainTrue's Broad Riverkeeper and NC Wildlife Resources Commission kicked off the Second Annual Broad River Fishing Tournament at the Broad River Greenway in Cleveland County! The tournament is a fun competition and a great way for MountainTrue to engage with the diverse communities that enjoy swimming and fishing in the Broad River. Tanya Poole with NC Wildlife Resources Commission provided fishing poles, tackle and bait to share with kids and offered fishing instruction to all who were interested. David Caldwell, our Broad Riverkeeper, ran some short fishing trips with his canoe, and we served up some homemade peach ice cream! Participants caught a lot of fish on opening day and throughout the week, but the title of Broad's Best Angler 2021 went to Fitz McMurry, with three fish for a combined length of 59 inches!
Join Us for a Moonlight Float on the Broad River!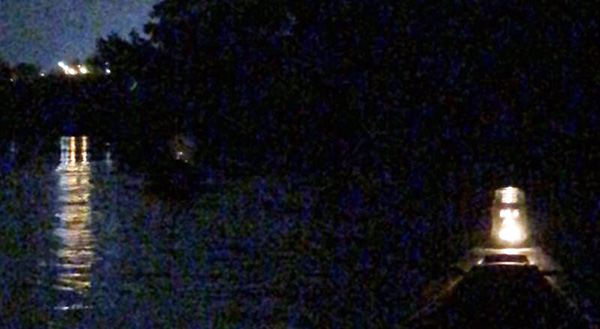 Paddle with us by the light of the moon on September 18! We will put in at Lake Houser in NC and float to the Broad River Greenway in Boiling Springs, NC. Due to the COVID-19 pandemic, MountainTrue is limiting our guided trips to a maximum of 10 participants. Sign up.
Litter Cleanups on the Green and Broad Rivers on Saturday, September 25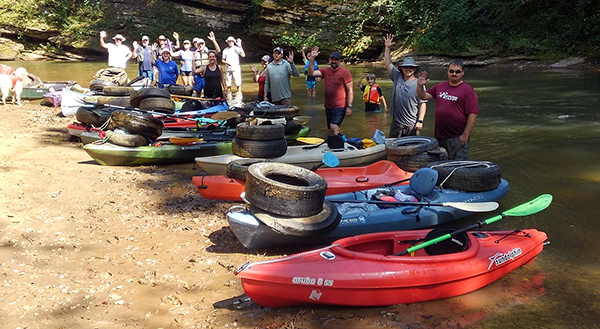 September 25 will be our Sixth Annual Sarah Sweep. We'll be cleaning up from Double Shoals to Zion Church Road on the First Broad River. All are welcome to join us on this lovely section of the river that Sarah Spencer held dear to her heart. While paddling the shallow and shaded waters that flow between rock cliffs and rhododendron, Sarah would always stop to pick up any litter along the way. Sarah and several friends died tragically in 2016, and this event is in honor of these friends and their love for the river. Sign up here: https://mountaintrue.org/event/sixth-annual-sarah-sweep-on-the-broad-river/
On the same day, you can join our Green Riverkeeper will be hosting a cleanup of the Lower Green in Polk County, from Big Rock Access to the Lake Adger Public Marina. We'll be giving the river a thorough cleaning after a busy recreation season in the gorge. Sign up.
Western Regional News
For Cherokee, Clay, Graham, Haywood, Jackson, Macon and Swain counties in NC, and Towns and Union counties in GA
Fifth Annual Fall Native Tree and Shrub Sale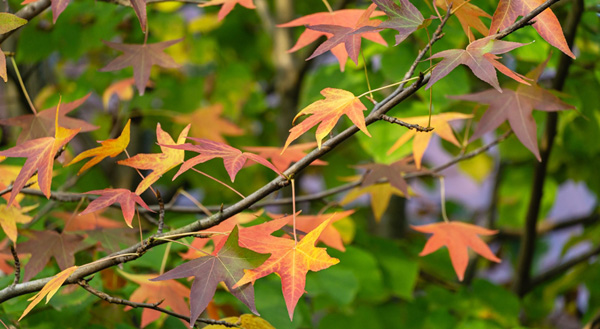 We are now accepting orders for our Fall Native Tree Sale Fundraiser. Choose from 34 native species, ranging from large shade trees to smaller ornamental shrubs. All plants are quality nursery stock and are available in one to three-gallon pots. Native plants are a great way to support pollinators and wildlife species. We are accepting orders until November 14. You can pick up your purchases from MountainTrue West office parking lot in Murphy, NC, on Saturday, November 20, 9:00-1:00. Finally, learn why it's great to plant trees in the dormant season and start planting. Place your order today!
Planning For the Future of Bryson City
MountainTrue's Healthy Communities director, Chris Joyell, led an interesting walking tour through downtown Bryson City in August. He reviewed recommendations from the Bryson City Community Assessment Report completed by Handmade in America in March 2011. The town has made many improvements over the past 10 years, including attractive directional signage and a covered river-side pavilion near the historic courthouse museum. The Town of Bryson City is currently updating its Land Use Plan to guide future changes that will affect residents and visitors over the next 25 years. If you live, work or play in Bryson City, please complete the Opportunities and Challenges Survey before September 17!
Hiwassee Lake Big Sweep: September 25th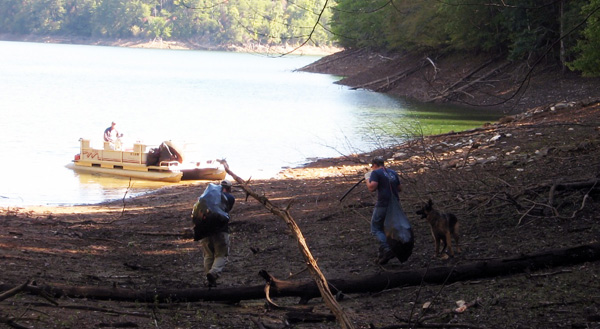 NC Big Sweep is a statewide litter cleanup program that brings citizens and community organizations together to clear trash from their waterways. The annual Hiwassee Lake Big Sweep event hosted by Mainspring Conservation Trust is set for Saturday, September 25. All residents are encouraged to participate, especially anyone who can bring their own boats. To promote social distancing, Mainspring has created a list of "Litter Zones" in need of attention. All litter must be dropped off at the Hanging Dog Boat Ramp before Sunday morning. Details can be found on Facebook.
Volunteer This Fall on the Murphy River Walk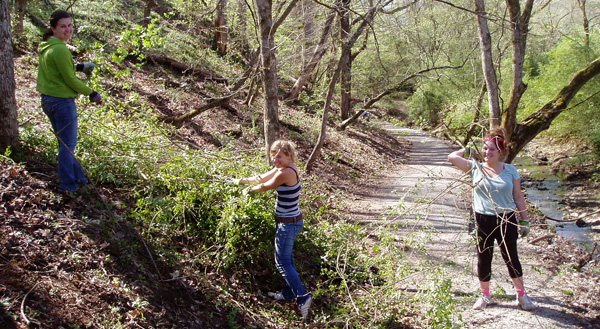 Starting September 27, MountainTrue will host a series of community volunteer workdays on the River Walk in Murphy, NC. Each Monday afternoon this fall (weather permitting) and probably on a Saturday or two, volunteers will work to control nonnative invasive plants along sections of the trail using hand tools. No prior experience is necessary to participate, and we will provide tools and training. Please email Tony Ward if you're interested in helping with this project. Join us to learn, give back to the community and gain experience you can use to eradicate invasive plants on your own property!
Events & Volunteer Opportunities