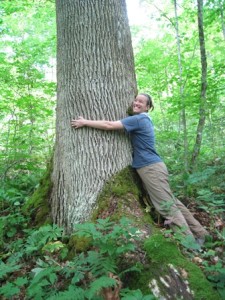 These hikes are FULL. 
Commenting below will not sign you up for a slot on these hikes. Thanks!
Join MountainTrue on Saturday, April 25 for a spring ecology hike in Big Ivy.  These hikes will take place rain or shine!
Big Ivy has more than 3,000 acres of old growth forests and over 30 rare and endangered species. Its abundant creeks are home to native brook trout, and its celebrated waterfalls are some of the most scenic and dramatic cascades in the South. 
MountainTrue is hosting spring ecology hikes on five different trails, which will take place simultaneously, led by five excellent local ecologists. Participate in the hike most captivating to you!
1) Douglas Falls – lower:
Join Scott Dean in a carpool through the Coleman Boundary and on a short hike out to the beautiful Douglas Falls. You will stop at several points along the drive to check out wildflowers and two big American Chestnuts. Total walking distance is about three miles with very little elevation change. You can expect to see 30-35 species of wildflowers in bloom, and Scott will discuss plant communities, common name derivation and medicinal/edibility properties of the plants. 
2) Big Butt Trail:
Join Lloyd Raleigh on a hike to explore the higher elevations up Stony Fork Road and the Blue Ridge Parkway. Take the Big Butt trail in and out for a 3.2 mile round-trip to Point Misery with a 400 foot elevation change. If time allows, the group will check out a few smaller hikes in the Craggy area, with views of the entire Coleman Boundary area.  See many different natural communities such as heath balds, northern hardwood forest (rich subtype), seeps, spruce-fir forests, and more!
3) Ivy Knob: 
Join Edward Schwartzman on a hike up to Ivy Knob via the Forest Service Road and a backcountry trail to Big Ivy. This is a four- to five-mile hike with a 500′ elevation drop and climb to get out to Ivy Knob which offers scenic views and a glimpse of Southern Appalachian granite dome outcrop and rare species of plants. On the way to the trail-head you can see examples of recent logging as well as nice mature hardwood forests. 
4) Perkins Road Trail:
Join Dr. H. David Clarke on a hike along Perkins Road Trail. This is a three-mile hike with 1,000′ elevation climb that offers rich cove habitats, old growth forests and many rare plants. David will help you identify spring ephemerals, and discuss ecology, natural history, evolution and conservation along the trail. 
5) Staire Branch: 
Join MountainTrue's very own Josh Kelly along the Staire Branch trail. This is a 2.5-mile hike with 1,000′ elevation climb. Within a beautiful rich cove with many different plants species, you will follow the creek near bottom and ascend to a ridge near the top. Along the way you will see cliffs and small rock caves, and at one point the rushing water can be heard in stereo as it bounces off a rock face.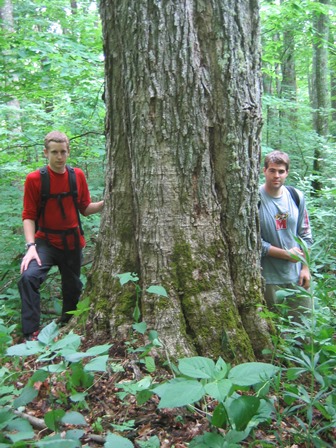 All hiking groups will meet and end at the Big Ivy Community Center Picnic Shed. We will organize carpools out to the trail-heads from there. Be sure to pack plenty of water and snacks, and wear sturdy shoes and sunscreen. We have the picnic shed rented until 5 p.m., so feel free to hang out afterwards, share pictures, eat a packed meal, etc. We'd love the chance to enjoy our community's company. 
Date: Saturday, April 25
Time: 10 a.m. – 3:30 p.m.
Location: Big Ivy Community Center, 540 Dillingham Road (Barnardsville)
Carpool from Asheville: Meet at Earth Fare in the Westgate Shopping Center at 9:15 a.m.
Cost: Free
Registration Deadline: Friday, April 24 at NOON. All participants must register, as these hikes will fill up quickly. (Sorry — no dogs allowed, so please leave your furry kids at home!)
Contact: Rachel Stevens at rachel@mountaintrue.org or (828)-258-8737 ext. 215