Bob Gale, Ecologist and Public Lands Director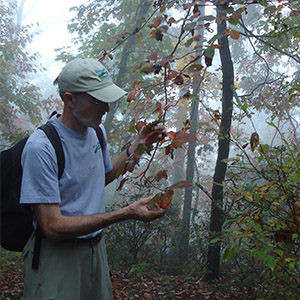 "Not only does my job allow me to use many aspects of my education, I also get to work with creative like-minded folks daily." ~ Bob Gale
Bob is the ecologist for MountainTrue, where he has worked since 1998 providing scientific input on issues related to environmental protection of Southern Appalachian mountain forest communities. Bob was educated at the University of South Carolina where he received a B.S. in Geology and Biology. His special interest is botany, and he has spent his life working in fields related to this subject. He spent 15 years in the landscaping industry and remains a certified Arborist. He also spent 3 years as Director of Field Operations in Wetlands Science for Ballantine Environmental Resources, Inc. at Hilton Head Island, SC, where he lived for 17 years. While at the coast, Bob studied the Maritime Forest community and gave numerous hikes and presentations about that ecosystem.
Since 1981, Bob has been a free-lance nature writer and photographer and has been published in local and national magazines. Upon moving to Asheville in 1996, he was one of four contributing authors of the Highroad Guide to the North Carolina Mountains (Longstreet Press), writing the natural history portions for the book. Bob has worked voluntarily for environmental protection since 1976, having chaired or founded 3 different local Sierra Club groups in Columbia, SC, Hilton Head Island, and Asheville, NC. He also served at the South Carolina Sierra Chapter and Sierra's Appalachian Regional Conservation Council levels. Bob's work involves National Forest and National Parks issues, air and water quality, and rural lands protection. He heads the exotic invasive species program for the organization.
Current Related Activities: Chair – Asheville Tree Commission, Chair – Alternate Compliance Subcommittee of Tree Commission, Buncombe County Land Conservation Advisory Board Member, North Carolina Forest Legacy Applications Review Committee.