The Broad River Gets Its Own Riverkeeper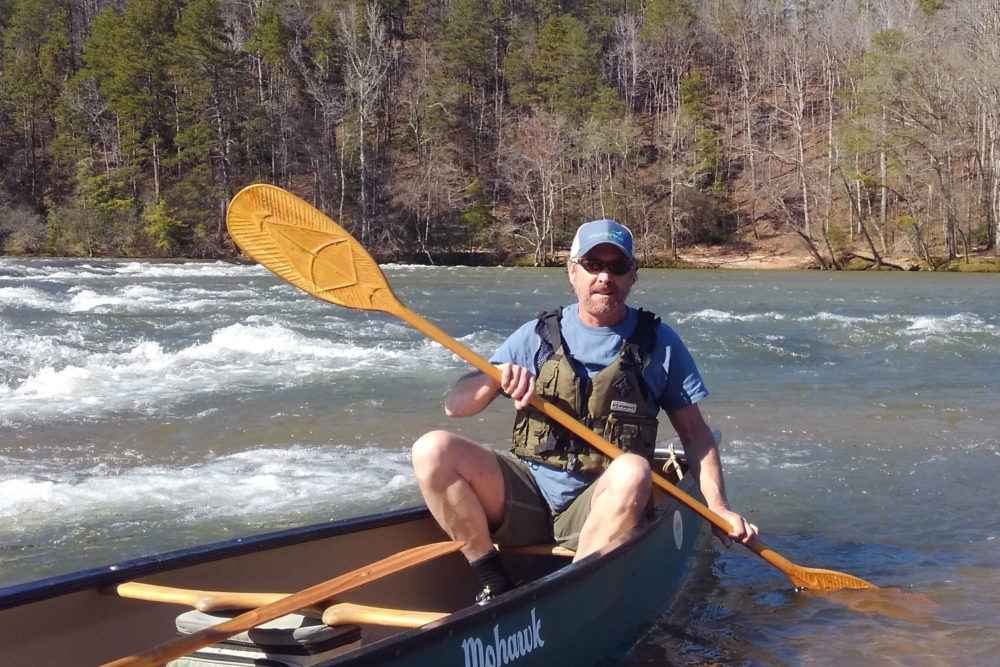 MountainTrue is pleased to announce that David Caldwell, MountainTrue's program director for the Broad River Alliance, is now the new Broad Riverkeeper and will serve as a fundamental protector of the Broad River watershed. MountainTrue's riverkeeper programs are key to our endeavors to monitor and protect the quality of our region's waterways. MountainTrue is one of the few organizations in the nation with four Waterkeeper Alliance Riverkeeper programs: the French Broad Riverkeeper, the Green Riverkeeper, the Watauga Riverkeeper and now the Broad Riverkeeper.
Quote from Robert F. Kennedy, Jr., president of Waterkeeper Alliance:
"Waterkeeper Alliance is thrilled to have David Caldwell as the eyes, ears, and voice in this this vital watershed and community. Every community deserves to have swimmable, drinkable and fishable water, and David is the right leader to fight for clean water in the region."
David moved to the Broad River watershed in 1987 after receiving an Engineering degree from Clemson University. He worked in manufacturing for several years in Shelby, and has been fishing, paddling and exploring the watershed's rivers and tributaries for over three decades now.
David's first civic involvement was in the late 90s, when he joined efforts to rebuild and restore the carousel in Shelby City Park. The carousel is now a jewel of the City of Shelby Parks system. Since 2000, David has also run a woodworking business at his home in Lawndale.
In 2015, David became the Coordinator for the Broad River Alliance, a Waterkeeper Affiliate and program of MountainTrue. David has teamed up with regional representatives from the Broad River Greenway, Rutherford Outdoor Coalition, Rutherford County and Cleveland County Development Authorities and others to protect and promote the waters of the Broad River basin.
Quote from David Caldwell, the Broad Riverkeeper:
"I've spent the past three decades falling in love with the Broad River and its tributaries. It is an honor to be able to call myself a Riverkeeper and to continue my mission to ensure our rivers are safe and clean for the people who live, swim, paddle, and fish here. Folks in our watershed are passionate about our beautiful rivers and have amazed me with their enthusiasm and support. We have a lot of great programs and activities planned for our community in the year ahead. I hope that you will join us."
Quote from Julie Mayfield, co-director of MountainTrue:
"MountainTrue is proud of our partnership with the Waterkeeper Alliance. Our Riverkeepers fight for safe and healthy waterways for all citizens of their watersheds by bringing together and empowering local residents and communities to identify pollution sources, advocate for and enforce environmental laws, and engage in restoration. We're thrilled to be bringing this program to our Broad River communities."
Quote from Marc Yaggi, executive director of Waterkeeper Alliance:
"David will have an incredibly important job. Waterkeepers defend their communities against anyone who threatens their right to clean water, from law-breaking polluters to irresponsible government officials. Until our public agencies have the means necessary to protect us from polluters, and the will to enforce the law, there will always be a great need for people like David to fight for our right to clean water."