Dec. Vistas E-News

On Jan. 15, Tell The NC Utilities Commission: No Rate Hikes For Dirty Energy!
Duke Energy is trying to raise our electric bills to pay for dirty energy. Again. Their new rate hike proposal lacks any direct investment in renewable energy and calls for customers to foot the bill to clean up coal ash. It would also be their fifth rate hike in ten years, and would increase residential electricity costs by another 6.7% – or about $97 more per year for the average electricity user.
Join MountainTrue members in Franklin on January 15 and in Morganton on January 16 to tell the NC Utilities Commission: Enough is enough. No rate hikes for more dirty energy. Learn more.
Calling Volunteers Who Like To Hike!
The draft Environmental Impact Study for the next forest management plan for the Pisgah and Nantahala National Forests is due in February of 2020, and we are looking for volunteers who are interested in talking to hikers, anglers, birders or any type of recreational user at trailheads and parking lots about how they can help ensure the places they like to access are protected. If you're interested in being part of our trail outreach team, please fill out this short sign-up form.
Central Regional News
For Buncombe, Madison, McDowell, Mitchell and Yancey counties
We Protected 140 Ash Trees In 2019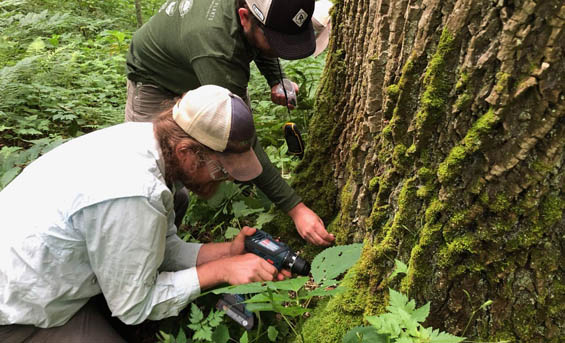 Thanks to funding from the Appalachian Trail Conservancy's (ATC) License Plate Grants, MountainTrue and the ATC completed the third consecutive year of ash tree treatments on the Appalachian Trail. This year, we were able to protect more than 140 trees and three miles of trail from the emerald ash borer beetle (EAB) — an invasive pest that kills all untreated ash trees. In three years, ATC and MountainTrue have worked together to save more than 900 beautiful ash trees from EAB along more than 11 miles of trail. These are likely to be the most extensive areas of ash trees remaining in the Southern Blue Ridge after the onslaught of EAB passes.
High Country Regional News
For Alleghany, Ashe, Avery, Burke, Caldwell, Watauga and Wilkes counties
Help Andy Fight Microplastics in the Watauga Basin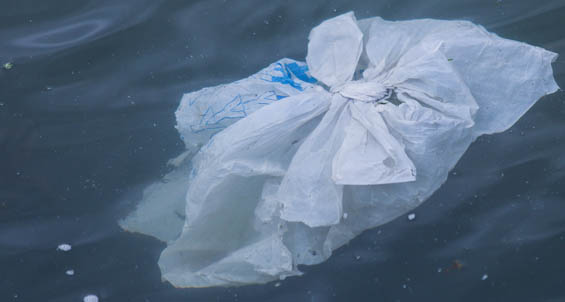 Plastics are everywhere, including the Watauga River. They break down into smaller bits of plastic that end up being eaten by fish and other aquatic life and can bioaccumulate up the food chain. Help our Watauga Riverkeeper Andy Hill as he launches our microplastic survey of the Watauga Basin this spring. We are looking for volunteers to help collect water samples. Sign up here.
Sign up for our 2020 Livestaking Days
Please join us to help plant tree cuttings that will grow into shrubs and trees and help keep stream and river banks from eroding. "Paddle and Plant" workdays will be held by MountainTrue at Valle Crucis Community Park on February 9, February 16, March 13, March 20.
Southern Regional News
For Cleveland, Henderson, Polk, Rutherford and Transylvania counties
Thanks To All Of Our Wonderful Volunteers!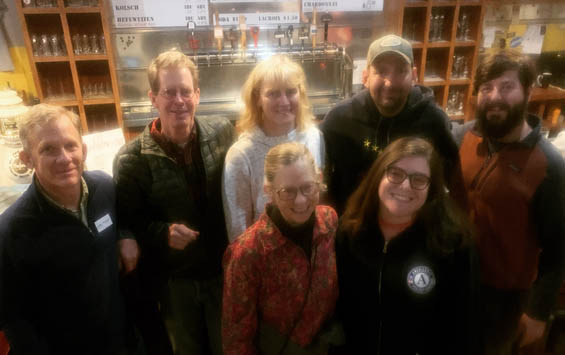 We couldn't do everything we do without our amazing volunteer force which helps us with water quality sampling, river cleanups, fighting invasive plants and pests, advocating on a range of issues, and much more. On December 11, we had the pleasure of gathering with many of our volunteers from MountainTrue's Southern Region at Guidon Brewing Company in Hendersonville. We enjoyed beverages donated by the brewery, handed out some door prizes to a lucky few, and celebrated our accomplishments over the past year with some holiday cheer. Our sincerest gratitude goes out to all of you that make our work possible and successful, and happy holidays!
Poop Patrol Identifies Some Problem Bacteria Hot Spots In The Mud Creek Watershed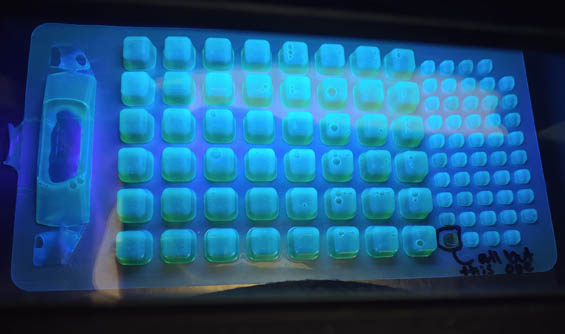 Throughout the summer, our Swim Guide bacteria monitoring team found high levels of E. coli at sites along Mud Creek. To track down the source of the pollution, we enlisted the help of the Hendersonville Rotary Club. Their volunteers took weekly samples at over 20 sites in the Mud Creek watershed around Hendersonville. In all, they collected more than 130 water samples, which allowed MountainTrue's Water Quality team to isolate two major hot spots of pollution that we suspect are related to pockets of homes that are not connected to the municipal sewer and instead have septic systems that are likely failing. We are now working with the City of Hendersonville, Henderson County Health Department, and NC Department of Environmental Quality to further isolate the problems and implement solutions.
Western Regional News
For Cherokee, Clay, Graham, Haywood, Jackson, Macon and Swain counties in NC, and Towns and Union counties in GA
Take A Look Back At Our 2019 Western Region Successes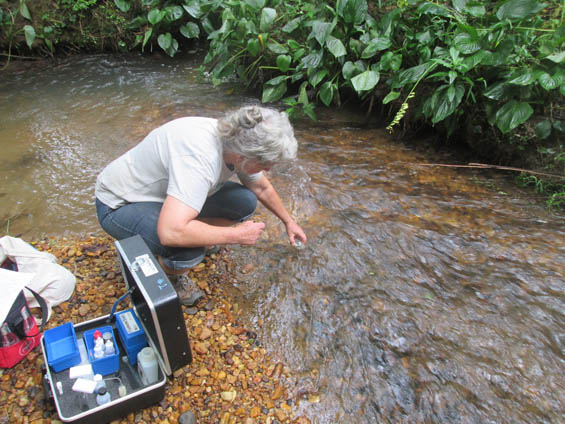 Trained volunteers collect water samples from area waterways to help MountainTrue keep tabs on stream condition and suitability for recreation.
Effective environmental organizations tend to be very forward-focused in their work, but as we turn the page on 2019, we'd like to take a moment to look back on what we've been able to accomplish together over the past year. You're hearing a lot about MountainTrue's overall accomplishments through emails and mailings, particularly with regard to protecting our public lands. Here are a few of the MountainTrue West region-specific projects and accomplishments from 2019:
Monitored bacteria levels at several popular recreation areas on the Pigeon River weekly throughout the summer months and posted results on the Swim Guide website.
Advocated for stronger water quality protections associated with a dredging and development project in the headwaters of the Chattooga River Watershed at a public hearing in Cashiers, NC.
Worked with two partners, WATR (Watershed Association of the Tuckasegee River) and Trout Unlimited, to come up to speed on sediment pollution violations from massive amounts of development in the Tuckasegee River Watershed. (Protecting this river in the face of continued development is a top priority for MountainTrue West in 2020.)
Advocated alongside several other partners for better Corridor K alternatives in the Cheoah River and Valley River watersheds, successfully defeating two particularly bad new road alignments that would've fragmented large sections of the National Forest and negatively impacted streams and special places in Graham and Cherokee counties.
Helped organize a landowner outreach event for the Southeastern Hellbender Conservation Initiative in the Little Tennessee River Watershed.
Supported a team of certified volunteers who monitored water quality, including the monthly monitoring of bacteria levels at 47 locations in the Hiwassee River Watershed. Also provided technical assistance to 17 landowners and completed a stream bank stabilization and buffer project along Davis Creek in Cherokee County.
Held the 9th Annual Lake Chatuge Shoreline Cleanup and worked with the City of Hiawassee, GA and Hamilton Gardens on projects to eradicate kudzu and other non-native invasive plants.
Monitored water chemistry weekly in Butternut Creek just upstream of its confluence with Lake Nottely following the City of Blairsville's decision to begin treating landfill leachate on a contract basis. No negative change in water quality has been detected downstream of the wastewater treatment plant as a result of this decision.
Events & Volunteer Opportunities
Jan 11: Give Your Christmas Trees A Second Life In Hendersonville
Recycle your Christmas trees, cards and wreaths and turn them into mulch for your garden and trees.
Jan 15 & 16: Duke Energy Rate Hike Hearings In Franklin And Morganton
Duke Energy is trying to raise our electric bills to pay for dirty energy. Again. Let your voice be heard at public hearings in Franklin and Morganton.
Jan. 18: Timber Sale Project Hike In Clay County
Join us for a hike to the part of Nantahala National Forest that will be impacted by the Buck Creek Timber Sale. Public Lands Biologist, Josh Kelly, will explain how timber sales work and how MountainTrue evaluates their impacts.
Feb. 1: Winter Tree ID Workshop At Cradle Of Forestry
Join MountainTrue and Carrie Blair of Carrie's Tree School for a workshop on the basic techniques of tree identification.
Feb 7: Creation Care Retreat At Montreat
Designed with creation care volunteers and clergy in mind, spend the day learning from and with a theologian, a climate scientist, a forest biologist, local colleagues and pastoral innovators.
Paddle-N-Plant Workdays In Valle Crucis
Come hop in a boat and help us reduce erosion along our local rivers by planting tree-cuttings that grow into groundcover.
Feb. 9. workday https://mountaintrue.org/event/hco-paddle-n-plant-workday-5/
Feb. 16. workday https://mountaintrue.org/event/hco-paddle-n-plant-workday-6/
Mar. 13 workday https://mountaintrue.org/event/hco-paddle-n-plant-workday-8/
Mar. 20 workday https://mountaintrue.org/event/hco-paddle-n-plant-workday-7/
Mar. 21 – Signs Of Spring Hike Into The Green River Gorge
Celebrate the arrival of spring with a moderate 6.8 mile out-and-back hike into the Green River Gorge. Guided by expert ecologist Bob Gale, we will search out the season's first ephemeral wildflowers such as trillium, bloodroot, and toothwort.