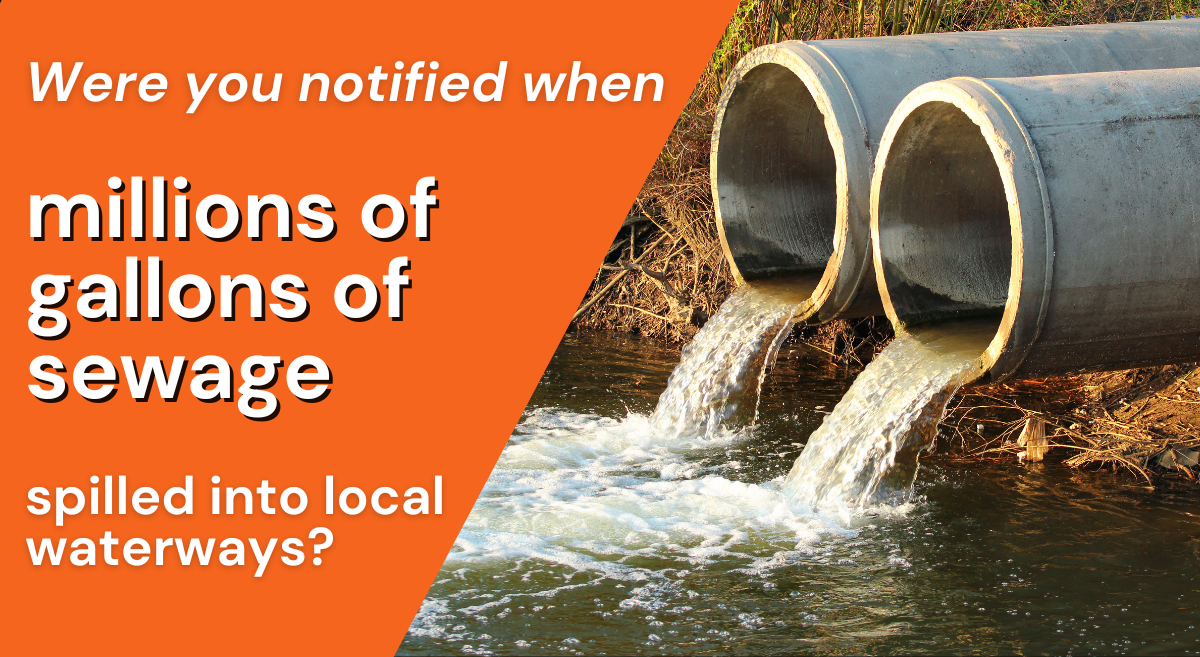 Join North Carolina's riverkeepers in calling on state regulators to modernize NC's public notification system.
Millions of people across North Carolina take to our beaches, rivers, and lakes to cool off, swim, paddle, and fish, but most are unaware that nearly 16 million gallons of untreated sewage have spilled into our waterways during a two and a half month period (May 17 to July 30, 2020) according to data collected by North Carolina's Department of Environmental Quality (DEQ).
North Carolina desperately needs to update its public spill notification system. Current state law requires operators of wastewater collection and treatment systems to notify DEQ of spills of over 1,000 gallons into surface waters and to send a press release to local media within 24 hours. For spills of over 15,000 gallons, operators are required to place a notice in the newspapers of counties impacted by the spill within 10 days (NCGS 143-215.1C). Spills of other pollutants have similar reporting requirements to DEQ.
North Carolina should not be depending on ads in print newspapers to get the word out about dangerous spills. Newspapers are not mandated to run the press releases, and many local newspapers are only published in print on a weekly or bi-weekly basis, which is not frequent enough to warn river users of water quality problems in a timely manner.
The public has the right to know about major pollution spills that impact our waterways as soon as possible, and through the technology the public uses today.
Join NC's riverkeepers in calling for a better, more modern system that would:
Publish spill data to an online database and interactive map and on agency social media channels.

Send email and text alerts to interested parties. 

Allow the public to sign up to receive these alerts for the watersheds they are interested in.

Make improvements to our state laws by increasing fines for polluters dumping sewage in our waterways.