Duke Energy Rate Increase Hearing Comes to Asheville Feb. 20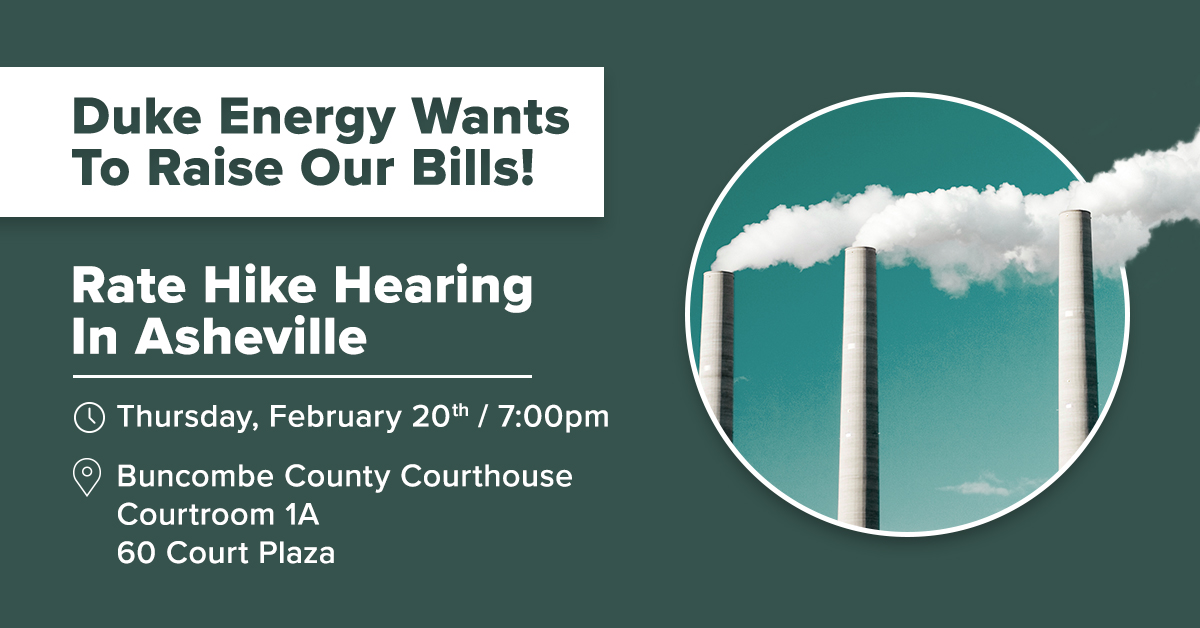 For Immediate Release
Duke Energy Rate Increase Hearing Comes to Asheville Feb. 20
Media Contact:
Eliza Stokes, Advocacy & Communications Associate, MountainTrue
E: eliza@mountaintrue.org P: 410-493-7284
February 14, 2020
Asheville, NC — On Thursday, Feb. 20, the North Carolina Utilities Commission will hold its Asheville hearing on the latest proposal by Duke Energy to increase electricity rates. 
Duke Energy Progress, a subsidiary of Duke Energy with territory in Buncombe County and many other counties across North Carolina, seeks approval from the North Carolina Utilities Commission for a $463.6 million increase in the amount the company collects from ratepayers each year. This would result in an average 14.3% increase in residential electric bills, or approximately $17.29 more per month for residential customers.
This issue hits close to home in Asheville, as the rate hike includes a request for Duke customers to pay for the $820 million new gas plant at Lake Julian. Also included are plans to recover $402 million for capital investments at coal plants and $530 million for customers to clean up Duke's coal ash across the state.
"Every couple years, Duke comes back with another proposal to increase customers' rates," says Eliza Stokes, an organizer at the environmental non-profit MountainTrue and a customer of Duke Energy Progress. "Duke's energy plans lack the serious, significant investment in renewable energy that North Carolina needs to face the climate crisis. Because Duke has a monopoly, customers like me don't have the option to choose another energy company that better aligns with our values." 
Stokes says Duke's shareholders should be paying their fair share for these costs. In 2018, Duke made $3.03 billion in net income, while paying $0 in federal taxes. According to a MountainTrue investigation of Duke's financials, the company has paid their Board over $24.5 million and issued $16.707 billion in dividend payments to their shareholders since 2013. 
"It is unconscionable for a company making this level of profit to call on customers – many of whom are on low or fixed incomes – to foot the bill for Duke's coal ash mismanagement and continued reliance on fossil fuels."
The hearing in Asheville will be held in Courtroom 1A of the Buncombe County Courthouse at 60 Court Plaza at 7pm. Those who wish to speak should arrive by 6:30pm to sign up. 
MountainTrue works in 26 counties to champion resilient forests, clean waters and healthy communities in our region. With offices in Boone, Murphy, Asheville and Hendersonville, MountainTrue engages in policy advocacy at all levels of government and on-the-ground environmental restoration projects. Primary program areas include public lands, water quality, clean energy, land use/transportation, and community engagement.
###