Ellianna McLaughlin, AmeriCorps Forest Keeper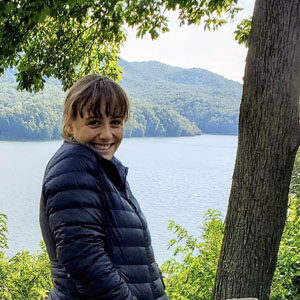 Ellianna is a graduate of Warren Wilson College, where she was a member of the Landscape Crew and earned her B.A. in Environmental Education in 2020. Growing up in Philadelphia, PA, her first experiences of the environment were through an urban lens, which shaped much of her initial involvement in environmental work. Her interest in native landscaping, nonnative invasive plant control, and urban farming expanded after she moved to Asheville and began working with the Warren Wilson College Landscape Crew. In the summer of 2019, Ellianna decided to merge her love of the outdoors with the pressing needs of her city. She interned with two urban farms in Philadelphia that provided healthy, affordable, and culturally desirable foods to communities without access in the city. That time also allowed her to expand her teaching tools as she mentored teen interns and honed her passion for teaching people of all ages how to engage with the natural environment. It was also the inspiration behind her college thesis: an 80-hour lesson plan for teen interns at an urban farm in Philadelphia that taught native landscaping and regenerative agriculture practices.
As Forest Keeper, Ellianna is excited to learn from and collaborate with community partners of all ages and backgrounds. She's excited to build upon her plant identification knowledge and share her enthusiasm for land stewardship through this role. In her free time, Ellianna enjoys reading, swimming, hiking, camping, climbing, knitting, and cooking delicious new recipes.