2022 Spring Green Bash
May 7 @ 5:00 pm

-

9:00 pm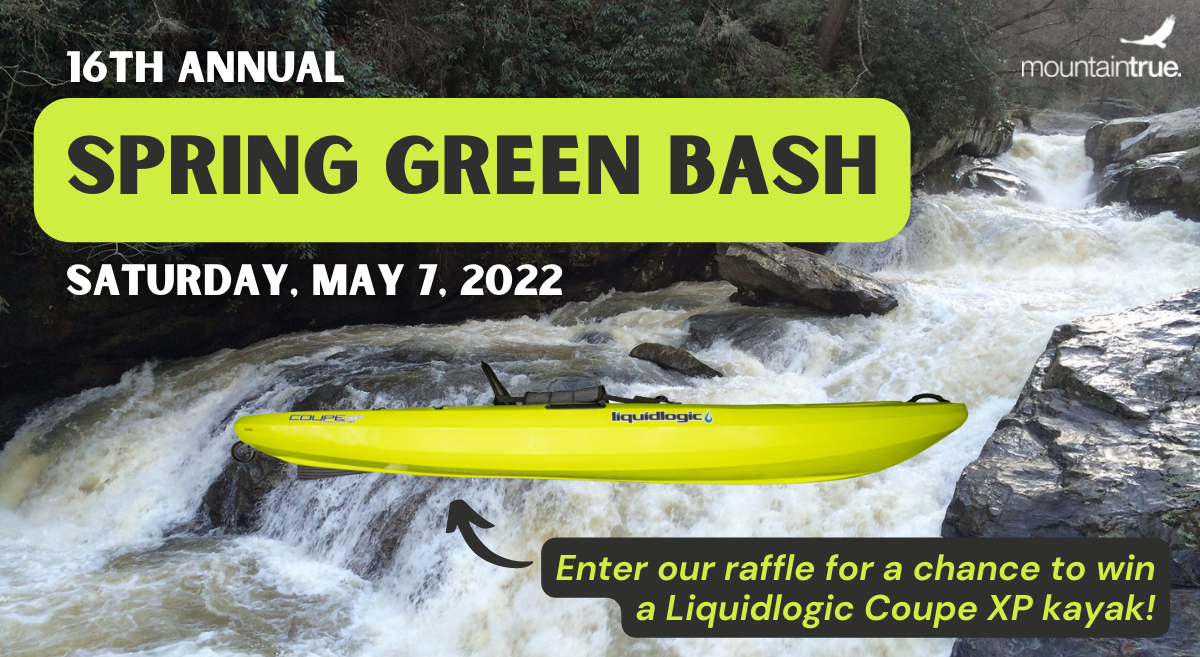 Get ready for an exciting day full of kayaking trips, waterfall rappelling, treks, cold beer, and good music when the Spring Green Bash — Saluda's favorite river and block party — returns on May 7!
The whole Green River community is invited to the Spring Green Bash block party at Green River Adventures in downtown Saluda, NC. We'll enjoy great beer from Oskar Blues Brewing and music by Aaron Burdett. We'll also announce the winner of the charity raffle for a Liquidlogic Coupe XP kayak, a whitewater kayak valued at $1,000! Proceeds from the raffle benefit MountainTrue's Green Riverkeeper – the protector and defender of the Green River Watershed.
The party will be held from 5:00 to 9:00 p.m. in the parking lot for Green River Adventures at 111 E Main St., Saluda, NC 28773. 
Where: Green River Adventures, 111 E. Main Street, Saluda, NC
When: Saturday, May 7, 5:00 to 9:00 p.m.
HOW TO ENTER THE RAFFLE:
1. Enter online by completing this form and paying with credit card, OR
2. Pay cash in person at the event on May 7.
Read what Liquidlogic has to say about their Coupe XP: "Versatility is the name of the game these days. This one-of-a-kind hybrid design is fun, stable, easy to paddle and is as comfortable on rivers and lakes as it is riding your favorite ocean break. The Coupe is the choice when looking for one sit on top that can and will do it all." Estimated value: $1,000.
SELECTION AND NOTIFICATION OF WINNERS: Winner will be selected and announced at random at the Spring Green Bash at Green River Adventures on Saturday, May 07, 2022 @ 8:00 PM. If the winner is not present, s/he will be notified by telephone, mail and/or email. If potential winner(s) cannot be reached after 10 days from first notification attempt, or if an entrant is found to be ineligible, or a prize notification is returned as undeliverable, such prize will be forfeited and alternate winner(s) will be selected by random drawing.
ELIGIBILITY: Present employees and board directors of MountainTrue and any immediate family members residing with the employees are not eligible to participate. Must be 18 years or older to enter. Contest void where prohibited. You need not be present to win.
TAX OBLIGATIONS: The winner is responsible for all federal taxes (25% MSRP minus the wager). All local and state taxes and fees are the sole responsibility of the winner. MountainTrue will file IRS Form W2-G with Internal Revenue Service reporting the value of the prize as income to the winner. Winner must show proof of social security number to MountainTrue. This is for tax recording purposes only, and will be not be used or released for any other purposes.
For further information, please call MountainTrue at 828-692-0385 ext. 1004
Ticket purchases are non-refundable and are not tax-deductible. By entering the raffle, participants agree that MountainTrue, its agents and employees have no liability whatsoever for any injuries, losses, or damages of any kind which result from the date of award. The prize is non-transferable, and cannot be exchanged for cash. MountainTrue may use winner's name and likeness for publicity purposes without further compensation. MountainTrue is not responsible for any failure of communication or failure of the Internet or its website. MountainTrue reserves the right to modify these rules and will give prompt announcement of any rule changes. All decisions of MountainTrue are final and binding in all matters related to this raffle.