Earth Day Vigil
April 28, 2019 @ 5:30 pm

-

7:30 pm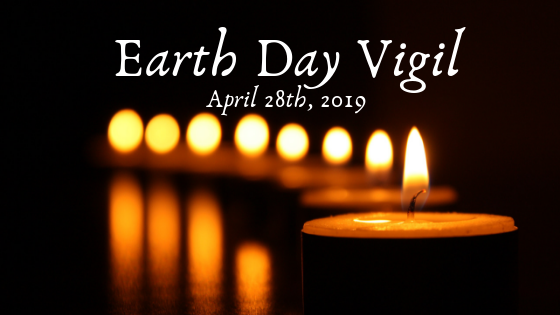 The Creation Care Alliance of WNC welcomes people of all faiths to an Earth Day Vigil on Sunday, April 28 at 5:30 p.m. – 7:30 p.m.(Labyrinth walk at 4:15) at the Sacred Garden/Labyrinth of First Baptist Church, 5 Oak Street in downtown Asheville. This event is a celebration of creation, and a call to spiritually grounded action to care for it during a time when it is in peril. The theme is "Walking the Path" and will include interactive and contemplative practices. This year, instead of hosting the Vigil closer to Earth Day, it will be offered on April 28th to make space for those observing Passover and Easter.  
The vigil will be structured as if moving through a Labyrinth in four movements, Remembering, Releasing, Receiving, and Returning with song, poetry, messages of inspiration and invitations to action from local faith and community organizations and leaders.The time will have
Words of reflection and blessings will be delivered by Rev. Carol Hovis from Grace Covenant Presbyterian Church, Rev. Nancy Walton of Trinity United Methodist Church, Rev. Tommy Bratton and Marian Sadler Arledge of First Baptist Church, Rev. Scott Hardin-Nieri of the Creation Care Alliance of WNC, Dr. Hun Lye, Founder and Spiritual Director of Urban Dharma, and Isa Whitaker a member of the Islamic Center of Asheville and the Community Garden Network Coordinator at Bountiful Cities. Sound and musical leadership will be offered by Jenna Lindbo from Land of the Sky United Church of Christ and Joe Hallock of Solar Powered Sound.
Following the Earth Day Vigil, there will be a reception upstairs with donated food and drink. Also opportunities to walk the Labyrinth in mediation and prayer will be available after the vigil. 
Creation Care Alliance reminds those interested in attending to consider biking, carpooling or taking public transportation, First Baptist is close to the Charlotte @ College Bus Stop. In the event of rain or bad weather, the vigil will take place just inside of First Baptist Church in the Sanctuary with a labyrinth available inside in the chapel.