French Broad Float 2023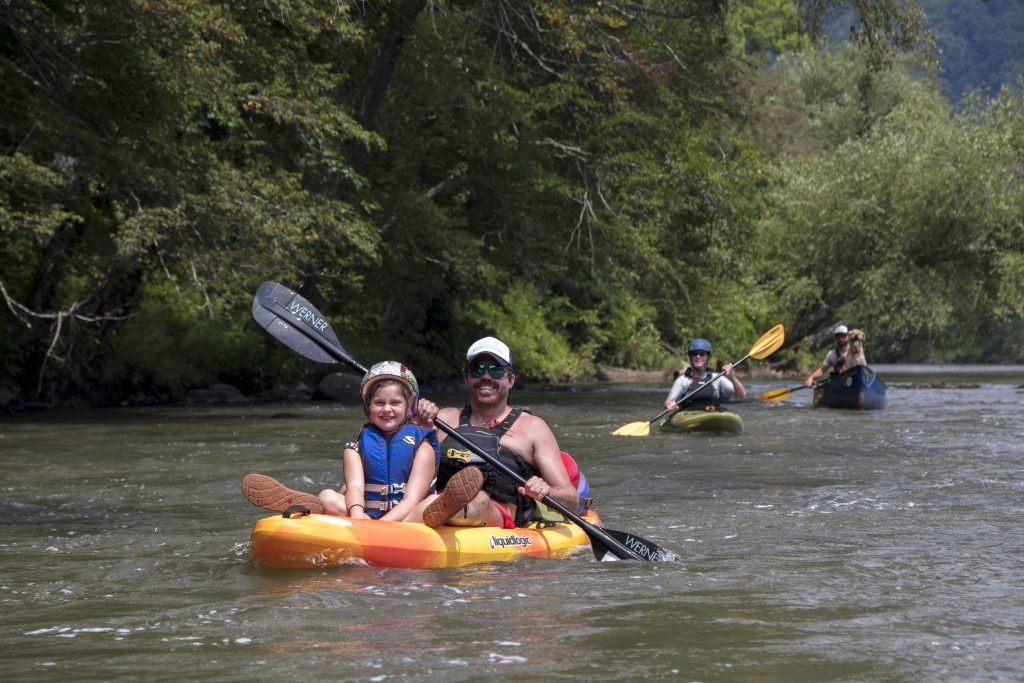 WE ARE BACK, FOLKS!! After a couple-year hiatus due to Covid, we're ready to bring our favorite river trip back to the masses! 
Our annual French Broad Float is back! Every year, MountainTrue and our French Broad Riverkeeper guide participants on an incredible trip down a stretch of the French Broad River, creating powerful memories of camping under the stars on the French Broad River Paddle Trail and exploring what can feel like uncharted territory right in our own backyards. Leave the hustle behind, and experience the joys of river travel while having your meals provided, your campfire built and your gear transported for you to your next campsite.
The dates for 2023 are July 12-14.  The plan is to launch our canoes near Hot Springs, NC, enjoy scenic views of the river, and tackle some small rapids along the way before finishing up at the river access near Hwy 25/70. We'll highlight the work of the Riverkeeper program to keep our waterways clean in WNC, and still have plenty of time for cornhole and s'mores.
Camping has been arranged for each night of the trip. Attendees will feast on delicious meals prepared by our staff. You're welcome to bring all your own gear, or we can provide watercraft (canoes, duckies, kayaks) for those that need it. For those folks, we'll include paddles, life jackets, and helmets.
If you're feeling especially adventurous, then join us on a one-day rafting trip of Section 9 on July 11! Flowing through the heart of Pisgah National Forest, the trip starts in Barnard, NC with a few warm-up class II rapids. The rest of the section highlights the beauty of the river and the Blue Ridge Mountains while bounding down numerous class II and class III rapids. We'll end with an exciting class IV rapid called Frank Bells. It's a beautiful stretch that we're hoping can be designated as a Wild and Scenic River one day. Arriving in Hot Springs, NC, you can grab a beer, hike, or enjoy a soak in natural hot springs before we launch for the main trip the following day.
We look forward to seeing you on the water! Scroll down past the FAQ section to submit a sign-up form!
French Broad Float – FAQs
What does my registration fee include?
Your registration fee includes shuttle, food, beer, awesome and knowledgeable guides, educational activities, tours, and a great time with other paddlers.
Do I need to be an experienced paddler?
It helps to have spent some time paddling a boat, but it's not necessary for the trip. The pace and distance of each day's journey and the difficulty of the river is generally suitable for beginner to intermediate paddlers. The trip does have some class II rapids with one small, class III rapid. 
What do I need to bring?
You only need to bring personal camping items, including a tent, sleeping pad and bag, and personal items. Leave the rest to us. When you register, we will email you with a list of suggested supplies. Camp gear is limited to 40 pounds, and two bags per person. If you're bringing your own  boat, it should be of a size and weight that you and another person can carry. 
Where do we camp?
Camping will be on the banks of the river every night. This is backcountry, primitive camping. Some sites might have a composting toilet or porta-john.  On other sites, we'll be using a groover system.
Do I need to bring food?
Breakfast, dinner and sack lunches will be provided as part of your registration. Yummy beer will be available on each night of the trip. You are welcome to bring some other must-have snacks and drinks as well.
Where do I leave my car?
Everyone will meet in Hot Springs. We have arranged a safe place to meet and leave your cars. Your camping gear will be shuttled between campsites, allowing you to travel light on the river.  We will email these details closer to the date.
Do I have to paddle with all my camping gear?
Not at all! Unless you're really into it.  We'll have vans and trailers to lug gear from campsite to campsite.
Do I have to wake up super early?
Not at all!  We don't sleep until noon, but this is a laid-back kind of paddle.  We encourage you to get all the beauty sleep you need (we don't want any zombies out there).  Just be sure you're ready to launch your boat around 10 or 11 AM.
Do I have to sleep late?
 Not at all! If you're an early riser (before 7), get up and get going when you feel ready.  We might not have breakfast ready for you, but you are welcome to get up, raid the kitchen coolers for snacks or coffee, go birding, or whatever you super early birds do.   
Can I go fishing?
Sure! Just make sure you have both a North Carolina and Tennessee fishing license with you.
More questions? Call or email the French Broad Riverkeeper at Hartwell@MountainTrue.org.
Related Events