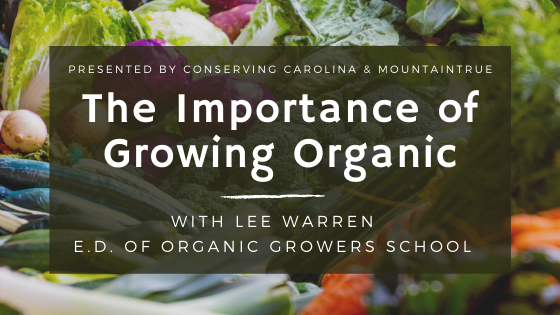 For this month's Green Drinks, we'll hear from Lee Warren, Executive Director of the Organic Growers School, on the importance of growing organic. In her talk, Lee will discuss how industrial agriculture has impacted us on a global scale, from worsening environmental crises and a loss of worldwide biodiversity to increasing world hunger. She, and Organic Growers School, believe that the solution to these problems lies in bringing food systems closer to home and focusing on organic food production. By shifting our food system to rely on small to medium sized farmers, encouraging backyard gardens or orchards, and foraging local plants, she believes we can live happier and healthier lives.
As a result of the current COVID-19 crisis, we have shifted this event to be online. Register here for the event. Once registered you'll receive an email allowing you to join the online presentation or to call in by phone. We hope to see you virtually on Thursday!
**Please note that we will start at 6pm, rather than the usual 5:30pm**
About Hendersonville Green Drinks
Hendersonville Green Drinks is presented by MountainTrue, Conserving Carolina and Appalachian Coffee Co. Come to Green Drinks to learn more about current environmental issues, have relevant discussions, and meet with like-minded people. This is a monthly event and everyone is welcome. You don't have to drink at Green Drinks, just come and listen.