February Vistas E-Newsletter: Draft Forest Plan Released, Take Action on Spill Notifications + More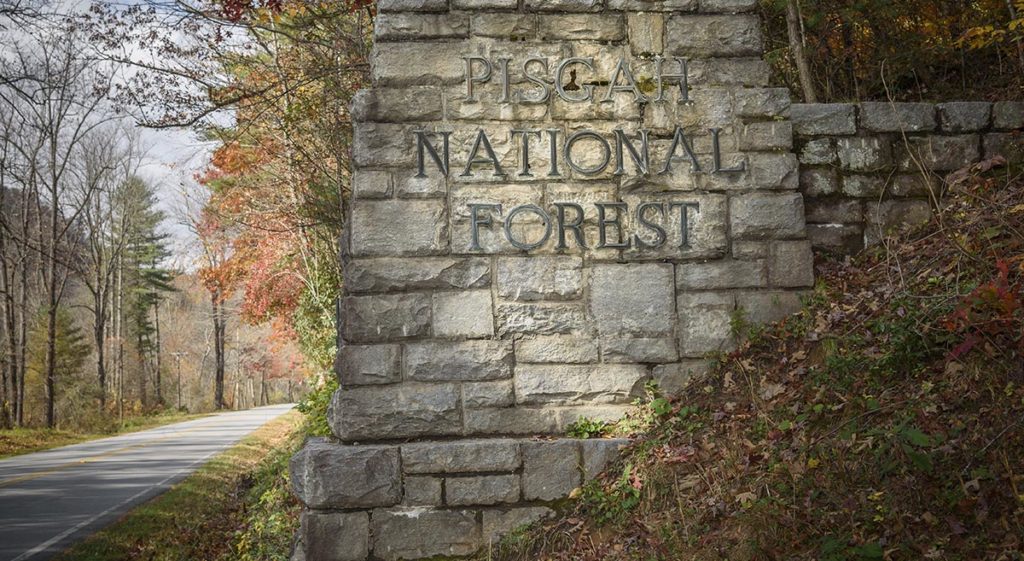 Get this in your inbox. Sign up for email newsletter.
Draft Pisgah-Nantahala Forest Management Plan Released
The draft forest management plan has been released and the 90-day public comment period began on February 14. Our Public Lands Team is reviewing the draft plan and all the alternatives and we will be sharing our analysis with our members and supporters soon so that everyone can make effective public comments to ensure the best plan possible.
"Our first impression is that the Forest Service made a good faith effort to include the values of all constituencies in the plan. All the action alternatives have some elements we like and some that we don't," explains Josh Kelly. "Our hope is that the final plan will include the best ideas from all alternatives, while fixing any deficiencies in protecting water quality, old-growth forests, and natural areas. We will need lots of public participation and collaboration to make that happen."
Make sure you get the latest updates by subscribing to our newsletter, action alerts and forest issue emails. Make sure you also check the box next to "Forests & Public Lands"
MountainTrue's Josh Kelly To Appear On Newsmakers Forum About Future Of Pisgah-Nantahala National Forest
MountainTrue's Public Lands Field Biologist Josh Kelly will join Michelle Aldridge of the Forest Service, Lang Hornthal of EcoForesters, Dr. Jonathan Horton of UNC Asheville, and Andrea Leslie of the NC Wildlife Resources Commission for a Newsmakers Forum panel discussion at the Reuter Center at UNC Asheville on Wednesday February 19th from 5:30pm to 7:30pm. The event is hosted by Carolina Public Press and WLOS News 13, and will focus on the recently released draft Pisgah-Nantahala National Forest management plan. Register Here.
Public Lands Team Experiments On Invasive Species
Last summer, MountainTrue's Ecologist & Public Lands Director, Bob Gale, decided to experiment with new ways to tackle two of our worst invasives: Japanese stiltgrass (Microstegium vimineum) and Japanese knotweed (Reynoutria japonica). He discovered that large patches of three fern species seemed to be holding stiltgrass at bay. So he transplanted rhizomes into test plots adjacent to and in the middle of stiltgrass-invaded areas to see if they exclude the stiltgrass. Bob is also testing a brand new chemical for Japanese Knotweed treatment. Preliminary results for the knotweed experiment are encouraging, and our stiltgrass experiment will be continuing this summer!
Call On NCDEQ: Update Your Spill Notification System to Keep People And Waterways Safe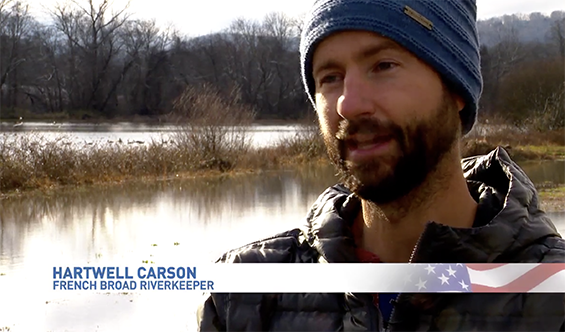 French Broad Riverkeeper Hartwell Carson was on WLOS on Feb. 8 to discuss the 31+ sewage overflows in WNC that have occurred due to heavy rains in recent weeks. "I wouldn't have known of any of these unless I had inquired at the state level," he said, "which your average citizen is not gonna do."
NC's notification system for pollution spills hasn't caught up to modern times – the only public notice required for polluting our waterways is an outdated law that calls for polluters to send a press release and post an ad in a newspaper. The public has the right to know about major pollution spills that impact our waterways as soon as possible, and through the technology the public uses today.
Sign the petition here to call on NCDEQ to update NC's spill notification system to keep people and waterways safe.
Look Up Your North Carolina Early Voting Location. Election Day Is March 3
Primary Election Day in North Carolina is on March 3, but one-stop early voting has started in most North Carolina Counties. Any registered voter can cast an absentee ballot in person on select days prior to Election Day. Unlike on Election Day, when registered voters can only vote at their specific precinct, one-stop voting allows registered voters to vote at any one-stop absentee voting site in the county. Learn more and find your one-stop voting sites in your county.
Central Regional News
For Buncombe, Madison, McDowell, Mitchell and Yancey counties
Asheville Hearing On Duke Rate Hike Proposal Feb. 20
This Thursday, Feb. 20, the North Carolina Utilities Commission will hold its Asheville hearing on the latest proposal by Duke Energy to increase electricity rates. Duke Energy Progress is requesting an average 14.3% increase in residential electric bills to pay for new fossil fuel investments, coal ash mismanagement, and capital investments at coal plants. The increase would mean approximately $17.29 more per month for residential Duke customers.
Join MountainTrue members in Asheville on February 20 to tell the NC Utilities Commission: Enough is enough. No rate hikes for more dirty energy.
The hearing in Asheville will be held in Courtroom 1A of the Buncombe County Courthouse in at 60 Court Plaza at 7pm. Those who wish to speak should arrive by 6:30pm to sign up.
Have Your Say On The I-26 Connector Environmental Impact Statement
In January, the North Carolina Department of Transportation (DOT) issued their Final Environmental Impact Statement (FEIS) for the I-26 Connector Project. This concludes the agency's environmental review of the project, bringing Asheville's highway project one step closer to reality. NCDOT's deadline to receive written public comments is April 3, 2020. MountainTrue will share talking points soon. For more information, visit NCDOT's I-26 Project Page.
City Of Asheville Committee Vacancies
Do you want to have a voice in the City's growth and future? Do you want to be a part of the body that is responsible for making decisions regarding policy, service and education? There are current openings for advisory board members on the City of Asheville Citizens-Police Advisory, Greenways, Multimodal Transportation and Transit committees. Deadline to apply is March 2. Read more and apply.
'Guardians Of Our Troubled Waters' Film Showing At New Belgium Brewing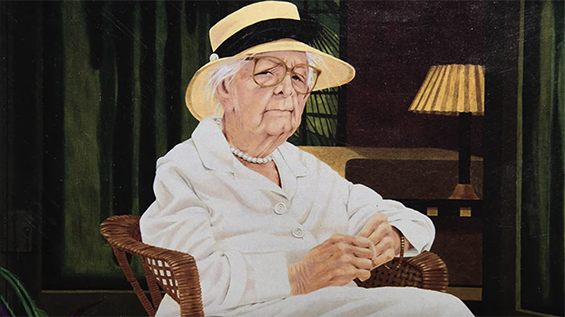 Come out to New Belgium Brewing on Tuesday, February 25 to see the Center for Cultural Preservation's latest film "Guardians of Our Troubled Waters" highlighting river heroes of the South standing up to protect their waterways! Music with folksinger Carol Duermit begins at 7:00 PM, and the film begins at 7:30. Featured heroes include Wilma Dykeman, the savior of the French Broad River, the Dead Pigeon River Council who fought against Champion Paper's destruction of the Pigeon River, and many local WNC organizations including MountainTrue. Read more and get tickets.
High Country Regional News
For Alleghany, Ashe, Avery, Burke, Caldwell, Watauga and Wilkes counties
Tell Beech Mountain Town Council: Fix Your Pipes. Save Our River.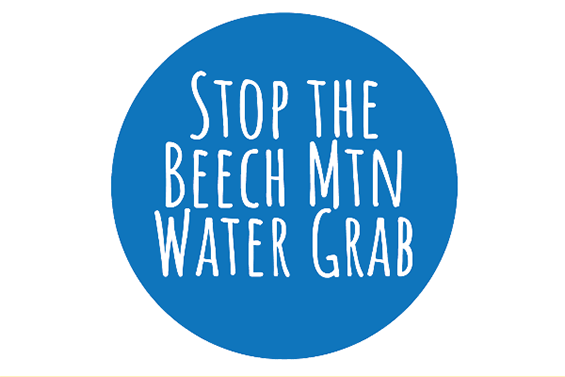 Beech Mountain's Town Council has announced that they will hold a workshop session on the Watauga Water Intake Project on February 25. The proposal would take 2 million gallons of water a day from the Watauga River during times of drought – even though Beech Mountain's pipes are leaking 47% of water annually. If approved, the proposal would reclassify the Watauga River, opening it up to any number of water withdrawals and future development.
When the Town of Beech Mountain last tried this in 2013, Watauga County residents and Commissioners were united in rejecting the water grab to protect trout and the businesses that depend on them, our natural heritage and the future of the Watauga River. Help us build our collective voice in opposing the water intake. Read more and take action.
MountainTrue Is Hiring A High Country Water Quality Administrator
We are excited to share that we are now hiring for a High Country Water Quality Administrator Americorps Member who will work in our Boone office starting as early as March 1st. This position will be a member serving through the Americorps Project Conserve program. The term of service will consist of 900 hours between March 16 and August 31, with the possibility of extending the service term through July 31 of 2021. The member is in charge of communications with the Water Quality Team, administers resources for all water quality-focused programs, and connects with the broader community to solve water quality challenges. Read more and apply.
Hidden Rivers Of Southern Appalachia Film Coming To Banner Elk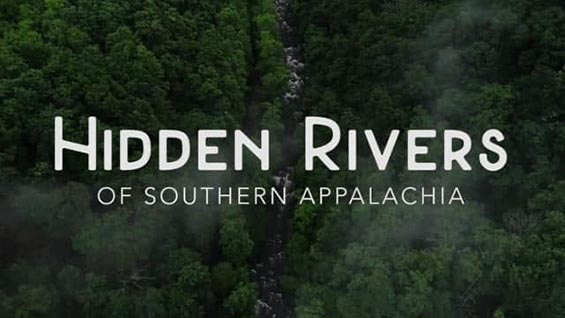 MountainTrue and the Watauga Riverkeeper are proud to bring the film Hidden Rivers of Southern Appalachia to Lees McRae College in Banner Elk on March 27th, from 7:00-8:30 PM. Hidden Rivers is a 1-hour film that explores the rivers and streams of the Southern Appalachian region, North America's most biologically rich waters. The film follows the work of conservation biologists and explorers throughout the region – revealing both the beauty and vulnerability of this aquatic life – and how many people are finding ways to protect these ecosystems. Read more and get tickets.
Southern Regional News
For Cleveland, Henderson, Polk, Rutherford and Transylvania counties
Green Drinks Finds A New Home At Appalachian Coffee Company
Hendersonville Green Drinks, hosted by MountainTrue and Conserving Carolina, has a new home at Appalachian Coffee Company (1628 5th Ave W, Laurel Park, NC 28739)! After years of hosting the monthly speaker series at Black Bear Coffee in Hendersonville, a change of venue was needed in order to accommodate its growing number of event attendees. We are excited about the possibilities that the new space will offer, but we will always appreciate the hospitality Black Bear has provided over the years. Our first event at Appalachian Coffee Company was held on January 9 with featured speaker Bill Jacobs, author of the recently published book "Whence these special places?", an exploration of the geologic processes that produced WNC's array of mountains and waterfalls. Jacobs presented to an overflowing crowd and discussed how some of our most iconic natural places were formed, including Panthertown Valley, Looking Glass Rock and Falls, Shining Rock, Devil's Courthouse, and Triple, Rainbow and Whitewater Falls. The packed house in the larger venue was a surprise to us, but speaks to the region wide interest in environmental issues. We appreciate everyone bearing with us during the transition, and we're working hard with the good folks at Appalachian Coffee Co. to make sure this event continues as smoothly as possible. Join us on the second Thursday of each month when we gather at 5:30 PM to mix and mingle, and then begin our presentation on a different topic of interest every time at 6:00 PM. Hope to see you there!
Western Regional News
For Cherokee, Clay, Graham, Haywood, Jackson, Macon and Swain counties in NC, and Towns and Union counties in GA
Listening Session Held For Western Region Partners
On January 31, MountainTrue's western regional office staff hosted a gathering of partner organizations from across the 9-county coverage area. A total of 15 organizations participated, including recreation, watershed, land conservation, and economic/community development groups. We all learned a lot about what our partners are working on and more importantly how we can support their efforts and fill gaps in the work. Working with others, we can get a lot more accomplished toward our mission of clean waters, resilient forests and healthy communities throughout WNC and the Hiwassee watershed in north Georgia.
Watershed Gala Reservations Due Feb 20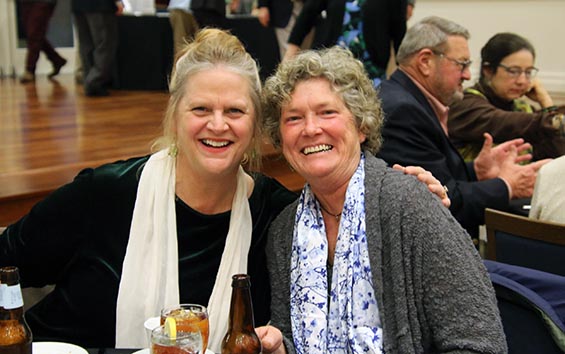 Photo caption: Brenda Hull (right), pictured with Ruth Looper at the 2019 Watershed Gala, has been chosen to receive the 2020 Holman Water Quality Stewardship Award.
The deadline for making reservations for the Watershed Gala is coming up on February 20th! We hope you will join us in honoring long-time Hiwassee River Watershed Coalition volunteer and former board member Brenda Hull! Affectionately known as "BK" to many, the contributions Brenda has made toward clean water and environmental sustainability in the Hiwassee River watershed run the gamut of creativity and reflect both her personal and professional life. From bringing conservation biology classes out to work on stream restoration projects to preparing scrumptious hors d'oeuvres for a fundraiser to hosting a birding outing and more, Brenda has for decades been one of the environment's most ardent supporters. There are still several tickets left for the celebration. Get tickets.
Spring Break Is Just Around The Corner – For College Students, That Is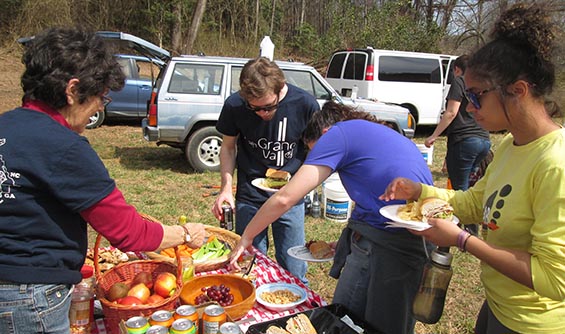 Photo caption: Nancy Troxler serves lunch for a group of alternative break participants in 2016.
We had such a big response for lunch volunteers for our winter alternative break week in December that some people had to wait until spring! As a result, we've already got lunches covered for one of our spring break weeks (Grand Valley State Univ.). However, we've still got dates left during the weeks of March 16 & 23 for two new schools: Keene State College in New Hampshire and St. Thomas University in Minnesota. If you are able to fix or purchase lunch for 8-12 college students, we'd love for you to participate. These students spend the week working along streams and rivers to remove nonnative invasive plants and plant native trees and shrubs. The results are healthier riparian buffers along our waterways! If getting your hands dirty is more your style, volunteers are also welcome to come out to sites and work alongside the students. Let us know and we'll send you the schedule. To volunteer, email Tony (tony@mountaintrue.org).
Events & Volunteer Opportunities
Feb. 20: Asheville Hearing On Duke Rate Hike Proposal
The NC Utilities Commission is holding a hearing on the latest proposal to increase electricity rates. Duke Energy Progress is requesting an average 14.3% increase in residential electric bills to pay for new fossil fuel investments, coal ash mismanagement, and capital investments.
Feb 21: Paddle-N-Plant Workday On The French Broad
Come hop in a boat and help us reduce erosion along the French Broad River by planting tree-cuttings that grow into groundcover.
Feb. 25: Guardians Of Our Troubled Waters At New Belgium Brewing
This documentary film tells the story of three communities in WNC, east Tennessee and south Florida and the heroes who rose to unite these communities to stand up for their rivers.
Feb. 25: Coal Ash Closure Hearing And Afterparty In Forest City
The NC Department of Environmental Quality has ordered Duke Energy to clean up its coal ash at the Cliffside Plant and six other sites across the state. Join us for the last public hearing on the Cliffside plant followed by a celebration.
Feb. 27: 52 Weeks 52 Trees Art Exhibit In Flat Rock
Join us for the opening reception of an exhibition of paintings by artist Dale McEntire that are inspired by a love of the trees that surround us. Ten percent of proceeds from sales of paintings from the exhibition will be donated to MountainTrue.
Feb. 27: 12th Annual Watershed Gala In Young Harris
Join us at the 12th Annual Watershed Gala and Holman Water Quality Stewardship Award presentation for a delightful evening of food, laughter and fun, and to honor this year's Holman Water Quality Stewardship Award winner, Brenda Hull!
Mar. 5: Building Our City Speakers Series With Patrick Bowen In Asheville
Patrick Bowen will discuss the challenges our community faces as we seek solutions to our region's affordable housing crisis.
Mar. 7: Spring SMIE Macroinvertebrate Training In Flat Rock
Become a citizen scientist and take part in our SMIE (Stream Monitoring Information Exchange) water quality monitoring program. Teams head out twice a year to creeks throughout Henderson and Polk counties to collect and identify aquatic insects — strong indicators of water quality.
Mar. 13 & 20: Paddle-N-Plant Workdays In Valle Crucis
Come hop in a boat and help us reduce erosion along our local rivers by planting tree-cuttings that grow into groundcover.
Mar. 13 workday
Mar. 20 workday
Mar. 14: Annual Bird Watch At Lake Chatuge
Join MountainTrue and retired Young Harris College professor and former board member, Brenda Hull, to learn about and observe the birds of Lake Chatuge.
Mar. 17: Muddy Water Watch Training In Columbus
Learn how to identify sources of sediment runoff, best management practices and how to use our Muddy Water Watch mobile app to document and report sediment pollution.
Mar. 21: Signs Of Spring Hike Into The Green River Gorge
Celebrate the arrival of spring with a moderate 6.8 mile out-and-back hike into the Green River Gorge. Guided by expert ecologist Bob Gale, we will search out the season's first ephemeral wildflowers such as trillium, bloodroot and toothwort. This event is sold out; email Catie Morris at outings@mountaintrue.org to join the waitlist.
Mar. 21: Hiwassee Volunteer Monitoring Team Training In Young Harris, GA
Get certified by the Georgia Adopt-A-Stream program and become a member of our Hiwassee Volunteer Monitoring Team — a great hands-on way to support clean water.
Mar. 27: Hidden Rivers Of Southern Appalachia Film Screening In Banner Elk
This 1-hour film explores the rivers and streams of the Southern Appalachian region, North America's most biologically rich waters and follows the work of conservation biologists and explorers.
Mar. 28: First Annual North Fork Fest In Rosman
Join Headwaters Outfitters and the Whitewater Community for the First Annual North Fork Fest! A celebration of history and heritage of the North Fork of the French Broad River.