Protect The Places We Share
When your community is threatened by pollution, MountainTrue and our network of members, volunteers and partner organizations are there for you. When you donate to MountainTrue, you become part of something bigger. You and your fellow members are part of a grassroots network that protects the larger community. 
There is work to do, and it's going to take your support to get it done. Consider making a donation today in support of clean waters, resilient forests, and healthy communities. 
When you become a member of MountainTrue, you power:
​
When you support MountainTrue, you power:
a Public Lands Team hard at work ensuring a management plan for the Nantahala-Pisgah National Forests that protects our natural carbon sinks, reduces habitat destruction, and promotes biodiversity.
a Land-Use Team that promotes smart growth and community planning so that our continued growth doesn't come at the expense of our environment.
Four Riverkeepers and a Western Region Clean Waters Team that work to reduce urban and agricultural pollution, minimizing levels of E. coli and other harmful pathogens in our rivers and streams, and
an Energy Team that has successfully fought to move our region away from coal and is helping to lead us toward a renewable energy future.
Become a monthly donor and make a big impact with a small initial donation.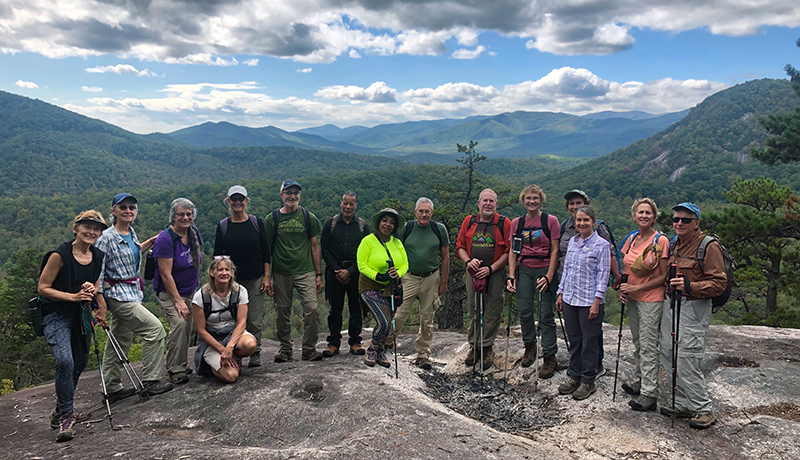 MountainTrue members pose for a photo on the Pilot Cove Loop Trail in Pisgah National Forest during our Fall Scenic Hike.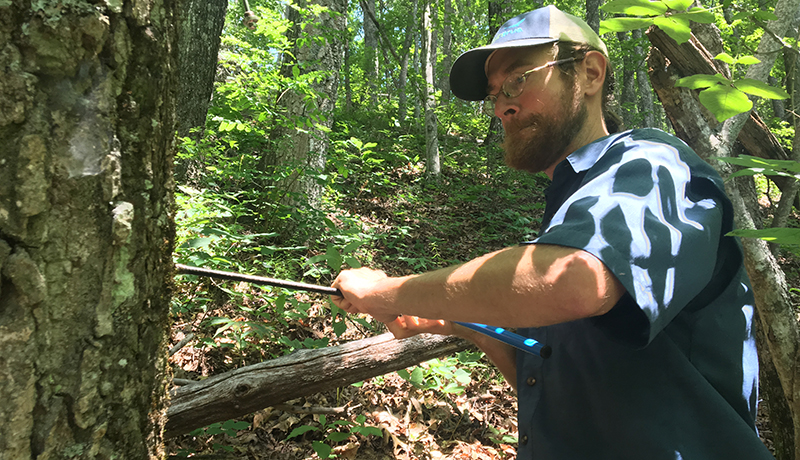 MountainTrue's Public Lands Field Biologist Josh Kelly documents the age of a 200 year-old tree as part of our objection to a timber sale.

Want to give in other ways? Get in touch.
Have questions or ideas around about planned giving, workplace giving, or other kinds of giving to help support MountainTrue? Let's talk. Contact Amy Finkler, Development and Operations Coordinator, directly at amy@mountaintrue.org or 828-258-8737 x 209.
Other ways to give!
Dedicate your donation: Click the box under the contribution form above to indicate you would like to make your gift in honor or memory of someone special.
Workplace giving: A small gift each month can make a large impact. Ask your employer if they participate in (or would like to) EarthShare or the NC State Employees Combined Campaign (#1125)
Matching donations: You can often double or even triple your gift to MountainTrue with matching funds provided by your employer. Check with your company's personnel office to learn if your company offers a gift matching option.
Stock: A gift of stock supports MountainTrue and offers you financial benefits. Your broker can transfer securities to MountainTrue.
Planned giving: Make a deep and meaningful impact for future generations.
MountainTrue Tax ID # is 56-1422691