Hannah Woodburn, AmeriCorps High Country Water Quality Administrator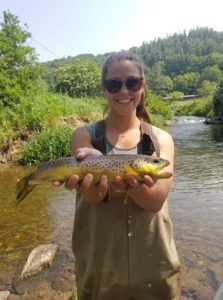 Hannah is a recent graduate from Appalachian State University with a Biology degree concentrated in Ecology, Evolution and Environmental Sciences. Although she is originally from Greensboro, NC she has spent plenty of time exploring various parts of Western North Carolina.  
Hannah originally became involved with MountainTrue through her Ecotoxicology course project working with the Broad Riverkeeper to assess the accumulation of heavy metals in fish. She gained experience in the High Country watershed as an Undergraduate Research Assistant for a graduate student's freshwater ecology thesis. Hannah acquired valuable laboratory skills while carrying out DNA extractions in a plant conservation genetics lab. She plans to continue to develop and apply her lab and field skills throughout her AmeriCorps service term. 
Her main passions surround water quality and resource management. She hopes to meaningfully connect with members of Western North Carolina in order to better protect our natural resources. 

 hcwqa@mountaintrue.org