Henderson County Volunteer Spotlight: Fred Thompson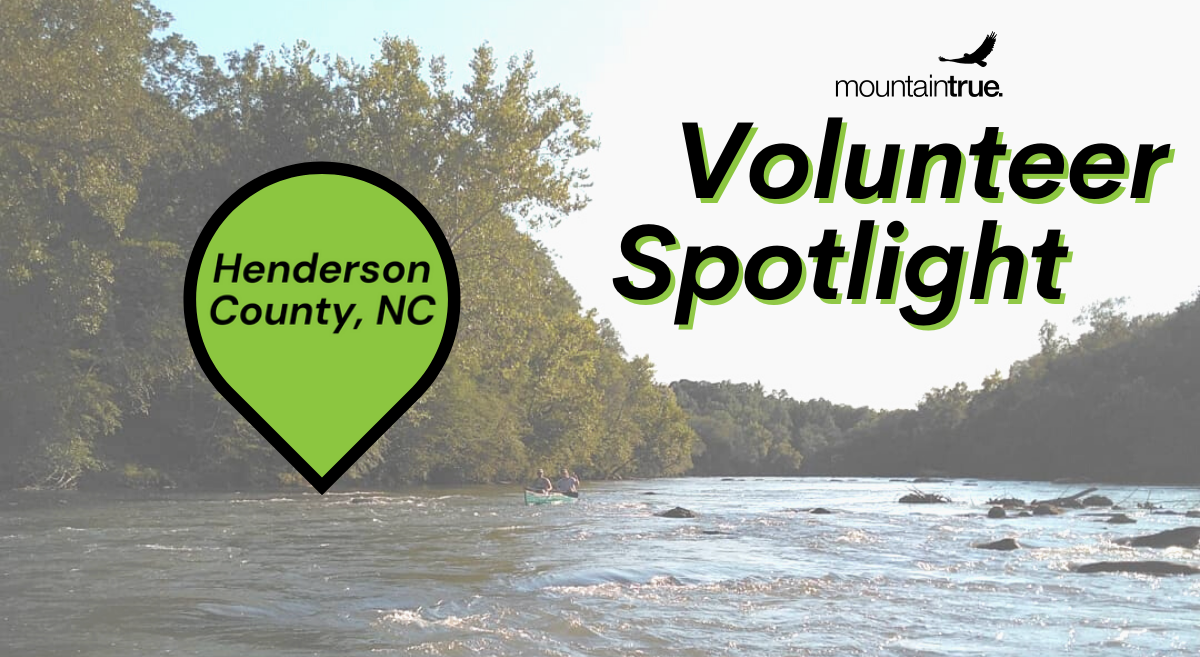 "MountainTrue's Volunteer Water Information Network (VWIN) has some pretty terrific volunteers" says Lucy Butler, co-leader of the VWIN volunteer base in MountainTrue's Southern Region. This month, we're spotlighting the creative and much-appreciated work of Fred Thompson, a MountainTrue VWIN volunteer in Henderson County.
Over the years, Fred's craftsmanship skills and dedicated volunteerism have made MountainTrue's participation in the VWIN program much more efficient! 
About VWIN
The Volunteer Water Information Network (VWIN) program is a volunteer-based network that has been conducting chemical surface water monitoring in WNC streams on a monthly basis since 1990. VWIN is a major program of the Environmental Quality Institute (EQI), a longtime partner of MountainTrue. Learn more about/get involved with EQI's VWIN work here, and click here to learn more about MountainTrue's 30-year partnership with EQI.
Water samples taken by VWIN volunteers help us to better understand water chemistry trends in Western North Carolina and identify and quantify sources of pollution in our region's watersheds. VWIN water samples are stored in individual bottles and many samples can be collected along riverbanks at various sampling sites. However, a few of our VWIN sites are easier to sample from atop a bridge. This "bridgetop" sampling involves the securing of sample bottles to a box which is then submerged, filled with water, and hauled back up to the top of the bridge.
Several years ago, Fred built steel boxes that allow VWIN volunteers to easily load and unload sample bottles, minimizing the possibility of samples escaping and floating downstream. When we asked him to build more boxes, he found that the price of steel had skyrocketed and his usual sources were not discarding their steel scraps… So he started experimenting with six inch PVC pipe, eventually constructing multiple efficient bridge testing boxes through many hours of trial and error. Fred and his friend, cabinetmaker Thomas Kline, fabricated a series of wooden tooling (molds) to form softened PVC plastic into Fred's desired box shape. Fred and his wife, Andrea, then used their home oven to soften the plastic. Finally, Fred used concrete over reinforcement wire to reach the requisite five pounds (the bridge boxes must be weighted so they can properly submerge and collect water samples).
Fred's innovative new bridge testing boxes work perfectly! 
In addition to the bridge boxes (pictured right), Fred and Thomas have developed prototypes for improved VWIN sample transport boxes. Each month, VWIN volunteer coordinators for Henderson County transport 37 boxes — each full of water samples from Henderson, Transylvania, and Polk Counties — to EQI's lab in Black Mountain and return them to the volunteer pickup location. The weight and bulk of the current transport boxes makes this an arduous task, so plans are in place to replace the boxes with lighter, smaller, and more easily handled boxes.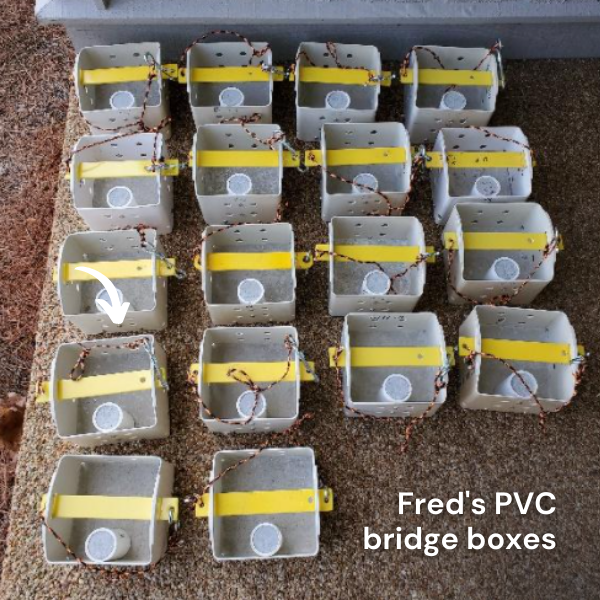 About Fred
Fred moved to Henderson County in 1993 and retired in 2019. He worked as a maintenance supervisor at NC State and has an Associate's Degree in Ceramic Engineering. He and Andrea volunteer at the Park at Flat Rock where they maintain the park's 22 bluebird houses. 
Pictured: Andrea and Fred Thompson
Many thanks to Fred, Andrea, and Thomas for improving the VWIN program and supporting efficient, reliable citizen science in Western North Carolina!