Highlands, NC Becomes the Country's First BearWise Certified Town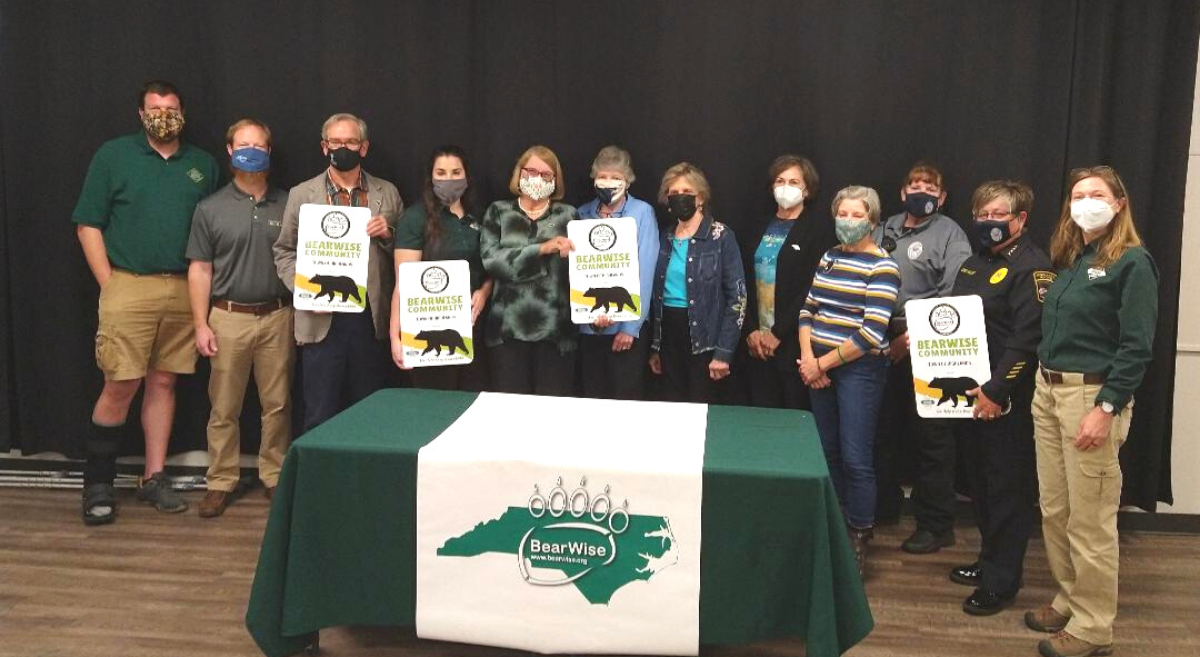 It took a decade of effort, but this scenic Western North Carolina town did what no other town or city in the country has done to date: become a BearWise certified community. However, this major accomplishment was no easy feat.
Highlands' six-member BearWise Liaison Committee — chaired by former MountainTrue Highlands Chapter head, Cynthia Strain — began its work as the Bear Education and Resources (B.E.A.R.) Task Force of MountainTrue. Members worked hard to engage their community with over a decade's worth of educational programs, school visits, special events, newspaper articles, brochures, and online resources.
Becoming BearWise
Expertly developed by black bear biologists and supported by state wildlife agencies, BearWise, according to its website, "shares ways to prevent conflicts, provides resources to resolve problems, and encourages community initiatives to keep bears wild."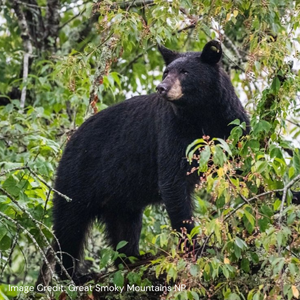 BearWise Communities
While no other town or city in the US has received a BearWise certification, it's important to note that Asheville's own Mountain Meadows neighborhood recently received its BearWise certification in October. The Mountain Meadows neighborhood is North Carolina's first BearWise certified neighborhood — read more about the accomplishment here.
The BearWise website defines the three steps counties, cities, towns, or neighborhoods that want to become BearWise certified must take: 
First, communities must consult with local authorities (like conservation and police officers) or local experts (like fish and wildlife biologists) and assess if garbage and other food attractants are drawing the attention of local black bears. Potential food attractants include birdseed, pet food, and outdoor grills. 
Second, communities must organize and rally support for a BearWise certification among community members, after which they can discuss the next steps with local officials, including fish and wildlife personnel.
Lastly, communities must take action by implementing strategies to reduce human-black bear conflict. 
The North Carolina Wildlife Resources Commission's (NCWRC) BearWise certification process obligates interested North Carolina communities to meet five requirements that expand upon the three-step process described above. The NCWRC requires communities to establish a BearWise liaison committee to coordinate information and act as the point of contact between the community and the agency. 
Highlands has successfully met all of the NCWRC's BearWise requirements, working with Mayor Patrick Taylor, community leaders, and NCWRC officials to effectively reduce instances of human-bear encounters in the town. Highlands residents and visitors should keep an eye out for BearWise certification signage, which will soon be proudly displayed throughout the town!  
Despite this monumental achievement, Highlands' BearWise work continues. Being a BearWise certified community has proved to be a dynamic endeavor, explains Mayor Taylor, "We've had to go back and change ordinances several times, and we'll change more. We always want to look back at what we're doing and improve upon it." 
Why it matters
While it can be a memorable experience to see wild black bears in an urban setting, it's a risky one. Human-bear conflict is exacerbated by increased human development and subsequent habitat fragmentation, resulting in the increased likelihood of bears coming into contact with humans, especially in urban areas. Those interactions can be dangerous for humans and deadly for bears. Unfortunately, bears can become reliant on human sources of food and display more assertive or aggressive behaviors toward people. When such conflict arises, those 'problem bears' often have to be put down by Wildlife Resources staff. 
Highlands' success in becoming a BearWise certified community makes a big statement about the importance of advocating for human-bear coexistence. Black bears are no strangers to residents of the Southern Blue Ridge; they live among us, trekking through our backyards and across city streets, and they're often found digging through our neighborhood trash cans. 
Highlands' trailblazing efforts showcase the fact that organized community action leads to impactful change. We hope other communities around North Carolina and the greater Southern Blue Ridge region are inspired by Highlands' success and choose to follow in the town's footsteps (or pawprints) in the years to come. 
On the importance of BearWise communities:
Ashley Hobbs, NCWRC Black Bear and Furbearer Biologist: "When you coexist, you keep the people safe and the bears wild… The bears can still move around; they're just passing through. Highlands didn't go halfway; they went all in. With all the effort that's gone into this, you'll see the benefit for years to come." 
Colleen Olfenbuttel, NCWRC Black Bear and Furbearer Biologist: "Not only is Highlands the first town to be BearWise certified, but the passion of the people working to accomplish this is a model community for North Carolina… People need to adapt to living with bears, and becoming a BearWise Community is key." 
Check out the BearWise website to:
Learn more about black bears and human-black bear coexistence

Get important safety tips

Download fact sheets and kids' activity sheets

Find out how your community can become BearWise certified