Honoring David Malpass: Co-Founder of ECO and WNC Environmental Hero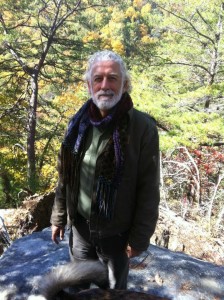 David Malpass passed away on May 17. He co-founded, along with his wife Mary Jo Padgett, the Environmental and Conservation Organization (ECO) — an environmental nonprofit that thrived in Henderson County for 27 years and later merged with the Western North Carolina Alliance and the Jackson Macon Conservation Alliance to become MountainTrue.
With ECO, David and Mary Jo helped establish an organization with a lasting legacy of getting people out into the natural world, and empowering them to protect our environment.
"David had a powerful spirit, and was quick to win people over with his charm and good looks, but it was his passion and love of nature that drove his actions," says Katie Breckheimer, MountainTrue's Board president.
"David Malpass was a character — a pied piper-type of character," explains Chuck McGrady, North Carolina Representative and former executive director of ECO. "He was passionate about the things that were important to him, with a quick smile and no fear of expressing his feelings."
Kevin Gaylor, a former ECO member, remembers David fondly. "David always struck me as a kind of Moses figure with his booming voice, just having come down from the mountain with tablets in his hands. He was full of passion, vision and laughter, and these qualities are what put Hendersonville's environmental movement in motion."
Under his tenure, volunteers designed and built a nature trail in a large county park, soon followed by a volunteer-built boardwalk into the park's wetlands. "Whenever I visit Jackson Park and walk the trails, I'll think of David and his work in making this community more connected with the natural world," says his friend Gary Eblen.
A proud tree-hugger, David pushed for the creation of Hendersonville's first tree ordinance in 1989, and then became a member of its first Tree Board. In a partnership with the American Chestnut Foundation, experimental disease-resistant chestnut trees were planted around the county.
The community's 1990 20th Anniversary Earth Day celebration was a grand event of epic proportion thanks to the leadership of the newly formed ECO. When a waste incinerator was proposed for the community, ECO made sure there were educational public forums about the technology, and organized the community to ensure that the plant would be located elsewhere. These efforts are only part of the legacy that David Malpass left behind. He will be sorely missed.