Introducing Madison County Natural Heritage
Written by Pete Dixon of Madison Natural Heritage
Madison Natural Heritage is excited to partner with MountainTrue for the 2020 Madison County BioBlitz aimed at creating a biological inventory of all of Madison County. Madison Natural Heritage is a new educational project, recently started by the Madison County Public Library system. This interactive digital project will serve as a natural history museum to engage students, scholars and citizens and to collect and archive data about the rich and cherished natural world in Madison County.
The library system's interim director, Peggy Goforth, is excited to share her love for the county with the children who utilize the libraries. "Because Madison County is so special and unique" Goforth says, "it is critical that we instill in our children the knowledge to preserve and maintain this beautiful place that we love and call home." Her fierce love of Madison County is shared by residents across the county and is reinforced by biologists throughout the state who believe it to be extremely unique. When asked about Madison County, retired state naturalist Harry LeGrande said, "[it] may be the single most important county in the NC mountains for the state's biological diversity."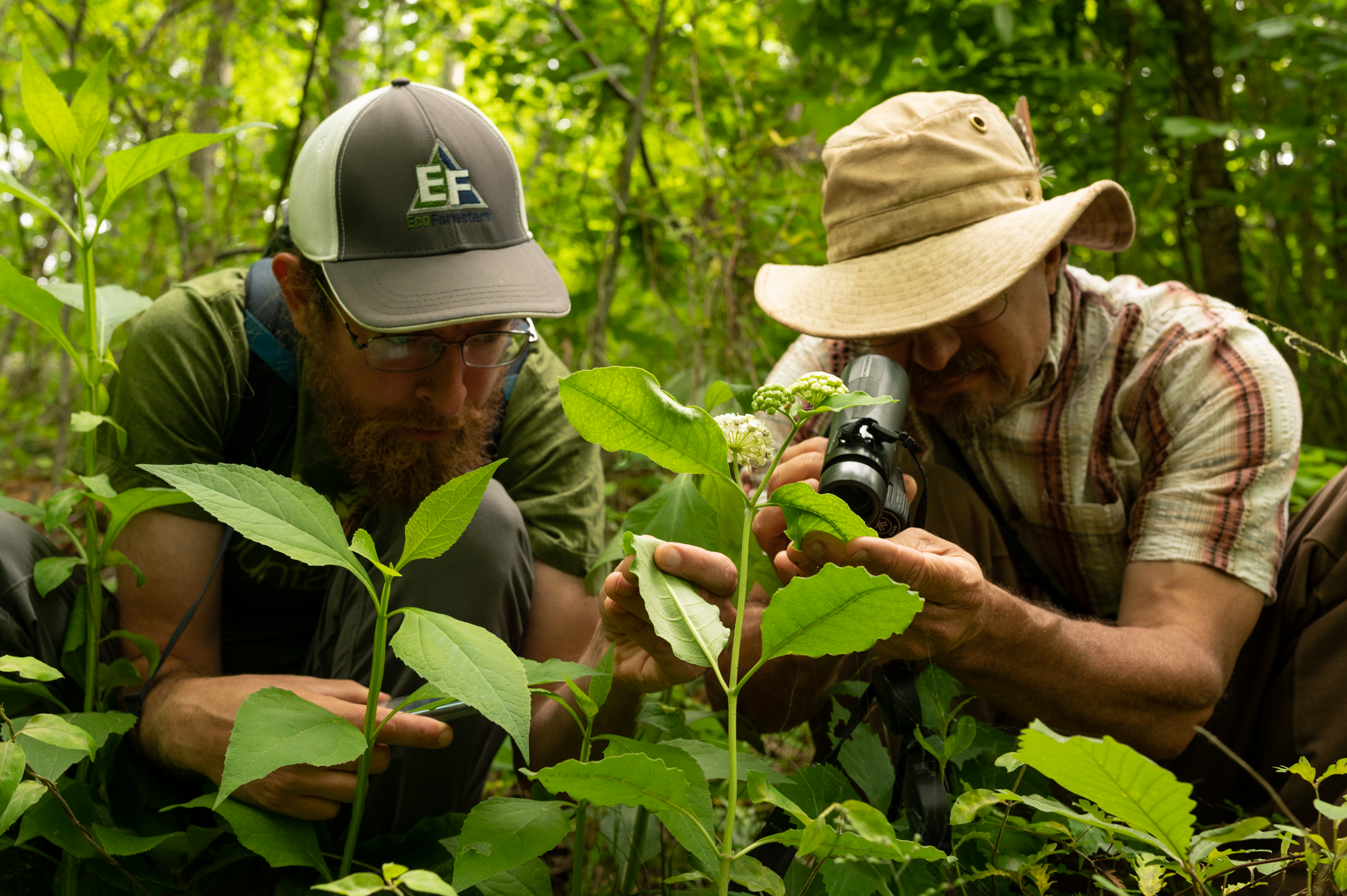 Pete Dixon, of Madison Natural Heritage, and Josh Kelly, Public Lands Biologist at MountainTrue, work to identify plants species for the Madison County BioBlitz.
Madison Natural Heritage will use available database technology, such as iNaturalist, eBird, and the North Carolina Natural Heritage Program, to capture natural science data. These tools will allow Madison County students to learn how to digitally log data using citizen science techniques while exploring the extraordinary environment surrounding them. Madison Natural Heritage is carefully coordinating with schools to make sure it supports their goals and doesn't replicate existing programs.
The Madison County Library System is primed to take on such an innovative project, which could pave the way for similar initiatives in other counties and states. Having been awarded "The Best Small Library in America" title by Library Journal in 2018, Madison County residents know what community commitment and a strong library staff can achieve. By taking on the Madison Natural Heritage project on the tailwinds of its recent national recognition, the Madison County Library System has the opportunity to put Madison County on the national map again by creating countywide programming that involves young people in the growing field of citizen science and curating an exhibition of the county's rich natural heritage. 
To kick off this exciting new initiative, Madison Natural Heritage and MountainTrue are sponsoring a county-wide BioBlitz from June 6th through June 20. A Bioblitz is an organized effort to document as much biology in one place during a set time as is possible. In other words, it's like a scavenger hunt for the whole community focused on finding any and all living things: birds, plants, insects, fish, mammals, etc. Anyone can join by signing up here. Kids are especially welcome.
For more information about Madison Natural Heritage, email Pete Dixon at pete@madnatural.org or visit https://madisonnaturalheritage.org/.