Jack Henderson, French Broad Paddle Trail Manager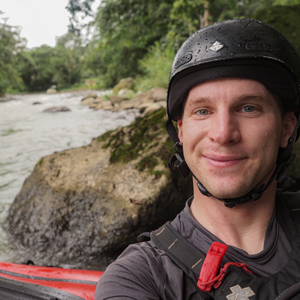 As French Broad Paddle Trail Manager, Jack supports MountainTrue's efforts related to stewardship, public access, and recreation information on the French Broad River and major tributaries. Jack works with partners to improve launch sites, maintain campsites, remove garbage and log jams, create and publicize trip planning and safety information, and coordinate events focused on celebrating and protecting the river.
Jack has lived and worked in Western North Carolina since 2010. After graduating from Appalachian State University with degrees in Geography and Recreation Management, he worked for several regional and national nonprofits and land managers focusing on outdoor recreation, public land management, private land conservation, community-oriented stewardship, volunteer coordination, water quality monitoring, stream restoration, river management, and GIS/mapping.
Jack loves human-powered recreation, with a special affinity for remote rivers and rocky trails. He can often be found where there is greenery and gradient.

jack@mountaintrue.org