Join Us At A Forest Management Plan Comment Party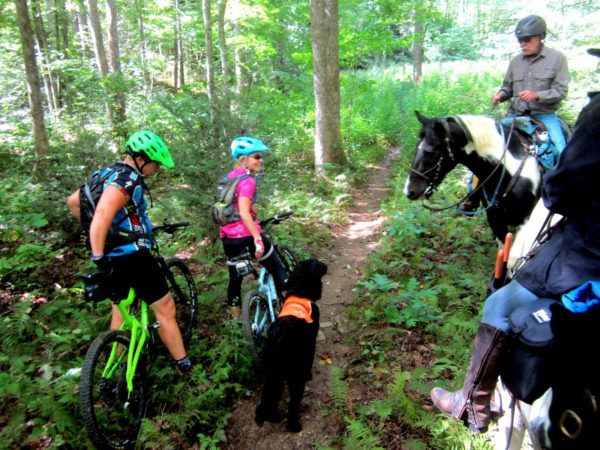 As many of you have heard through news reports or from our last e-news, the draft management plan and environmental impact statement for the Nantahala-Pisgah National Forests were released on Friday, February 14. Our forest team is reviewing the more than 2,000 pages contained in those documents and will soon be offering our members and supporters thorough analysis to assist you in providing meaningful public comments to the forest service.
We are also scheduling a series of Forest Management Plan presentations and comment-writing parties throughout our region where our staff will present our analysis, answer your questions and help you write your comments, if desired. Below is our first round of events.
More public comment events hosted by MountainTrue are being planned and we will update you when dates and locations are confirmed for events in Mills River, Sylva, Morganton, Asheville and Bryson City.
As we schedule additional events, we'll also be adding them to our Forest Plan Calendar.
The Nantahala and Pisgah belong to all of us, and this is the process whereby we, the public, ensure that the Forest Service manages and maintains them according to our values. The management plan determines which areas are protected, which areas will be scheduled for timber projects or managed for restoration, and how projects, like trail building and maintenance, are prioritized.
This forest management plan has been in development since 2013, and this is the public's last significant opportunity to have our say. The public comment period lasts 90 days (until May 14), and you can submit as many public comments as you like. So, even if you've already submitted a comment, you can attend our parties to learn more and add your additional concerns to the public record.

MountainTrue's Josh Kelly participated in Carolina Public Press's NewsMakers Forum on the Future of Pisgah-Nantahala National Forest. Watch it here.
Our first impressions of the Forest Plan is that the Forest Service has made a good faith effort to include the values of all constituencies, but that there's still a lot of room for improvement. All the action alternatives have some elements that we like, and some we don't.
Some specific areas of concern that we've already identified:
The draft plan does not include any certain protections for existing old-growth forests. The Draft Environmental Impact Statement documents that all forest ecosystems are deficient in old-growth, very young forest, and open canopy forest compared to the best models of the natural variation in these systems. Unsustainable logging 100-140 years ago, fire suppression, and other factors have gotten us where we are today. Cutting existing old-growth will only make the matter worse, and the Forest Plan should require that old-growth be protected from regeneration harvest — the process by which older forests are cut to make younger forests.
The draft plan does not specify if or how old-growth forests will be tracked, making monitoring of the goal of increasing the amount of old-growth on the ground unachievable.
The draft plan does not include specific directions to protect many Natural Heritage Natural Areas that contain the best examples of rare species and natural communities in North Carolina. In all forest plan alternatives, between 34,000 and 68,000 acres of NHNAs are included in management areas with scheduled timber harvest. The Forest Plan should preclude regeneration harvest if a site-specific review finds them to be in a condition consistent with their identification as natural areas by the state.
The draft plan proposes a 15 ft. buffer on intermittent streams – streams that dry up during a drought. We believe that the intent is to protect those streams, but the plan should require a 50 ft. buffer of protection from heavy equipment such as bulldozers and skidders a default.
The current forest plan stipulates that any timber harvest on slopes over 40% must be accomplished with an aerial cable, where at least one end of the log is lifted off the ground, or other aerial logging method to protect soils and reduce the risk or erosion or landslides. The draft plan does away with that requirement and leaves the decision, increasing opportunities for human error. The new plan should also require that all harvest methods on steep slopes should protect the soil as effectively as aerial cable harvest.
Alternative C is the only alternative that would manage Big Ivy consistent with the Buncombe County resolution calling on the Forest Service to protect the area.
Moving forward, we continue to contribute as a member of the Nantahala-Pisgah Forest Partnership to come up with a collaborative, win-win proposal that takes the best aspects of each alternative provided by the Forest Service, and fixes any of the plan's deficiencies in protecting water quality, old-growth forests, and natural areas.
To keep up with the latest Forest-related news and action alerts and to receive updates as we add forest plan events to our calendar, sign up here.