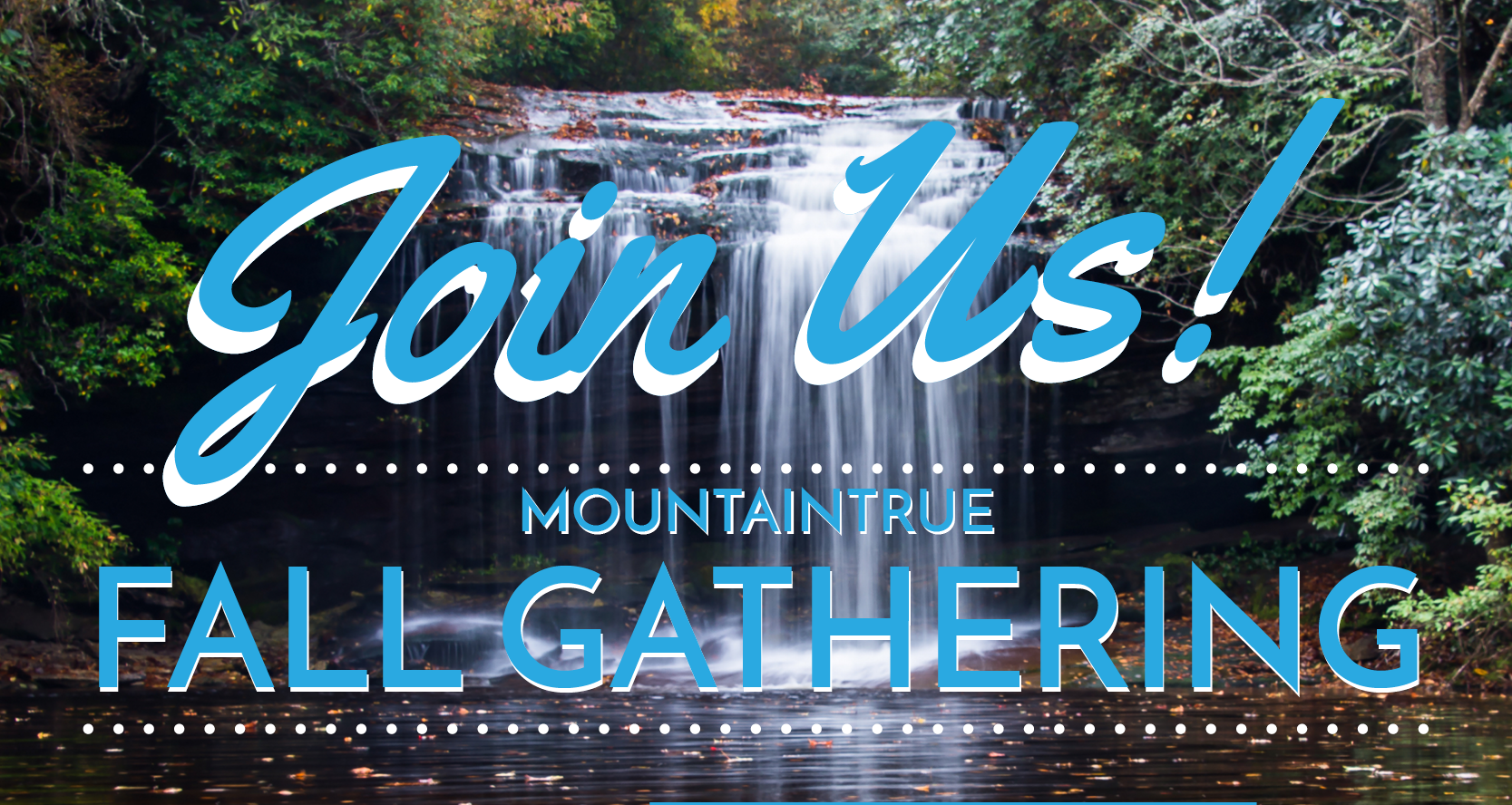 Wednesday, October 26, join us at New Belgium Brewery in Asheville for our annual Fall Gathering. Expect great beer, delicious food and some sweet, sweet jams from Asheville's very own The Midnight Plowboys.
THIS EVENT IS FREE AND OPEN TO ALL CURRENT MEMBERS.
MountainTrue 2016 Fall Gathering
Wednesday October 26 from 6 PM to 8 PM
New Belgium Brewery's Brewhouse
21 Craven Street, Asheville
With our proud mountain heritage, beautiful mountain vistas, lush forests and rushing streams, Western North Carolina is an amazing and special place to call home. The support of our members has helped us fight for our communities and protect one of the richest environments in the world.
Support WNC by renewing your membership and making a donation to MountainTrue today. CLICK HERE.
If you would prefer to send us a check, please make your donation payable to MountainTrue and mail it to us at 29 N. Market St., Suite 610, Asheville, NC 28801.
Thanks to our members and supporters, MountainTrue was voted WNC's #1 Environmental Group by the readers of Mountain Xpress. Our programs represent you, your values and the issues that you care about. Here are some of the things we've accomplished together so far in 2016:
Protecting Our Waters
We launched the first monthly water-quality monitoring program in the Watauga River basin with 13 sites monitored by MountainTrue volunteers and staff.

We continue fighting Duke Energy in court over its coal-ash pollution at the Cliffside plant in Rutherford County and organized over a hundred people to attend hearings and demand the full clean-up of coal ash pollution.

We planted 6,000 live stakes that will grow, stabilize banks, and stop erosion along 12 miles of river frontage in the French Broad River basin.
Preserving Our Public Lands  
As a leader in Nantahala-Pisgah National Forest planning process, we helped develop a groundbreaking agreement between wilderness, conservation and recreation advocates in support of more trails and public access and more backcountry and wild places.

We prevented over 100 acres of clear cutting on Nantahala National Forest, helped eradicate invasive species on the Grandfather Ranger District, and raised awareness of the natural wonders of Bluff Mountain with a BioBlitz that documented over 400 plant species.
Building Vibrant Communities
We mobilized over 1,000 comments on the I-26 Connector project in Asheville. In response, NCDOT selected the community-developed and supported Alternative 4B for the bridge section of the project. We celebrate this victory while continuing to work to reduce overall size, improve design, and include more bike/pedestrian infrastructure.
Working for Clean Energy
We intervened in Duke Energy's application for approval of a new natural-gas plant in Asheville and a new peaker plant to be built in 2023. We asserted that Duke had not made its case for additional fossil fuel capacity, and the Public Utilities Commission agreed, declining to approve the extra peaker plant. Now, we are hard at work providing leadership for the new City of Asheville-Buncombe County-Duke Energy partnership to develop and implement a plan to increase energy efficiency and grow our renewable energy infrastructure.
Engaging Citizens
After three years of advocacy in support of surrounding neighbors, we achieved victory at the CTS site in Buncombe County when EPA required an interim cleanup of a large pool of subsurface contamination. Next, we will make sure that the long-term cleanup plan is as protective as possible.

MountainTrue members and staff took lobbying trips during the 2016 legislative session to be your voice in Raleigh. We are also hosting "meet and greets" between our members and candidates vying to replace our retiring WNC legislators.

We brought nationally renowned evangelical Christian and climate scientist Katharine Hayhoe to  Asheville. She met with 80 faith leaders at a prayer breakfast and addressed more than 300 people in the First Baptist Church sanctuary.
BECOME A MOUNTAINTRUE MEMBER AND BE PART OF THE MOVEMENT FOR A BETTER WESTERN NORTH CAROLINA. CLICK HERE.
Thank you for your generous support of our work!