Become a member of MountainTrue
MountainTrue members help protect our forests, water and air, and have the opportunity to hike with experts, volunteer to monitor streams, maintain our amazing Paddle Trail along the French Broad River, and clear trails in the national forest. Have fun with us, learn more about the incredible natural treasures of our region, and make a difference in your community.
By supporting MountainTrue you are:
monitoring timber sales, fighting invasive pests, and protecting our old-growth tree stands;
campaigning to clean up coal ash pollution and for more renewable energy for WNC;
cleaning up our rivers and streams to keep our waters healthy places to fish, paddle and swim;
partnering with marginalized communities to make sure they receive a fair shake in large infrastructure projects like the widening of I-26 through Asheville; and
lobbying in Raleigh, keeping an eye on new legislation, and working with legislators to protect our mountains.
Become a monthly donor and make a big impact with a small initial donation.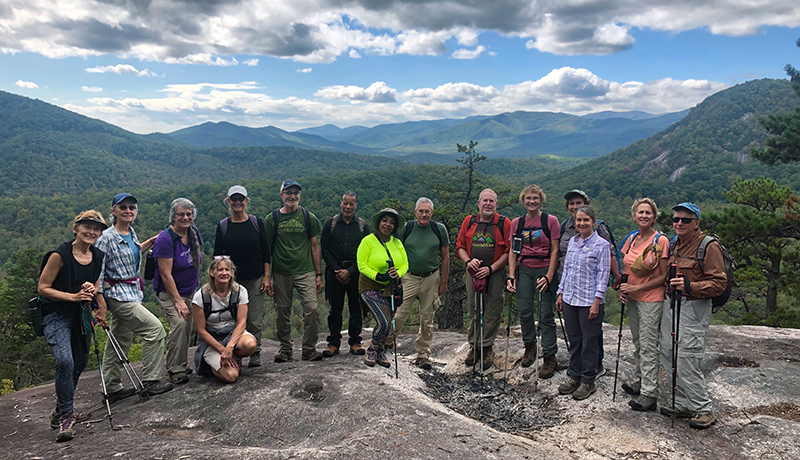 MountainTrue members pose for a photo on the Pilot Cove Loop Trail in Pisgah National Forest during our Fall Scenic Hike.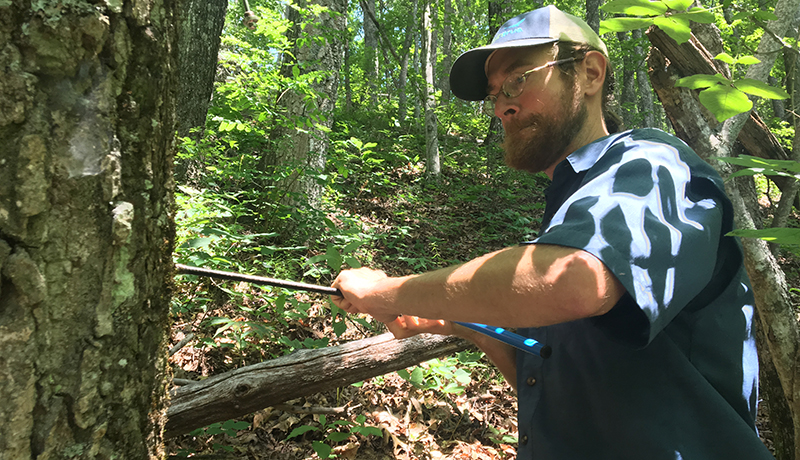 MountainTrue's Public Lands Field Biologist Josh Kelly documents the age of a 200 year-old tree as part of our objection to a timber sale.

Want to give in other ways? Get in touch.
Have questions or ideas around about planned giving, workplace giving, or other kinds of giving to help support MountainTrue? Let's talk. Contact Amy Finkler, Development and Operations Coordinator, directly at amy@mountaintrue.org or 828-258-8737 x 209.
Other ways to give!
Dedicate your donation: Click the box under the contribution form above to indicate you would like to make your gift in honor or memory of someone special.
Workplace giving: A small gift each month can make a large impact. Ask your employer if they participate in (or would like to) EarthShare or the NC State Employees Combined Campaign (#1125)
Matching donations: You can often double or even triple your gift to MountainTrue with matching funds provided by your employer. Check with your company's personnel office to learn if your company offers a gift matching option.
Stock: A gift of stock supports MountainTrue and offers you financial benefits. Your broker can transfer securities to MountainTrue.
Planned giving: Make a deep and meaningful impact for future generations.
MountainTrue Tax ID # is 56-1422691