Asheville Beyond Coal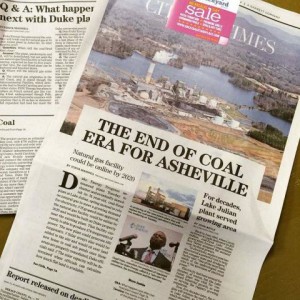 MountainTrue is a proud founding member of the  Asheville Beyond Coal  coalition. Powered by a community of dedicated advocates and volunteers, we were instrumental in securing a commitment to retire the Asheville coal plant in May 2015. Check the coalition webpage for the latest news and opportunities to get involved!
We seek to:
Lead a transition from the use of fossil fuel energy to a reliance on clean, safe and renewable energy sources. 
Make energy conservation and efficiency a priority in reducing energy demand in Western North Carolina. 
Replace jobs dependent on fossil fuels with jobs centered on conservation, efficiency and renewable energy technologies.
Secure complete clean-up of coal ash dumpsites along the French Broad River. 
Retiring the coal plant will bring many of the changes we've fought so long and hard for:
Duke will stop dumping coal ash into massive pits next to the French Broad River, stopping toxic pollution that has flowed into the river for decades. The existing dumpsites and pollution will be cleaned up, the coal ash moved to safe, lined storage, and some amount of solar capacity will be built on the former 90-acre coal ash dump site.
Lake Julian will no longer be too hot to support native fish populations, once hot water discharges from the coal plant stop.
Local air pollution will be greatly reduced.
Closing the coal plant will reduce the very real cost our community has been paying: Nationally, coal pollution is responsible for triggering 13,000 asthma attacks and more than $100 billion in health costs each year.  
While Duke Energy heard our call to retire coal, it failed us in the decision to build a new 650 megawatt natural gas plant; almost double the output of the coal plant. We will continue pushing to bring truly sustainable energy sources to WNC and call on the City of Asheville to make good on their promise to work with Duke and community partners to develop a plan for clean energy in Asheville.
Stay tuned to our coalition page, Facebook and Twitter on the latest you can do to help bring real commitments for solar and energy efficiency to our community!
Asheville Beyond Coal featured on SHOWTIME's 'Years of Living Dangerously' documentary series
Hollywood celebrities and respected journalists span the globe to explore the issues of climate change and cover intimate stories of human triumph and tragedy.  
Episode 4 is called "Preacher's Daughter," and features  Anna Jane Joyner, former campaign coordinator with WNCA/MountainTrue and national Beyond Coal Campaign Director Mary Anne Hitt. Check out a sneak preview of Preacher's Daughter here.
You can also watch the series' first episode, in full, below.