'Let's Turn Our Community Into A Demonstration Plot': A Faith Spotlight on Piney Mountain United Methodist Church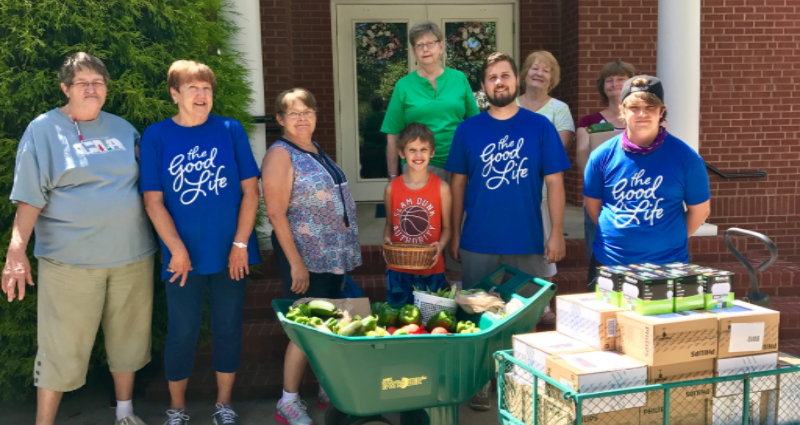 Members of Piney Mountain United Methodist Church during their light bulb drive, August 2017. 
It was something you don't see every day: in the Hominy Valley just east of Candler, NC, a man pulls a wagon of light bulbs while another drags a wheelbarrow full of green peppers, okra and tomatoes. Winding around the neighborhood, the small group knocks on the doors of 35 homes, and when their neighbors open, they do not ask for money or signatures. Instead they hand out 16 energy-efficient LED light bulbs to each home free of charge along with some fresh produce, and invite them to a community cookout and a series of free classes on creation care.
These generous visitors were congregants of Piney Mountain United Methodist Church for their LED light bulb drive last August. Piney Mountain, known for being a "working church" that serves in the Hominy Valley community, breaks the mold of what may be expected of rural congregations: the church has been incredibly active in the mission to protect our mountains.
"There are a lot of blessings of the rural community," says Piney Mountain Pastor Kevin Bates. "My people love their land, they love their mountains, and they do a lot of farming. One of my parishioners raises cattle, and he loves every one of those cows and names them all."
Pastor Bates was determined to connect his parish's love of the land with an understanding of how climate change affects the earth and how they care for their neighbors. In 2016, Bates received a $1,000 Thriving Rural Communities grant for the neighborhood light bulb drive from the Duke Divinity School Endowment. Piney Mountain has now distributed over 1,300 energy efficient LED light bulbs to help lower their neighbors' energy bills and reduce carbon emissions at the same time.
"I'd watched people come into the Asheville Buncombe Community Christian Mission (ABCCM) crisis center in Candler saying, "I need help with my heating bill. I need help with my heating bill," Bates says. "And [ABCCM Site Coordinator] Ian Williams and I decided we need more than a Band-Aid fix for this issue. So the LED light bulbs were a beginning: we thought, let's start moving people in the right direction so that instead of them asking for $100 come December, let's save them $100 over the course of the year."
LED light bulbs are 80% more efficient than regular incandescent light bulbs, and even more efficient than the spiral-shaped compact fluorescents (CFLs.) They're also safer than CFLs since they do not contain mercury. On top of the energy savings, the LED light bulbs will eliminate about 1,000 pounds of carbon emissions per year – the carbon equivalent of planting 15,000 trees in their community over the next ten years.
"We need more than a Band-Aid fix for this issue. So the LED light bulbs were a beginning: we thought, let's start moving people in the right direction so that instead of them asking for $100 come December, let's save them $100 over the course of the year."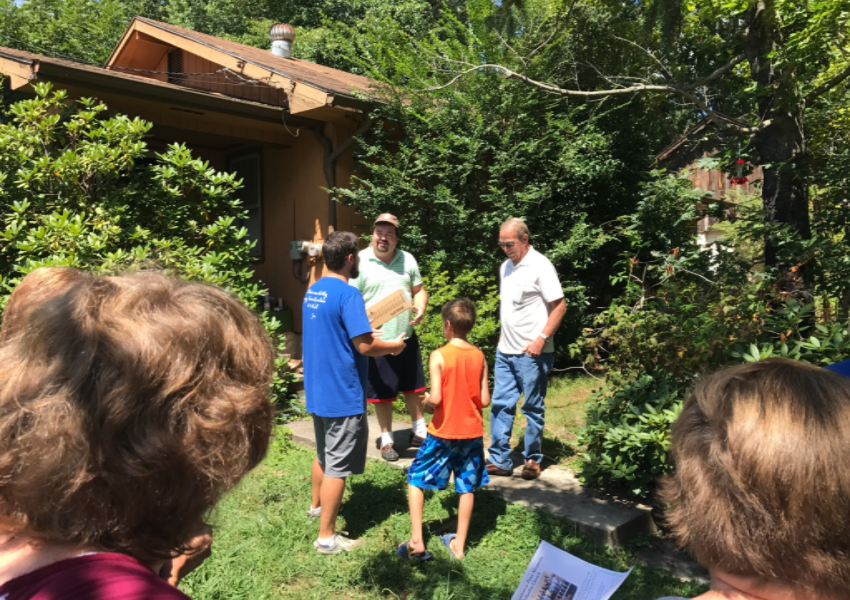 Piney Mountain goes door-to-door in the neighborhood surrounding their church in the Hominy Valley, east of Candler, NC, to build community and create energy savings for their neighbors.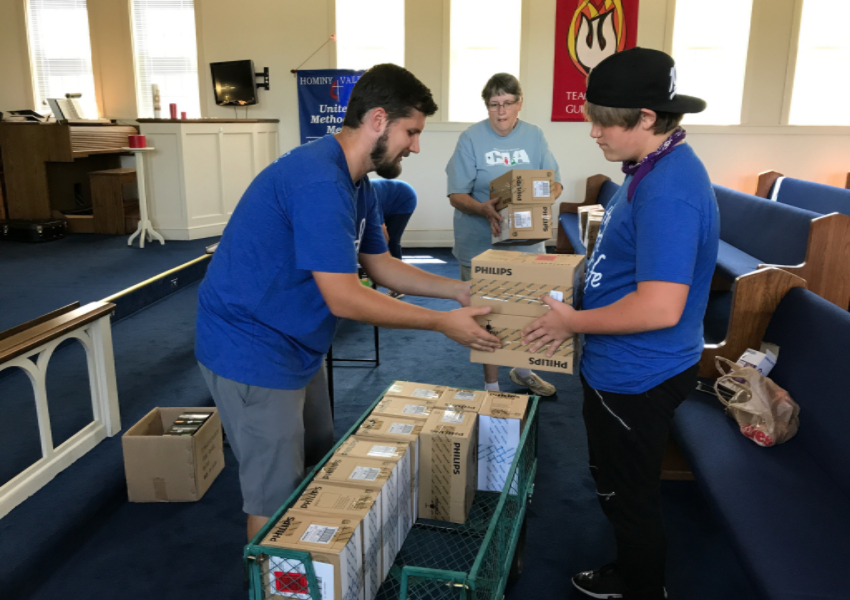 Pastor Kevin Bates (left) and a Piney Mountain congregant (right) load boxes of LED light bulbs into a wagon at church.
Pastor Bates' passion for connecting faith with care for the environment is clear, and for him, the effort began with preaching. He did a six-part sermon series on creation care through the lens of Biblical passages – from the Genesis creation story to the Book of John, Job, and Revelations, Bates points out that the Bible is full of references to our connection to the earth and the image of God as a gardener. "Other times, my sermons were more focused on the justice elements of what it means when we don't care for the land," he says. "There are plenty of places in the Minor Prophets where people are abusing the land and the prophets speak out against it because it's hurting people, especially the poor. We know that's the case now, and my congregation responds, 'we're farmers too – we get what's happening.'"
Bates adds that the deep connection to the land felt by many parishioners allows them to feel and respond to climate change on an emotional level. "My people have noticed that they have changed when they plant in the ground, and they have even changed the way they fertilize because of changing snow patterns," Bates says.
Piney Mountain offered free public classes last fall on home energy savings, composting and canning to keep fostering creation care, and used local knowledge to teach the classes. "I think canning was the best class that we had. I don't know how many older grandmothers have said 'I wish my grandchildren and kids knew how to can, but they just bring their tomatoes over here and make me do it,'" Bates laughs.
Many residents of the Hominy Valley make lifestyle choices that, while sometimes considered part of a recent wave of trendy "green" practices, are actually long-standing traditions in rural communities that just make sense economically. In the home energy savings class, Bates realized that most of the participants still used clotheslines and didn't need to convert back to them to save energy like they might in more urban areas.
Bates serves on the Steering Committee for the Creation Care Alliance, and hopes Piney Mountain will offer more classes in the spring. Piney Mountain also plans to work more closely with the Energy Savers Network and to help make Buncombe County's recently adopted resolution for 100% renewable energy by 2042 a reality.
Fittingly, Bates' personal call to this work also connects to an agricultural vision. He speaks of the Koinonia Farm in Georgia that was founded in the early Civil Rights Movement by Clarence Jordan, who believed that black and white people need to live and work together in order for true reconciliation to occur.
"Now obviously there's a lot of hard work that goes into living together with people," Bates says. "But with Koinonia Farm, Clarence Jordan spoke about creating a demonstration plot for the kingdom of God, because it demonstrated to the world a different way, the way of the Beloved community. And it was also a protest against the way the world works now. So I turned that language to my congregation and said 'let's turn our community into a demonstration plot. Demonstrating to the world a different way: a way of reconciliation with people and land.'"
Are you clergy and interested in bringing creation care back to your faith community?
Would you like to connect to the Creation Care Alliance's network of faith communities caring for our mountains in Western NC?