Make your voice heard: Duke Energy's rate hikes are unfair!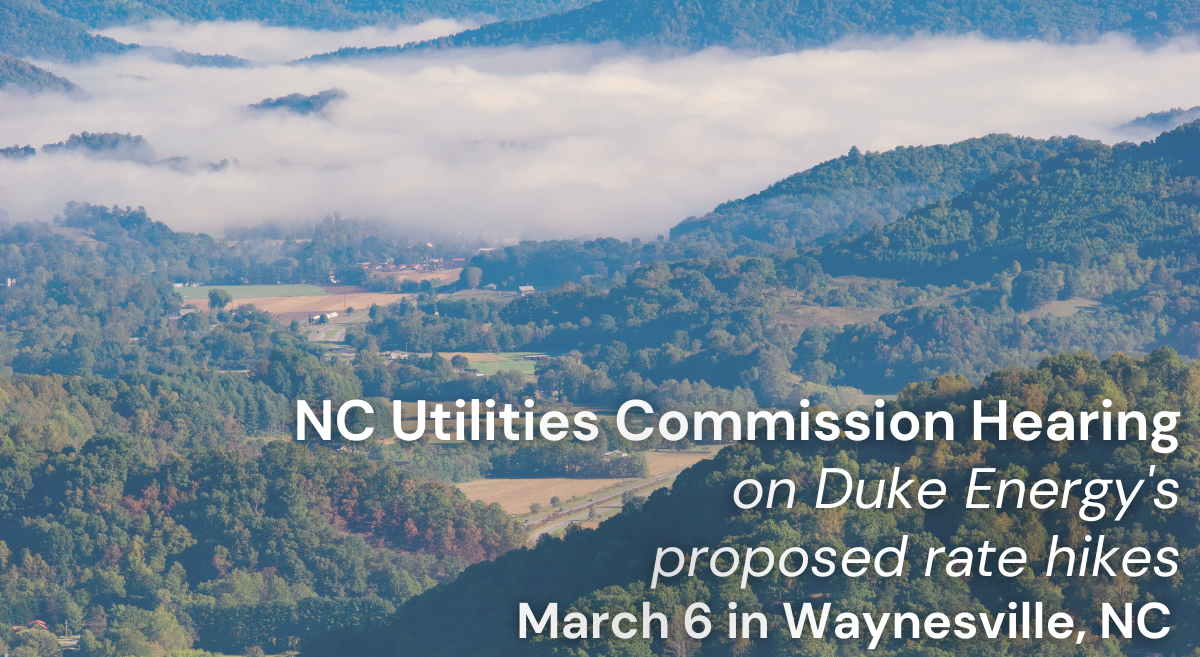 The North Carolina Utilities Commission (NCUC) recently approved the disappointing Carbon Plan, which gives Duke Energy the green light to pursue a combination of energy sources, including gas and nuclear, to achieve North Carolina's carbon reduction goals. Now, before any concrete plan of action is presented, Duke Energy Progress is asking NCUC to approve rate hikes that will be imposed on customers for the next three consecutive years. This three-year rate structure was authorized as part of the legislation that also mandated the creation of the Carbon Plan.
You have a chance to make your voice heard! NCUC is hosting a series of public hearings across the state, and they kick off in the mountains on March 6 at 7 p.m. at the Haywood County Courthouse:
What: Duke Energy Progress Rate Hike Public Hearing
When: Monday, March 6, 2023, at 7:00 p.m.
Where: Haywood County Courthouse, 285 N. Main St, Courtroom 2-A, Waynesville, NC

Energy is getting more expensive, burdening everyone, especially low-income households. Last summer, customers experienced an average monthly energy bill increase of $10.58 due to rising gas prices. The following monthly increases are expected on the average residential electric bill if Duke Energy Progress gets its way: 
$14.72 per month starting fall 2023, followed by 

$5.62 per month in 2024, followed by

$5.21 per month in 2025 
By 2026, the average annual residential electric bill will be $306.06 higher than it is today. To put this in perspective, workers making minimum wage will have to work an extra two and a half weeks per year to pay their energy bills if this rate hike is approved. Duke Energy Progress customers already spend an average of 19% more on their electric bills than Duke Energy Carolinas customers. Why should Progress customers' rates go up even more? Check this map to find out if you're a Duke Progress or Duke Carolinas customer. 
Duke's justification for the rate hikes is largely for new distribution and transmission grid upgrades. Making our grid more reliable is important, and we need to build out the power distribution grid to better accommodate new renewable energy development like wind and solar. But, in addition to building out a robust transmission grid, Duke needs to maximize investment in energy efficiency measures to help low-income customers offset rising energy costs. Duke now has the ability to use "performance-based ratemaking" mechanisms that incentivize clean energy investments to benefit both the utility and the public. Duke underutilized this opportunity in its rate hike application. NCUC should aggressively require that Duke's profits be tied to achieving public policy goals such as low-income energy affordability, decarbonization, and investments in energy efficiency and distributed renewable energy resources.
We need to tell NCUC to minimize rate increases on customers, advance aggressive goals around energy efficiency, affordability, and renewable sources through performance-based ratemaking, and pursue other strategies to protect and support low-income customers from rising costs. Be there on March 6 to make your voice heard!
For more detailed talking points and pointers for how to engage in the hearing, click here. Thanks to our good partners at NC Sierra Club for pulling these together!