MountainTrue Supporter Spotlight: Michael Cheng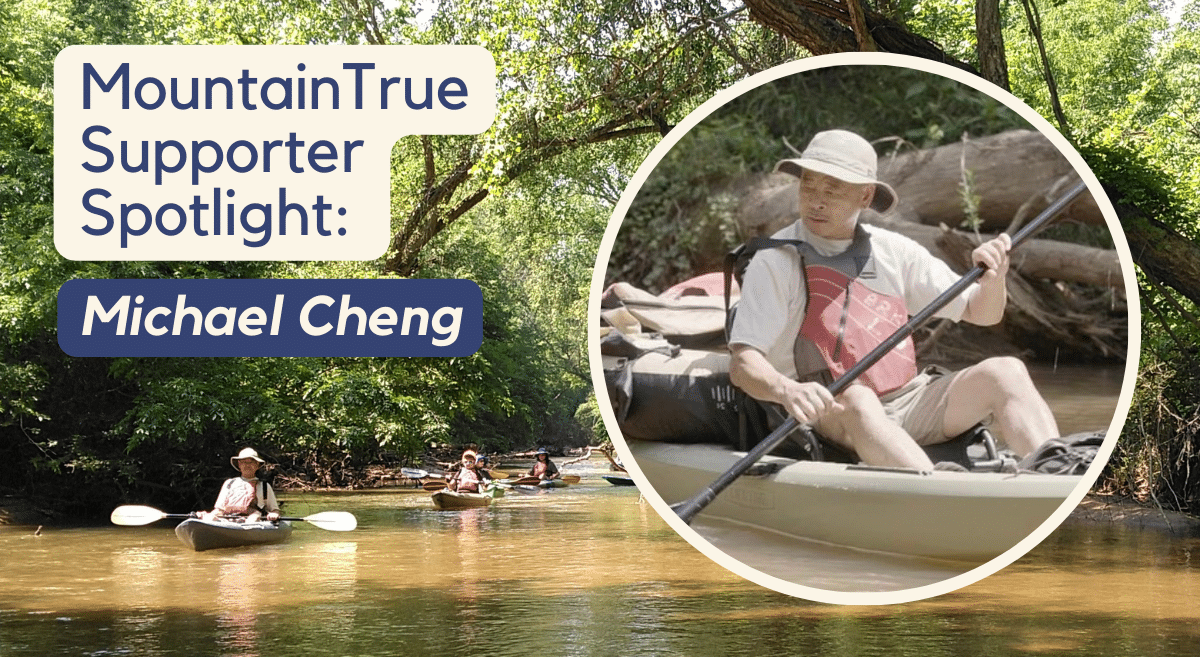 Last fall, Broad River enthusiast Michael Cheng, several volunteers, and Broad Riverkeeper David Caldwell were joined by the Voices of Deoli film crew while cleaning up a section of the First Broad River. Cinematographer Oxana Onipko filmed the cleanup as part of the Voices of Deoli feature film, which shares the stories of Deoli Internment Camp survivors, including Michael Cheng. We encourage folks to support the Voices of Deoli crew by checking out their website, learning about the project, and following Voices of Deoli on Facebook and Instagram. 
Photo: Michael Cheng poses with a tire he removed from the Broad River on a previous cleanup with the Broad Riverkeeper in Shelby, NC. 
"Michael has been joining us for river cleanups, races, and other Broad Riverkeeper events a lot in the past three years, and I'm beginning to suspect that when his boat accidentally flips over, it's no accident at all — the man loves to swim," says Broad Riverkeeper David Caldwell. "Supporters like Michael help make our work possible; the Broad River is cleaner and healthier because of Michael and his enthusiasm for its wellbeing! Michael, MountainTrue is grateful for you and all you do to support the Broad Riverkeeper in protecting the Broad River Watershed!"
Learn more about Michael and his experiences by reading his interview below:
What brought you to Western North Carolina?
The value and quality of life in terms of the low cost of living, friendly people, and peaceful living. 
How did you get involved with MountainTrue?
Your Broad Riverkeeper, David Caldwell, organized a river cleanup with our Rotary Club. I really felt that David had a full heart and deeply cared about our river. He also organized a fun float. I really appreciate that, with David and MountainTrue, I can do good stewardship for our environment and have a lot of fun. 
We've spent a lot of time together out on the river, both paddling for fun but also doing river cleanups and work days. What drives you to want to steward our rivers?
I want to live a life without regrets. In the beginning, when humans first came to inhabit this planet, it was clean. Now, we've left tires, plastics, and trash in our river that could remain there for many centuries. I want to do my part to make our planet clean again. I don't want to look back when I'm feeble or gone and wish I had done more to get rid of those tires. 
You're featured in Voices of Deoli, an upcoming documentary about the Deoli internment camps, where the Indian government rounded up and imprisoned Chinese-Indians during the Sino-Indian War. In the internment camp, Chinese Indians were expelled from their homes and subjected to extreme racial and ethnic bias. Has that made you more driven to be deeply involved in our community?
After being through all the difficulties in my life, I was fortunate to come to this town and meet a lot of good people and leaders. They inspire me to learn to be involved with the community and do good stewardship. 
How old were you when you were in the Deoli internment camp? How did you make your way from a childhood in India to Western North Carolina, where you have become a successful businessman? 
When I was interned, I was six years old. After more than two years, we were released to Calcutta, but we were not allowed to go back to my birthplace, Darjeeling. I traveled in Europe for a few years, then went to Canada, and then the US. I first came to New York. Then, in 1981, I settled in North Carolina. 
What happened to your other family members who were at the camp?
All of my family is in Canada except one sister who lives in Wilmington, NC.
Indian Prime Minister Narendra Modi was recently welcomed by the Biden Administration in Washington DC. The United States government has apologized and provided reparations to Japanese citizens who were interned during World War II. India, on the other hand, has never apologized to the people of the Deoli Camps. Do you hope this film might get you that long-overdue apology and recognition?
I don't have a lot of optimism or confidence in the current Modi administration.
You brought the film documentary film crew with you to a river cleanup last summer. Why do you feel it was important to show that part of you to audiences?
For the same reason that I like taking part in MountainTrue's river cleanups. The tires that get thrown into our rivers may never surface but will continue to degrade and pollute our planet. Similarly, if we don't speak up and act now, the Indian government will never apologize and acknowledge the injustice they did to us. I don't want that injustice, like many issues that happen in the world, to be forgotten and buried forever after I die. 
Do you know what the status of Voices of Deoli is? When can we see it in theaters?
Lulu, the producer of the film, has said the film will be released sometime next year.
Is there anything else that you would like to say about your life or your involvement with MountainTrue to our members and supporters who get our e-news? 
I've been to a lot of other countries and seen how dirty and full of trash the water is simply because of a lack of leadership in the community. I appreciate MountainTrue's involvement in regional efforts to protect and advocate for the environment and lead not only now but generations to come.