MountainTrue and Mainspring to Host Blackrock BioBlitz at Pinnacle Park in Sylva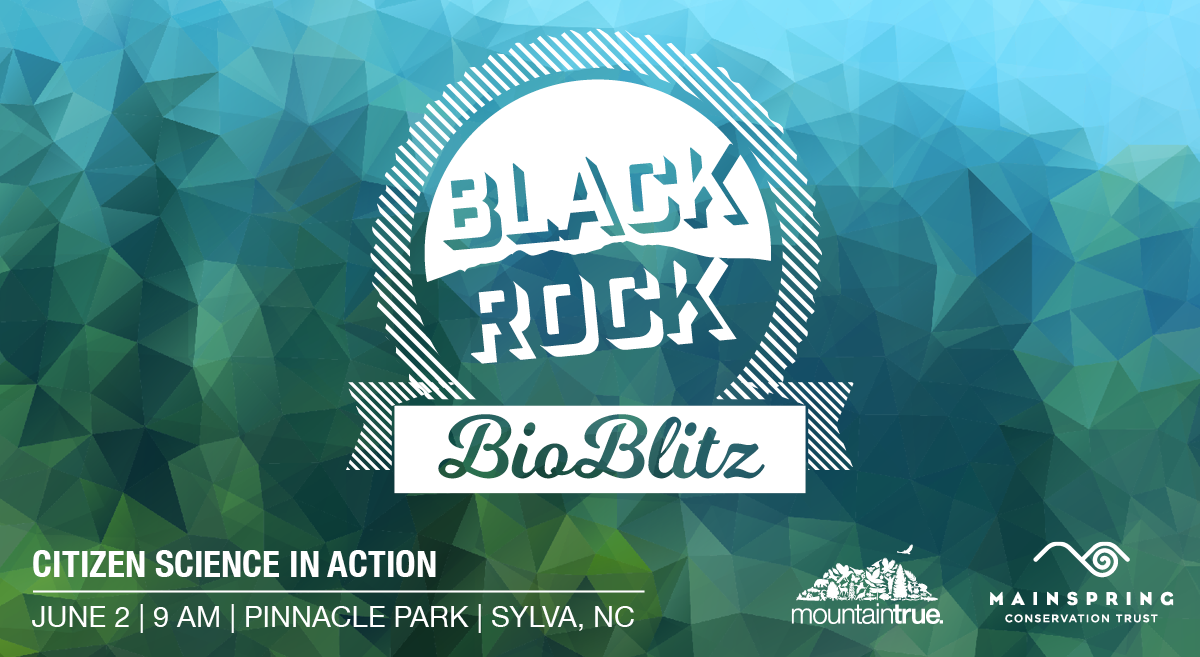 Sylva, NC – On June 2, MountainTrue and Mainspring Conservation Trust will sponsor the Blackrock BioBlitz, a citizen-science program that will pair residents with more than a dozen expert naturalists to document the diverse natural communities of Sylva's Pinnacle Park and its highest point, Blackrock Mountain.
What: Blackrock BioBlitz, sponsored by MountainTrue and Mainspring Conservation Trust.
Where: Pinnacle Park in Sylva
When: Meet up on Saturday, June 02 at 9 a.m. at the carpool location: Bryson Park, 585 Chipper Curve Rd, Sylva, NC 28779
This event is free and open to the public. For more information and to sign up, visit: https://mountaintrue.org/event/blackrock-bio-blitz/

The Blackrock BioBlitz is an opportunity for people who love the great outdoors and want to learn more about the plants and creatures who call Blackrock their home. The park has a significant range of elevation, rising from its base at 3,000 feet to over 5,600 feet.
"BioBlitzes are great citizen-science programs that help people connect with and learn about the natural world around them," explains MountainTrue Public Lands Biologist Josh Kelly. "We're going to be documenting a broad range of life at Pinnacle Park, including butterflies, beetles, aquatic invertebrates, vascular plants, bryophytes, lichens, birds, mammals, mushrooms, and more."
Expert hike leaders will include faculty from UNC Asheville, Western Carolina University, Mars Hill University as well as naturalists from the U.S. Forest Service's Coweeta Hydrologic Laboratory, NC WRC, Asheville Mushroom Club, Joe Pye Ecological Consulting and MountainTrue.
We will lead groups for all fitness levels, from relaxed hikes through the areas closest to the the base of the park to vigorous ascents of Blackrock. Participants are encouraged to bring at least two quarts of water, rain gear, sturdy footwear and their own lunches.
To sign up, visit: https://mountaintrue.org/event/blackrock-bio-blitz/
About MountainTrue:
MountainTrue is the oldest grassroots environmental non-profit in North Carolina and champions resilient forests, clean waters and healthy communities. We engage in policy advocacy at all levels of government, local project advocacy, and on-the-ground environmental restoration projects across 23 counties in our region.
About Mainspring Conservation Trust:
Located in the heart of the Southern Blue Ridge, the mission of Mainspring Conservation Trust (formerly the Land Trust for the Little Tennessee) is to conserve the waters, forests, farms and heritage of the Upper Little Tennessee and Hiwassee River Valleys. We are dedicated to three core initiatives: conserve the land, restore the water, and connect the people to these valuable resources.
---