MountainTrue Raleigh Report: It's Road Trip Season!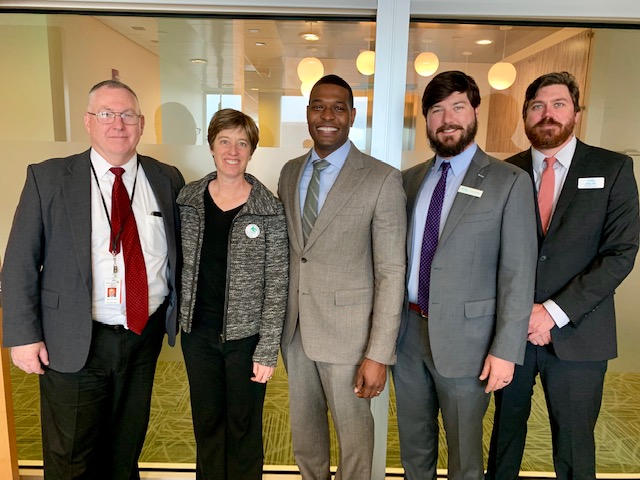 MountainTrue staff were able to thank the Department of Environmental Quality's Chief Deputy Secretary John Nicholson (far left) and Secretary Michael Regan (center) in person for their recent historic decision to require Duke Energy to dig up all of its remaining coal ash ponds in North Carolina.
This time of year, protecting Western North Carolina's shared places means taking road trips to Raleigh.
With the General Assembly now running full steam, MountainTrue staff are making regular visits to the state capitol to speak up for our mountains. We made our second visit of the year last week to have conversations with a number of key legislators as well as the leadership at the North Carolina Department of Environmental Quality.
At the General Assembly, we had good visits with Representatives John Ager, Kevin Corbin, Josh Dobson, Susan Fisher, Cody Henson, Chuck McGrady and Ray Russell, as well as Senators Deanna Ballard and Chuck Edwards.  Thank you to all of these lawmakers for making time for us.
Much of our conversation focused on funding for a variety of conservation efforts in Western North Carolina. These include improvements to the French Broad Paddle Trail, creating permanent public access to the Green River and removing a dam on the Watauga River to improve water quality and fish habitat  improving public recreation and reducing flooding.
Another priority for MountainTrue this year is to increase the state's investment in water quality testing in our region. While North Carolina regularly tests its beach waters to protect public health, there is no comparable effort for WNC's rivers and streams. This is true despite our region's rapidly growing population and the increasing number of tourists who now swim, paddle, wade and tube in our untested rivers and streams. Unfortunately, these waters are often of lower quality than we'd like them to be. In 2017 and 2018, more than three-quarters of the streams monitored by MountainTrue did not pass the EPA safe water quality standard for E. coli at some point in the year.
We're also calling on lawmakers to re-establish the Wastewater Discharge Elimination (WaDE) Program, which before its demise reduced bacterial pollution by identifying pollution associated with straight pipes and failing septic systems in Western North Carolina. Between 2002 and 2010, the program surveyed 28 separate areas, visited 13,379 homes and identified 2,016 violations.
Then at the NC Department of Environmental Quality (DEQ), we had a brief few moments with Sec. Michael Regan and were able to give him two thank you cards – one for him and another for Gov. Cooper – signed by MountainTrue staff for the administration's recent, historic decision to require Duke Energy to dig up all remaining coal ash ponds in North Carolina.
Then we got down to business, with conversations about MountainTrue's legislative agenda, concerns about several water quality issues in the North Toe and Green Rivers and some ideas about improving the process the Department uses to engage and educate the public during public meetings.  Overall we've found that Department officials have consistently been willing to listen to our concerns and, in most cases, work with us to find shared solutions.
MountainTrue's next Raleigh road trip is scheduled for early May. If you would like to plug in and help support our policy agenda, please contact our Advocacy & Communications Associate Eliza Stokes at eliza@mountaintrue.org. And as always, thanks for the support that makes our legislative advocacy efforts possible!