MountainTrue staffers' favorite holiday recipes – 2022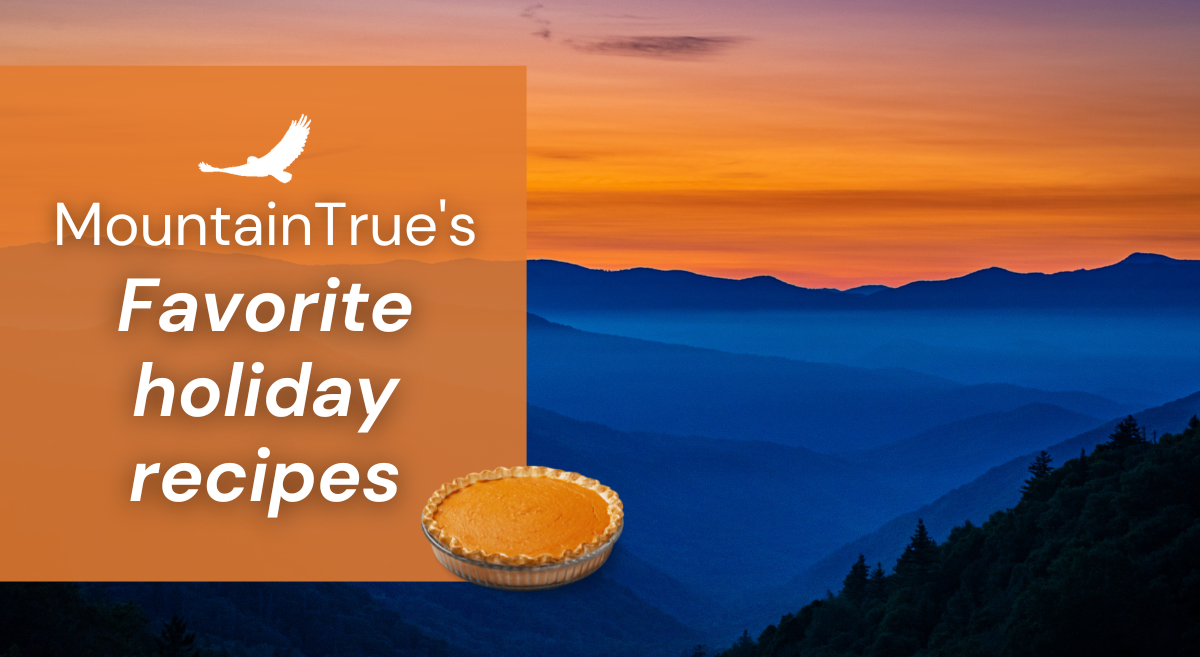 At MountainTrue's regular all-staff meetings, we include a fun question as part of our check-ins. Recently the question was, "what is your favorite holiday dish?" This brought up many happy memories and some strong opinions. So, for our December E-news, our staff is sharing some of these recipes and the memories that go along with them. Some of us have so many favorites that we added more than one. Enjoy!
Deviled Eggs – Hannah Woodburn, Watauga Watershed Coordinator
Why it's my favorite: When we have big family gatherings, the deviled eggs are the first to go. You've got to stack your plate with one or two early in the evening if you want to try them at all! This year I hard boiled 48 eggs to make 96 deviled eggs, and there wasn't a single one left over. Our gatherings are not the same without them! 
Ingredients: eggs, mayonnaise, Claussen pickles, spicy brown mustard, paprika, salt, pepper
Instructions: Hard boil the number of eggs you would like to serve. Place eggs in water and bring to a boil. Then cover, turn off the heat, and let sit for 12 mins (may vary depending on your elevation). It is good to check one from each batch to make sure the yolk is fully cooked. 
After the 12 minutes are up, place the eggs in an ice bath and let them cool. Once the eggs are cooled, peel the shells & slice them in half. Place the yolks in a separate bowl, and combine with a finely chopped pickle, mustard, mayo, paprika, salt, and pepper to taste, and whip until creamy. Spoon or use a piping bag to disperse the mixture onto the halved eggs. Sprinkle with paprika and add an optional garnish (olives, rosemary, cilantro, parsley, etc.) and keep chilled until ready to serve. 
Crockpot Spinach & Artichoke Dip – Sydney Swafford, Outings, Education, and Forest Stewardship Coordinator
Why it's my favorite: It's extremely easy but always everyone's favorite when I'm hosting. I make it for pretty much every gathering. It's a real crowd-pleaser!
Ingredients: 10 ounces of chopped spinach (fresh or frozen), 14-ounce can of artichoke hearts chopped, 8 ounces of cream cheese, 1 cup sour cream, 1 cup shredded mozzarella, ½ cup shredded parmesan cheese, 4 cloves minced garlic, spices to taste (salt, pepper, herbs, red pepper if you want it spicy, etc.)
Instructions: Combine all ingredients in a small crockpot (or larger if you double the recipe) and set to low for 2 hours. 
After 1 hour, remove the lid and stir. Replace the lid and let cook for an additional hour, stirring occasionally. Serve with crackers or chips of your choosing. I typically leave my crockpot plugged in while serving, so it stays warm!
Granny's Oyster Dressing – Gray Jernigan, Central Regional Director
Why it's my favorite: My grandma always used to make this for the holidays, and it was one of my dad's favorites. Both have passed away, and even though I'm the only one left in the family that likes oysters and this dish, I make it for myself during the holidays to remind me of them. (My mom makes non-oyster dressing for the rest of the family to enjoy.)
Ingredients:  ½ pound toasted bread (any hearty white bread), 1 ½ cups crumbled wheat thins crackers, 8-ounce bottle of clam juice, ½ cup melted butter, ½ cup finely chopped celery, 1 teaspoon celery salt, 1 pint of oysters with juice
Instructions: Crumble the bread and add cracker crumbs into a large bowl. Heat clam juice until it boils. Then, pour the hot clam juice over the bread and cracker crumbs and let it stand for a few minutes. Add butter, celery, celery salt, and salt and pepper to taste. Stir in oysters and let the dish stand for a few minutes. Put in a greased casserole dish and bake at 375 degrees for 45 minutes or until the top is golden brown.
Great-Grandma Hastings's "Dry Bread" Dressing – Callie Moore, Western Regional Director
Why it's my favorite: This is my great-grandmother Hastings's recipe that we always have with our turkey dinner. She grew up a Quaker in southeastern Ohio and lived a high quality of life to almost 103 years old!
Ingredients: 1 loaf of hearty white bread, approximately 4 days old (I used half white wheat and half whole wheat), ½ cup butter, melted, 1 thick slice of onion, sauteed, ⅛ teaspoon salt, ½ teaspoon sage, ½ cup turkey stock. 
Instructions:
In a large bowl, break bread into small pieces the day before and cover with a tea towel. To make the sauce, saute onion in butter and then add the remaining ingredients. Put a layer of bread in a small roasting pan. Drizzle some sauce on. Continue with bread layers and sauce until all bread is in the pan. Bake at 325 degrees for about 45 minutes.
Sauteed Brussels Sprouts With Lemon and Pistachios – Julie Mayfield, Co-Director
Why it's my favorite: I love this recipe because it is simple and light – a rarity among most holiday casseroles and other heavy dishes. It is also a great way to convert people who think they hate brussels sprouts — they've never had them like this!
Ingredients: 3 tablespoon grapeseed oil (ok to use vegetable or any other low-smoke oil); 1 tablespoon minced shallot; about 1.5 pounds of brussels sprouts, trimmed, leaves separated from cores (about 8 cups), cores discarded; 3/4 cup shelled unsalted natural pistachios; 2 tablespoons fresh lemon juice.
Note: while you can spend time pulling off each separate leaf of each sprout, I usually remove and toss the 1-2 outer leaves and then slice/shave up from the base of each sprout until hitting the hard core. This is time-consuming, but it's worth it.
Directions:  Heat oil in a large nonstick skillet over medium-high heat. Add shallot and stir for 20 seconds. Add Brussels sprout leaves and pistachios, and sauté until leaves begin to soften but are still bright green, about 3 minutes. Drizzle lemon juice over the sprouts. Season to taste with salt and pepper, transfer to a bowl and serve.
Pear and Parsnip Puree – Amy Finkler, Development and Operations Coordinator
Why it's my favorite: My husband introduced me to this recipe several years ago, and we always have it for Thanksgiving. I did not grow up eating Parsnips, so for me, this was a fresh and delicious addition to our sides.
Ingredients: 1.5 pounds of parsnips, peeled and chopped, 6 tablespoons unsalted butter, 1 tablespoon light brown sugar, ¼ teaspoon ground cinnamon, ⅛ teaspoon allspice, 4 ripe Anjou pears cored and cut into 1-inch cubes, ½ cup sour cream, ½ teaspoon salt, ½ teaspoon ground pepper
Instructions: Preheat oven to 325 F. In a baking dish, sprinkle the parsnip pieces with sugar, cinnamon, allspice, and 2 tablespoons of butter. Cover with aluminum foil and bake for 45 minutes. 
In a large pot, cook pears and 2 tablespoons of butter for 3 min. Add the remaining butter and the baked parsnips to the pot and blend with an immersion blender for 30 seconds. Add sour cream, salt, and pepper, and blend until smooth. Serve immediately or keep warm until ready to serve.
Granny C's Sweet Potatoes Alexander – David Caldwell, Broad Riverkeeper
Why it's important to me: My Granny C. taught me a love for camellias and good cooking. She was the best cook, and I'm pretty sure that she created this recipe. This dish can be served as a side or a dessert!
Ingredients: 1 cup thinly sliced apples, 2 cups boiled sliced sweet potatoes, 1 cup sliced peaches, 2 medium bananas, sliced, 2 ounces lightly roasted almonds; sauce: ½ cup butter, ½ cup sugar, ½ cup orange juice, 3 ounces Grand Marnier
Instructions: In a saucepan, melt butter and sugar over low heat. When melted, add orange juice and bring to a boil. Remove from heat and stir in Grand Marnier.
In a toaster oven, roast almonds just until they begin to brown. The almonds will cook more in the casserole.
In a shallow medium-sized casserole, arrange from the bottom up: sweet potato slices, apple slices, banana slices, peaches, apple slices again, and sweet potato slices again
Pour the sauce over the casserole and bake at 350 degrees for 20-30 minutes (until the sauce boils). Add almonds and bake for another 10 minutes. 
Pavo A La Brasa – Karim Olaechea, Communications Director
Why it's my favorite: One of the key ways that I connect with my Peruvian heritage is through food. I don't often get to visit my Peruvian family during the holidays, as tickets to Lima triple in price in the weeks leading up to Christmas. So, I try to bring a bit of Peruvian flavor to stateside holiday affairs. 
Rotisserie chicken is a big deal in Peru. The original Peruvian chicken restaurant or pollería, La Granja Azul, was set up by Roger Schuler, a Swiss emigré to Peru. The restaurant became an institution, and I have happy memories of my family taking me there when I was a child. Now there are thousands of pollerías throughout the country and abroad, and just as many takes on the original recipe. 
I've adapted a traditional pollo a la brasa marinade, and I use it to make a more flavorful and moister turkey or "pavo" that still fits right in on a traditional holiday table. The name of this dish is a bit of a misnomer as I roast the bird breast down in the oven, but if you have a rotisserie or "brasa" hefty enough to accommodate a large turkey … by all means, use it! 
This recipe takes some advanced planning, as the turkey needs to marinate for at least two days, and there aren't really any good substitutes for two of the key ingredients — ají panca (a fruity yet earthy red chili pepper) and huacatay (an aromatic herb from the Peruvian Andes). I've spotted ají panca paste for sale at Tienda el Quetzal on Merrimon Ave in North Asheville, and you can order huacatay paste and other Peruvian ingredients from Amigo Foods. 
Ingredients: 1 whole turkey, neck, and giblets removed; 2 bottles of dark, malty beer like Negra Modelo or Cusqueña Negra if you can find it; ½ cup soy sauce; juice of 8 limes; ¼ cup of olive oil; ¼ cup of huacatay paste; ¼ cup of ají panca paste; 10 cloves of garlic; 1 tablespoon of fresh ginger, minced; 1 ⅓  tablespoon of ground cumin; 1 tablespoon of dried oregano; 1 tablespoon of salt; 1 ½ teaspoons freshly ground black pepper. Equipment: Large roasting pan, v-shaped roasting rack, meat thermometer (I recommend one that can stay in your bird while it roasts in the oven)
Instructions: In a blender, pour your soy sauce, lime juice, olive oil, huacatay and ají panca pastes, garlic, ginger, and spices. Add half a bottle of beer and put the lid on the blender. Pulse, then blend until the garlic and ginger are liquified, and all the ingredients are fully incorporated. 
Place your fully thawed turkey (I hope you didn't forget to pull it out of the freezer a week ago!) into a marinating bag and pour half the contents of the blender into the bag. Then pour in the remaining 1 ½ bottles of beer, followed by the rest of the blender slurry. Seal and agitate the bag so that the marinade is well-mixed and covering the turkey. Place the bagged turkey in your refrigerator and let it marinate for at least one day, preferably two. 
On the day you plan to roast your turkey, remove the bird from the bag and pat it dry with a clean cloth or paper towels. Then place your turkey breast down in a v-shaped roasting rack that has been placed in a large roasting pan. This will allow the juices from the dark meat to drip down through the breast while the turkey roasts. Place your meat thermometer in the thickest part of the turkey breast and roast
Preheat your oven to 425 degrees. Once your oven is preheated, roast your turkey for 15 minutes, then turn the oven down to 325 degrees. To ensure crispy skin and moist flesh, resist the urge to baste your turkey or check on it too frequently. When your meat thermometer reads 165 F, it's ready to come out of the oven. Allow the roast to rest for at least 30 minutes before carving.
Chocolate Steamed Pudding – Bob Gale, Ecologist & Public Lands Director
Why it's my favorite: My father was a hobby chef in the 1950s-'60s and subscribed to Gourmet magazine, with copies always lying around the living room coffee table or couches. Around holidays, he cooked most of the fancy traditional dinners and desserts, and my siblings and I knew wonderful things were about to be cooked. 
He made this once-a-year dessert, sometimes for Thanksgiving, sometimes for Christmas. More cake-like than pudding, this dessert is cooked in a tube pan within a pot of shallow water and served with a "hard sauce" topping. The buttery, creamy hard sauce melting like ice cream over the warm, almost fudgy-tasting cake is a flavor that is seared into my memory. It is fun to make occasionally. (I say "occasionally" because I would never want to take it for granted!)
Pudding:
Ingredients: 3 tablespoon butter, 2 ¼  cups flour, 2/3 cup sugar, 4 ½  teaspoon baking powder, 1 egg, 2 ½  squares unsweetened chocolate; melted, 1 cup milk, ¼ teaspoon salt
Instructions: In a large mixing bowl, cream butter and mix with beaten egg. Add the sugar gradually. In a second bowl, sift flour, baking powder, and salt together. Add these dry ingredients to your wet ingredients, little by little, alternating with the milk. Then stir in chocolate. Once incorporated, fold the batter into a buttered cake mold. Place the cake mold into the pot of slowly boiling water and steam for 2 hours. (Add water as necessary/do not let it boil away.) The top of the cake will split open, which is normal.
Hard Sauce:
Ingredients: ¼ cup butter, 1 teaspoon vanilla, 1 cup powdered sugar, ¼ cup heavy cream, 2 tablespoons rum or brandy.
Instructions: Cream butter and add sugar gradually. Add vanilla and cream, and beat until stiff. Add rum or brandy. (The texture is harder, more like butter, rather than fluffy like meringue.) Spoon a desirable amount over warm steamed pudding and serve.
Great-grandma Wechtel's Pumpkin Pie – Callie Moore, Western Regional Director
Why it's my favorite: This is my German great-grandmother Erma Wechtel's recipe. I'm the fourth generation of "Wechtel women" to make this pie, including a homemade crust! I'm very picky about eating other pumpkin pies because I think this one is just the best! 
Ingredients: 1 T. flour, rounded, 1 c. sugar, ¼ t. Each of cinnamon, nutmeg, ginger & salt, 1 c. Libby's pumpkin (half a can), 1 egg, separated, 1 c. milk
Instructions: Mix dry ingredients thoroughly. Add pumpkin and mix. Add egg yolk and milk and mix. Beat egg white with a hand mixer until little stiff peaks form. Fold into pumpkin mixture. Put into an unbaked pie crust. Bake at 400 degrees for 30-40 minutes. Makes a 9″ pie.
Nana's Gingerbread Cookies – Amy Finkler, Development and Operations Coordinator
Why it's important to me: This is my Grandmother Betty Joyner's gingerbread cookie recipe.  Our family makes these cookies every holiday season and has done so for as long as I can remember. My Grandmother passed away in 2021, and I will continue to keep this recipe alive for the years to come. It brings a smile to my face when I bake and think of her.
Ingredients: 1 cup margarine, 1 cup sugar, 1 egg, 5 tablespoons white vinegar, 1 cup molasses, 5 cups sifted flour, 1 ½ teaspoon baking soda, ½ teaspoon salt, 1 tablespoon ginger, 1 teaspoon cinnamon, 1 teaspoon ground cloves, Optional: red hots and raisins for decorating
Instructions: Preheat the oven to 375 F. Cream the margarine and the sugar together thoroughly in a large bowl. Add the egg, vinegar, and molasses and beat well. 
In a separate bowl, sift the flour, soda, salt, ginger, cinnamon, and cloves together. Add this dry ingredient mixture to the creamed margarine and sugar and stir thoroughly (the dough will get stiff).  
Chill thoroughly (at least one hour, but overnight is best).  Roll out to ¼ inch thick on a lightly floured surface.  Use a cookie cutter to cut out desired shapes, and place them on a lightly greased cookie sheet (or baking sheet lined with parchment paper).  
Use red hots or raisins to decorate if desired.  Bake at 375 F for 8-10 minutes or until done. Cool on a wire rack. Yields roughly 1 ½ dozen.
Note: To make these gluten-free, substitute a gluten-free 1:1 ratio flour mix (I like Bob's Red Mill 1:1). 
Mulled Holiday Wine – Hannah Woodburn, Watauga Watershed Coordinator
Why it's my favorite: This is just a holiday spin for your red wine drinking crowd at your next gathering. Mulled wine is aromatic and will fill your home will holiday comfort and cheer. 
Ingredients: Red wine (I usually go with a cab sav or merlot), orange juice, apple cider, mulling spices, with an option to add fruit.
Instructions: In a crockpot or on the stovetop, combine a bottle of wine and mulling spices and let the flavors infuse for an hour or two. Add 1 cup of apple cider and 1 cup of orange juice; can be increased based on the amount of wine. This year I used a Bota Box and did three cups each of orange juice and apple cider. 
Add chopped fruit for garnish. For the best taste, serve warm!