MountainTrue Wins Historic Investments for WNC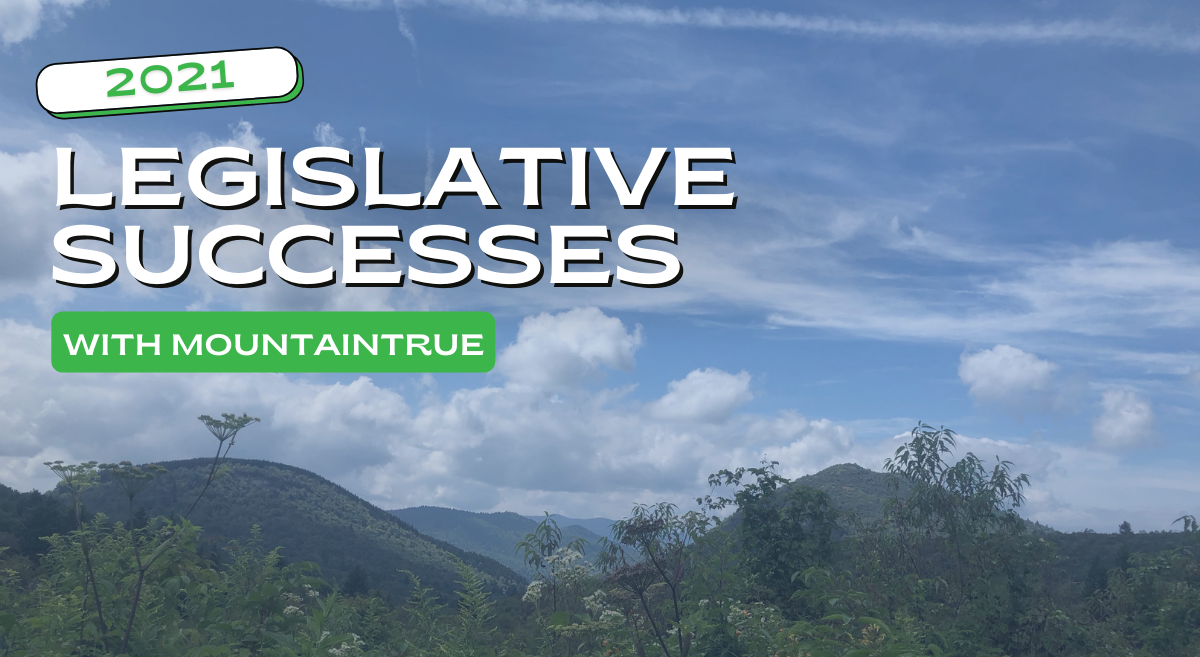 As you may know, lawmakers at the North Carolina General Assembly finally approved a budget in November after months of wrangling among themselves as well as with Governor Cooper. The new spending plan represents the first full budget approved by the legislature and signed by the Governor since 2018.
The budget makes substantial investments in Western North Carolina, including many of the funding priorities MountainTrue has been promoting since this time last year — when lawmakers began their 2021 session.
Every year, MountainTrue makes a list of priority projects and programs for funding in the state budget. We then work with WNC legislators and our various partners — including our members at the grassroots level — to help convince lawmakers to invest in our rivers, streams, mountains, and forests. 
Here's a quick look at MountainTrue's budget victories in Raleigh: 
Funding for removal of dams across WNC — $7.2 million.

Recurring funding for landslide mapping in WNC — $370,000.

Restoration of the successful Waste Detection Elimination Program (WaDE) to help property owners identify and remedy failing septic systems on their property — $200,000 in both years of the biennial budget.

Recurring funding for water quality testing in the French Broad and other WNC rivers and streams — $100,000.
MountainTrue also went to bat for several important projects to improve public access to and/or protect water quality in rivers and streams throughout our region. New state funding for these projects included:
Watauga River Paddle Trail in Watauga County — $150,000. 

Permanent public access to a popular recreational area on the Green River Game Lands in Henderson and Polk counties — $150,000.

Removal of the Ward Mill Dam on the Watauga River in Watauga County — $100,000 

Outdoor recreation improvements at Island Park on the Tuckaseegee River in Swain County — $200,000. 

Expanded fishing, canoeing, and kayaking on the Valley River in Cherokee County — $125,000. 

Improved access to and stream restoration on the Bakersville Creekwalk in Mitchell County — $200,000. 
Some other budget items that MountainTrue supported include $12.2 million for Pisgah View State Park in Buncombe County and $750,000 for planning and improvements to DuPont State Forest. 
Of course, no one gets everything they want in the state budget process. Two of MountainTrue's priorities — additional funding to help livestock producers reduce water pollution from their farming operations and communities to manage stormwater runoff — did not make it into the state's spending plan. MountainTrue will continue to work in support of these investments in 2022.
We at MountainTrue extend our gratitude to the WNC legislators from both parties for their help with these budget victories. A big shout out to Sen. Chuck Edwards of Henderson County — from the beginning of his time in the Senate, Edwards has shown a consistent commitment to water quality issues in our region and used his position on a key Senate budget committee to address them. We are especially grateful to him for his partnership with MountainTrue.
But you, our supporters, are still MountainTrue's most important partner. We are the only WNC environmental organization with a year-round presence in Raleigh. Your support makes our work in the capital possible! Thank you and cheers to an impactful 2022!