MT Raleigh Report: Crossover Week, Rate Hike Bill and Our Legislative Advocacy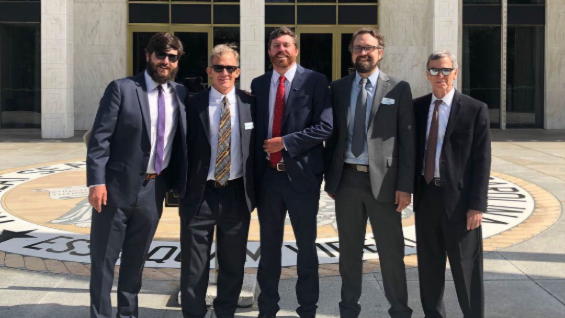 MountainTrue in Raleigh to speak with legislators on May 1. From left to right: Green Riverkeeper Gray Jernigan, Co-Director Bob Wagner, Watauga Riverkeeper Andy Hill, Development Director Adam Bowers and volunteer Robert Udashen.
Last week was "crossover week", which might as well be "chaos week" in the legislature.
That's because "crossover" refers to the legislature's deadline for most bills to move from one chamber of the legislature to the other in order to remain eligible for consideration for the rest of the two-year legislative session. The official crossover deadline occurred last week, with both chambers pushing dozens of bills through the legislative process before the deadline kicked in.
As with all rules and deadlines at the General Assembly, there are a number of ways for lawmakers to get around the crossover rule. Gutting a bill that has passed one chamber and re-writing it to address a different issue altogether is a popular strategy. But for the most part, a bill that is subject to crossover but doesn't meet the deadline dies a quick death.
Thus the mad scramble of crossover week.
Perhaps the most important bill with implications for the environment that passed in crossover week was SB559, which would remove the need for utilities to come before the NC Utilities Commission and the public on a yearly basis when rate increases are proposed. Instead, utilities would be able to get rate hikes approved for up to five years all at once.
Supporters of the bill argue that the NC Utilities Commission already has the power to approve rate hikes for future costs, and that the law would only make this power more explicit.
But a broad coalition of bill opponents – including environmental groups, business organizations, manufacturers and consumer groups – worry that multi-year rate plans will give them less input in the process the commission uses to set rates.
MountainTrue opposes the bill for this reason and more. SB559 reduces the opportunity for the public to have a say about rate hikes on a year-by-year basis and, by increasing the likelihood of the Utilities Commission considering rate hikes to pay for future costs, makes it harder to ensure that these costs are reasonable and prudent. Neighboring states have experienced this firsthand: In South Carolina, for instance, the Base Load Review Act empowered utilities to charge customers for large power plants before they were built. This resulted in customers being charged $37 million per month for the cost of the V.C. Summer Nuclear Station before it was abandoned in 2017.
We are also concerned that SB559 will limit discussion on how much Duke investors – not consumers – should have to pay for the cost of cleaning up the company's multi-billion dollar coal ash mess.
Unfortunately, the objections of so many interest groups did not prevent the Senate from approving the bill, which collected the support of most of its GOP majority as well as a small number of Democrats. Several Republicans also voted against the bill.
Among Western North Carolina legislators, Senator Terry Van Duyn (D-Buncombe) voted against the bill; Senators Chuck Edwards (R – Henderson, Buncombe, Transylvania), Jim Davis (R – Cherokee, Clay, Graham, Haywood, Jackson, Macon, Swain) and Deanna Ballard (R – Alleghany, Ashe, Surry, Watauga, Wilkes) voted in support.
SB559 now moves on to the House, where its prospects for approval are less certain.
In other legislative news, MountainTrue staff and volunteers were in Raleigh on May 1 to talk to lawmakers about our legislative priorities, which include increased funding for the French Broad Paddle Trail and support for climate resilience planning in WNC.
Look for an update about these issues in an upcoming report, and as always, thanks for the support that makes our legislative advocacy in Raleigh possible!