MT Raleigh Report: Final Update on the Farm Bill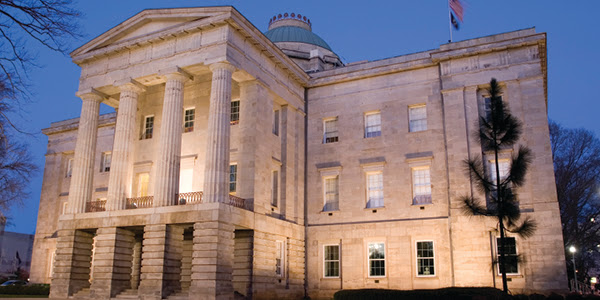 Those of you who receive MountainTrue's legislative updates know that we've been mobilizing people across the region in recent weeks against the Farm Act, SB711. This legislation includes drastic new limitations on citizens' rights to protect their homes and their health against large agricultural industrial operations like hog and chicken plants.
The GOP-controlled legislature approved SB711 along largely partisan lines a few weeks ago. On June 25, Gov. Cooper vetoed the bill, citing its impact on the environment and its limitations on property rights.
You can read more about the problems with this legislation here and here.
MountainTrue Co-Director Julie Mayfield states:
"With SB711, the North Carolina General Assembly has put the interests of large corporations above the interests of communities and homeowners. This has never been how things have been done in Western North Carolina."
Despite overwhelming grassroots opposition to this bill, the legislature voted to override Cooper's veto of SB711. Below is a list of WNC legislators and how they voted on the override. (Remember: those who voted FOR the override voted to support the bill. Those who voted AGAINST the override voted to oppose it).
We encourage you to take a moment to see how your lawmaker voted on this critical issue.
And a big thanks to all of you who helped us mobilize support against this bill – we hope you will continue to join us in speaking up for WNC's environment and the health of the people who live here.
WNC Members of the NC Senate who supported SB711 by voting to override Gov. Cooper's veto:
Deanna Ballard (R-Alleghany, Ashe, Avery, Caldwell, Watauga)
Jim Davis (R-Cherokee, Clay, Graham, Haywood, Jackson, Macon, Swain)
Chuck Edwards (R-Henderson, Buncombe, Transylvania)
Ralph Hise (R-Madison, McDowell, Mitchell, Polk, Rutherford, Yancey)
WNC Members of the NC Senate who opposed SB711 by voting to uphold Gov. Cooper's veto:
Terry Van Duyn (D-Buncombe)
WNC Members of the NC House of Representatives who supported SB711 by voting to override Gov. Cooper's veto:
Mike Clampitt (R-Haywood, Jackson, Swain)
Kevin Corbin (R-Cherokee, Clay, Graham, Macon)
Josh Dobson (R-Avery, McDowell, Mitchell)
Cody Henson (R-Henderson, Polk, Transylvania)
Tim Moore (R-Cleveland)
Jonathan Jordan (R-Ashe, Watauga)
Michele Presnell (R-Haywood, Madison, Yancey)
WNC Members of the NC House of Representatives who opposed SB711 by voting to uphold Gov. Cooper's veto:
John Ager (D-Buncombe)
Susan Fisher (D-Buncombe)
Brian Turner (D-Buncombe)
Hugh Blackwell (R-Burke)
Chuck McGrady (R-Henderson)