MT Raleigh Report: The Legislature Overrides More Vetoes, and Some Good News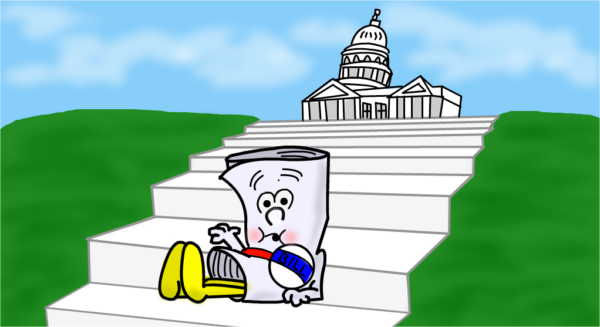 On July 27, Governor Roy Cooper vetoed legislation that alters state ballot language for the constitutional amendments voters will consider this fall. The legislation had been approved by the General Assembly a few days before. Cooper also vetoed legislation that prevents a Supreme Court candidate who recently switched his party affiliation from having any party label next to his name on the ballot.
Last week, the legislature returned to override the governor's vetoes – in a single Saturday session.
And then, this week, Cooper announced his plans to go to court to stop two of the constitutional amendments voters are scheduled to consider in November. The proposed amendments would take away the governor's authority to appoint judges, regulators, board members and other state officials, and transfer that power to the legislature.
In addition, Clean Air Carolina, the Southern Environmental Law Center and the NAACP filed a separate lawsuit to stop amendments on the ballot that they say threaten voting rights and restructure government by usurping powers intended for the executive branch. A spokesperson for Republican Senate leader Phil Berger called the lawsuits "absurd", saying they are intended to take away a voter's right to choose how they want to be governed.
Here at MountainTrue, we're still wading through these arguments and weighing the impact of the amendments on WNC's environment and communities. We welcome your thoughts about the amendments, and whether (and how) environmentalists should support or oppose them.
And Now the Good News
Remember the state budget? You know the one – $24 billion for the new fiscal year, which started July 1?
While education funding and a living wage for state employees – and GenX water pollution – got most of the attention during the budget debate, there were two items of particular importance to WNC that you may not have heard so much about. And both are items those of us at MountainTrue are particularly proud of.
First, the General Assembly earmarked $3 million for landslide hazard mapping in Western North Carolina. Knowing where landslides may happen can be a matter of life and death. For proof, look no further than the landslides in Polk County that killed three people earlier this year.
At MountainTrue, we made landslide hazard mapping part of our legislative agenda more than three years ago. Our hope was that after Hurricane Matthew hit eastern North Carolina in 2015 and fires raged in Western North Carolina in 2016, lawmakers in Raleigh would turn their attention to disaster preparedness and might be willing to restore funding for landslide hazard mapping that was cut in 2011.
Well, it took a bit longer than we thought it would, but the legislature finally came around this spring when lawmakers included landslide hazard mapping in their final budget. Big thanks go out to Rep. Chuck McGrady, who got behind this funding three years ago and helped us keep pushing it. (For the record, McGrady also opposed cutting the funding in 2011.)
The result: local governments, developers and homeowners will soon have crucial information that will lead to more sustainable development and, hopefully, save lives.
The other budget item is smaller but may be crucial to protecting WNC's trout fishing industry, which is worth about $383 million annually to the region's economy.
Whirling disease is caused by the microscopic parasite Myxobolus cerebralis; it damages cartilage and skeletal tissue in trout, causing them to swim in a corkscrew pattern. If you love to fish for trout in WNC – or make your living helping others who do – whirling disease is bad news. It's been found in the Watauga, and there is anecdotal evidence that it's in other WNC rivers and streams as well.
The state is doing an exhaustive study of the disease, but the final results won't be in for several years. So this year, MountainTrue's Watauga Riverkeeper Andy Hill – who also happens to be a former professional fly fishing guide – got to talking about trout and whirling disease with Sen. Deanna Ballard. Ballard represents much of the Watauga River basin and knows how much trout fishing means to her district's economy and way of life.
With Ballard's help, an appropriation of $20,000 got tucked into North Carolina's budget for MountainTrue to do a study to see if the DNA of Myxobolus cerebralis can be found in WNC's waters. If the DNA shows up, it won't be definitive proof of whirling disease, but we think it would be a strong enough sign to convince lawmakers like Ballard to act now to combat the disease before it gets out of hand. Even better, the study can be done quickly – in time for the 2019 legislature to consider the results and act on them.
These examples are a great reminder of why MountainTrue has a permanent presence in Raleigh. Finding success in the capital requires a long-term commitment to building support for good ideas – like landslide hazard mapping – and enough familiarity with the people and politics in the legislature to take advantage of opportunities like the whirling disease study when they arise.
And of course, having legislators like McGrady and Ballard who are willing to help doesn't hurt either!