MT Raleigh Report Yearly Wrap Up: The Budget, Wins for the Environment and Looking Ahead to 2020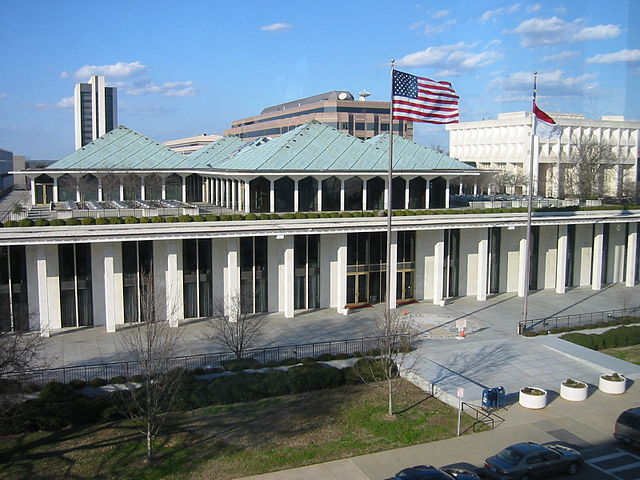 Dec. 10, 2019
It's been a strange year at the North Carolina General Assembly.
There have been lots of votes – and vetoes – on various budget bills, but no final state budget. There was just a smattering of problematic environmental bills, the worst of which either didn't pass or were defanged before becoming law.
Then there's the legislative session itself, which started in January but didn't end until Halloween – only to be serialized in November and when the legislature is scheduled to come back in January.
Confused? No worries. We're here for you with a quick rundown on what happened this year at the legislature and where things stand as the political stalemate between Governor Roy Cooper and the GOP-controlled legislature continues into the new year.
The Budget
You'll recall that Governor Cooper vetoed the legislature's budget for the 2019-2021 biennium earlier this summer. Governor Cooper wants the General Assembly to include expanded Medicaid coverage for more than 500,000 North Carolinians in the budget. Most Republicans in the legislature disagree. The result is a political and policy battle in which the two sides have been sparring about budget issues all year. In a surprise September vote, the House overrode the Governor's veto, but the Senate has not been able to find the votes needed to complete the override. Thus the state's budget stalemate.
With a budget deal stalled, the legislature has moved sections of their overall budget into separate "mini-budget" bills and sent them to Governor Cooper – some of which he has signed, while vetoing others.
So what does the budget battle mean for the environment? For starters, important funding for open space conservation has not been approved. Also held up is funding for a variety of conservation and water quality projects that MountainTrue supported in the legislature's budget this year. The budget stalemate has also stalled funding for expanded water quality testing in the French Broad River and other WNC rivers to address E. coli pollution that can make people sick.
The budget impasse also cuts off new investments in the NC Department of Environmental Quality's ability to protect water quality. The Cooper administration requested 37 new water quality positions, of which the legislature funded five. DEQ Secretary Michael Regan described the legislature's budget for the Department as insufficient to protect the state's natural resources.
When will the budget battles in Raleigh end? That's the $24 billion question. Senate Republicans need just one or two Democrats to join them in overriding the Governor's veto. So far, the Democrats in the Senate are sticking with Governor Cooper, who continues to call on GOP lawmakers to negotiate a budget deal. Lawmakers will return to the legislature on January 14 to continue their 2019 work.
Environmental Wins
Without the veto-proof majorities necessary to easily override Governor Cooper's veto, Republican lawmakers have significantly reduced the number of bills sent to the Governor for approval. This has resulted in fewer environmental bills being taken up, let alone approved, during the 2019 session.
The biggest environmental bill of the session, SB559, put renewable energy advocates as well as many industries on red alert over a provision to allow the North Carolina Utilities Commission to approve electrical rate increases up to five years in advance in a single proceeding. Advocates including MountainTrue were concerned that the bill would reduce public feedback and transparency about rate increases, making it easier for utilities to pass costs onto their customers. The bill would have also allowed utilities more cushion on their allowed earnings, including a "band" of allowed profit above and below a certain percentage.
After months of debate, a veto threat by the Governor, and weeks of behind-the-scenes negotiating, the most controversial sections of the bill were turned into a study and the bill was signed into law by Governor Cooper. This was a big win for renewable energy supporters and consumer advocate groups.
This moderating trend for environmental bills also showed up in the debate about a bill reducing local governments' regulation of billboards. After a veto by Governor Cooper this summer, supporters of the bill have been unable to muster the votes necessary to override the veto, essentially killing the bill altogether – and giving environmentalists and local governments another win.
And for those of you in need of an unarguably positive and feel-good environmental story, we give you the legislature's authorization of the new Pisgah View State Park, which will preserve 1,600 acres in Buncombe and Henderson Counties. Three Republican Senators – Senator Chuck Edwards, R-Buncombe, Henderson, Transylvania; Senator Ralph Hise, R-McDowell, Mitchell, Polk, Rutherford and Yancey; and Senator Jim Davis, R-Cherokee, Clay, Graham, Haywood, Jackson, Macon and Swain, introduced the bill in April. It was passed unanimously by the Senate in June and by the House in early July, where it was championed by Representative Brian Turner, D-Buncombe, and Representative Chuck McGrady, R-Henderson. The park is expected to cost $18.1 million and to take five years to complete.
Looking Ahead
With the General Assembly out of session until January 14, its agenda in the new year is still unclear. Senate Republicans will almost certainly continue to try to find a few Democrats to help them override the Governor's budget veto. If the Senate does not override the budget veto, the legislature may continue to send Governor Cooper more mini-budget bills. Some House Republicans, led by Rep. Chuck McGrady, would also like to invest state funding in a variety of strategies to make North Carolina more resilient to storms and flooding – not only on the coast but, hopefully, in the mountains as well. These strategies include increased funding to buy out industrial hog operations with a history of pollution problems in the flood plain, as well as assistance to local governments to improve flood control infrastructure. While the Senate's appetite for these investments is unclear at the moment, MountainTrue will support these appropriations and remind all legislators that, like the coast, WNC needs new investments to prepare for the bigger and more frequent storms and fire seasons we can expect as a result of climate change.
Finally, a note of thanks. MountainTrue is the only WNC environmental organization with a lobbyist in Raleigh. This makes us a stronger advocate for our region in the state capitol, which wouldn't be possible without your support. Thank you for your part in our 2019 policy work, and we hope you will continue to be part of our team here in WNC as well as in Raleigh in 2020.