NO MAN'S LAND FILM FESTIVAL 2021
MountainTrue is proud to bring the No Man's Land Film Festival (NMLFF) back to the Southern Blue Ridge Mountains for a fourth year. This year's film program will highlight intrepid climate activists, conservationists, problem solvers, committed grassroots organizers, and environmental justice champions – all women and all inspiring! And this year's festival is being paired with actions that the public can take to help keep our local rivers clean, stop industrial pollution and fight climate change. 
"This year's film festival will project dazzling vistas and tell stories that will inspire all of us to seek out adventure and to fight to protect our mountains, forests and rivers," explains event organizer and MountainTrue Engagement Director Susan Bean. "We hope to have at least 300 actions taken during the festival to protect our outdoor playgrounds here in our own backyards."
Join us for the virtual festival on June 11.
COVID-19 has put unprecedented social and economic strains on our communities. With this in mind, MountainTrue is once again making the No Man's Land Film Festival free of charge. We encourage everyone who is able to make a contribution. Your donation will support our ongoing work to protect the places we share.
Win a Guided Raft Trip on the Nantahala River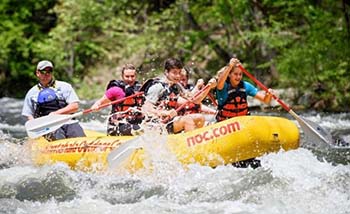 Recognized as "One of the Best Outfitters on Earth" by National Geographic ADVENTURE, NOC has generously donated the whitewater rafting experience of a lifetime. This popular trip is perfect for families and paddlers of any skill level.
Some of this year's films
Thank You No Man's Land Film Festival Sponsors
Thank You Past Supporters
We've been fortunate to have many incredible businesses and organizations support our work over the years. Many of these businesses are struggling as a result of COVID-19. If you're able, please consider supporting the businesses that support our environment. We're all in this together.