Press Release: Buncombe County Commissioners Approve 40 Solar Projects for Public Buildings and Schools
FOR IMMEDIATE RELEASE
Media Contact:
Eliza Stokes, MountainTrue
E: eliza@mountaintrue.org P: 410-493-7284
July 21, 2020
Asheville, NC — At their July 21 meeting, the Buncombe County Board of Commissioners voted unanimously to greenlight a proposal for 40 new solar panel installations at county-owned buildings, Asheville City and Buncombe County public schools and A-B Tech Community College. Together, the 40 new solar sites will create approximately 6.7 MW of new solar energy each year – the equivalent of powering 767 homes entirely with solar energy.
The vote was celebrated by local residents, many of whom submitted public comments to voice their support for the solar projects and had advocated for Buncombe County to pass a resolution for 100% renewable energy in 2017. After that resolution passed, many community members had been frustrated with the lack of concrete progress on this commitment.
"I was thrilled and frankly relieved when I heard that it passed," said Josh Draper, a rising senior at TC Roberson High School. "Until today our longstanding county resolution, like so many others, was just a vague, distant goal with no practical solution in sight. Now, instead of waiting idly by for the most urgently needed change, we can be productive and set an example for neighboring communities to follow." 
Buncombe County and the City of Asheville released a joint request for proposals, or rfp, for solar panels at feasible sites on their properties in the fall of 2019. The County and City invited other entities to join the bidding process with the hope of increasing the impact of the rfp on carbon emissions and reducing the overall cost. High school students spoke out in favor of this concept at Buncombe County and Asheville City school board meetings last October, leading both school boards to vote to join the solar exploration. 
"This is the right thing to do for our children's health and future," said Beatrice Nathan, Co-Chair of the local chapter of Mom's Out Front. "I hope the County Commission sees the value in taking steps toward a world with better air quality and reduced greenhouse gas emissions."
While the City of Asheville was part of the joint solar rfp, it will fund its solar projects separately. As for the County and schools, the 40 projects will be funded by a $10.3 million bond taken out by the County and paid over the course of 15 years. Between the solar rebate from Duke Energy, utility savings and positive cash flow from selling excess solar energy, the solar projects are expected to be revenue positive every single year – often by millions of dollars. 
"This shows that solar energy isn't a luxury item or another headache to add on to a financial downturn," says Eliza Stokes, renewable energy organizer at MountainTrue. "Instead, solar can be a buoy that helps keep our local economy afloat and creates resilience for the times ahead." 
The company selected to install the solar panels is MB Haynes, an employee-owned company based in Asheville. Before the vote, several Commissioners spoke to hiring a local company as a key aspect of their support. 
"The idea of doing something bigger, trying to do it together, none of us really knew how it would turn out," said Chairman Brownie Newman at the Commission meeting. "I really appreciate the schools being willing to go through this process with us, and I think it's gonna achieve a lot more good for our community…The one challenge I would leave with us is that as exciting as this is, when we look at the need to move to renewable energy we're still not moving fast enough. This is just the first of many such efforts we're gonna need to take on to be a leader." 
Projected Financial Benefits Of 40 Solar Projects (Source: Buncombe County)
Year 
Solar Financial Benefit
Debt Payments 
Cash flow positive? 

1

$  

2,623,000

$

684,000

$   1,939,000

2

$     

638,000

$

951,000

$   1,626,000

3

$     

654,000

$

933,000

$   1,347,000

4

$     

670,000

$

916,000

$   1,101,000

5

$     

687,000

$

898,000

$ 

890,000

6

$     

704,000

$

880,000

$ 

714,000

7

$     

721,000

$

863,000

$ 

572,000

8

$     

739,000

$

845,000

$ 

466,000

9

$     

757,000

$

827,000

$ 

396,000

10

$     

795,000

$

810,000

$ 

381,000

11

$     

815,000

$

792,000

$ 

404,000

12

$     

835,000

$

770,000

$ 

469,000

13

$     

855,000

$

752,000

$ 

572,000

14

$     

876,000

$

735,000

$ 

713,000

15

$     

898,000

$

717,000

$ 

894,000

16

$     

920,450

$          

–  

$   1,814,450

17

$     

943,461

$          

–  

$   2,757,911

18

$     

967,048

$          

–  

$   3,724,959

19

$     

991,224

$          

–  

$   4,716,183

20

$  

1,016,005

$          

–  

$   5,732,188

21

$  

1,041,405

$          

–  

$   6,773,592

22

$  

1,067,440

$          

–  

$   7,841,032

23

$  

1,094,126

$          

–  

$   8,935,158

24

$  

1,121,479

$          

–  

$ 10,056,637

25

$  

1,149,516

$          

–  

$ 11,206,153

26

$  

1,178,254

$          

–  

$ 12,384,407

27

$  

1,207,710

$          

–  

$ 13,592,117

28

$  

1,237,903

$          

–  

$ 14,830,020

29

$  

1,268,850

$          

–  

$ 16,098,870

30

$  

1,300,572

$          

–  

$ 17,399,442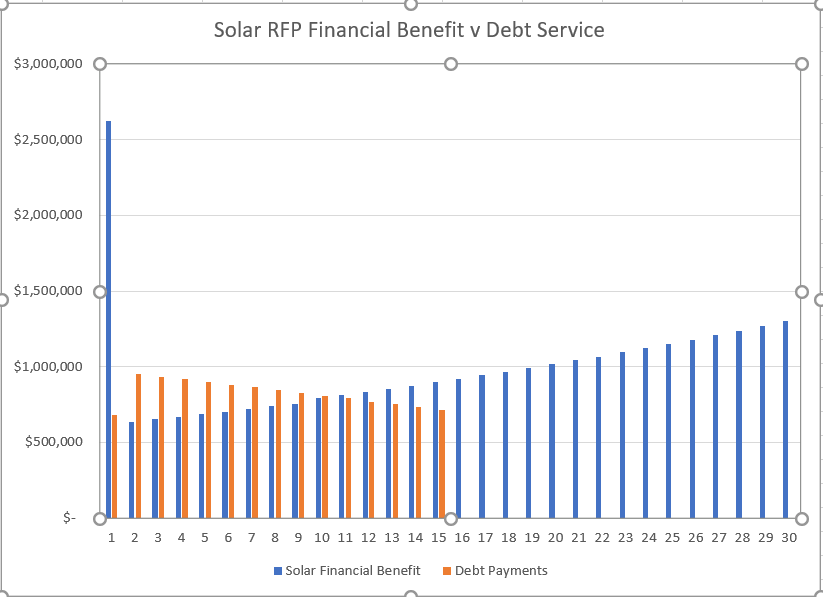 ###